CLASS OF 81

A Collection of New Zealand Garage bands, 1981
The Class of 81 was an attempt by myself to put together a collection of some of the vast numbers of new and unrecorded bands around New Zealand, and Auckland in particular, at the end of 1980.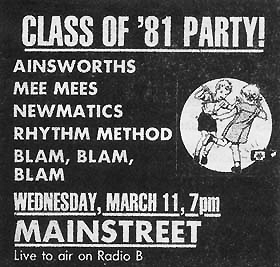 The bands themselves were inspired by the anyone-can-do-it attitude that the punk and post punk global revolution had encouraged. In the same way that The Beatles had, a decade and a half earlier, opened the floodgates, so did the events of 1976 in the US and the UK.
By the end of 1980 there were hundreds of young bands playing gigs all over the country, and, in particular, every garage on Auckland's North Shore seemed to be home to an aspiring bunch of pop stars. The catchphrase 'the North Shore Invasion, was commonly heard around town, and I was intrigued, not just by that, but by the wave of new acts I was hearing everywhere.
After I launched Propeller, as really the only full time indie on the block at the time, I was inundated with tapes. I was also inspired by a couple of English compilations on labels like Cherry Red, although those were more collections of singles. I put an ad in Rip It Up magazine, the bible of the NZ rock'n'roll scene, asking for demos. However, to be honest, I'd already picked about 80% of the acts. The rest came through the mail, or were delivered by hand to me at Taste Records, in High Street, where I was working.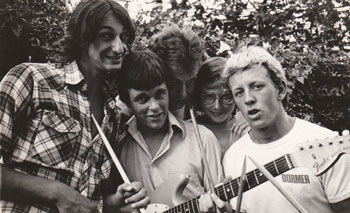 Rhythm Method
I'd intended to make it nationwide but the only tape that arrived from out of town came from Christchurch's Newtones. One from a band from Dunedin, called The Clean, arrived too late! The Mockers in Wellington mailed a tape which disappeared in the post.
The other irony is that virtually all the tracks came from Harlequin Studios, many recorded by the unhailed, but crucial, Steve Kennedy, without whom much of the Auckland music of that era would not have sounded so taut and rhythmic. He deserves much more credit than he's received since.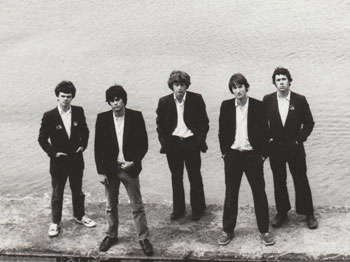 The Moderns
The album as such held together fairly well, partially because there was a definite generic New Zealand sound developing, a sound not a long way removed from what, a few years later, became known as the Flying Nun sound. There was an angular quirky feel, almost jangly, to much of this. But unlike the Nun sound, the Auckland bands had a slightly more dubby, a looser and funkier feel.
The title, a clear reference to AK79, came from my friend Nigel Russell (ex Spelling Mistakes, and later Danse Macbre, Car Crash Set, and The Greg Johnson Set) and the iconic sleeve was designed, like AK79, by Terence Hogan.
There were a range of t-shirts, posters and a bunch of other promotional devices and it was duly released nationwide in March 1981, to great acclaim and very strong sales.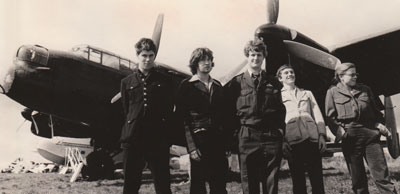 The Bombers
The album entered the compilation charts at number one and a launch gig, broadcast live by the then named Radio B (now 95bFm) was a sell-out at Mainstreet Cabaret (in Queen Street). It was followed by Class of 81 gigs in Wellington (at The Last Resort) and Christchurch (at the Gladstone) over Easter 1981.
Two of the bands that appear on it, The Screaming Meemees and Blam Blam Blam were signed to Propeller shortly before this album was released and the Newmatics were signed to our Furtive label shortly afterwards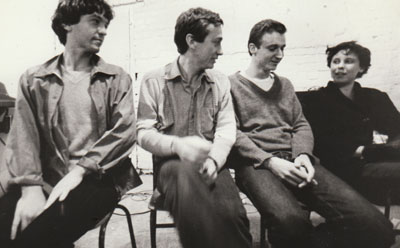 Youth For A Price.
The album, despite plans and a steady stream of requests over the years, has never made it to CD, but hopefully this will be resolved in the near future.
Regardless of that, Class of 81 has attained a rather legendary status now as an album that clearly defined its era in New Zealand, and in particular, Auckland, rock and roll.
The Ainsworths - Danger Man 
the perfect opener from this North Shore band with former Meemees manager Hilary Hunt on vocals, and Adam Holt, now NZ recording industry heavyweight and the head of the Recording Industry of NZ, on guitar
The Bombers - Dance 
slightly darker than much of the album, these guys went on to, under a variety of names, make some quite astounding records over the next few years. I really liked this track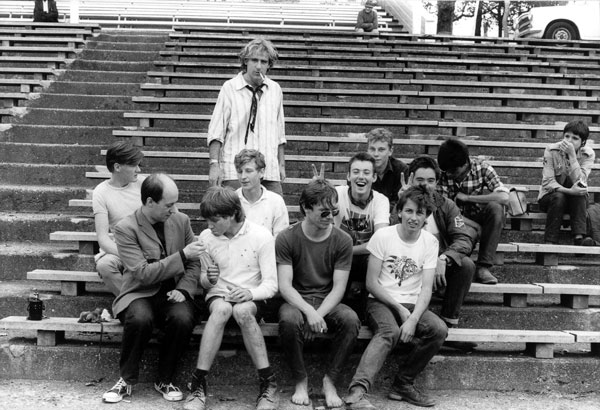 A soccer game, Auckland domain, April 1981 with
various Meemees, Blams, Nigel and Harry (Ratbag) Russell (of Danse Macabre
and The Herco Pilots), Adam Holt (Ainsworths, now Universal NZ MD), and others
The Newmatics - Five Miseries 
taken from their first demos which also produced their debut single, Judas. An Auckland Grammar Band
Rebel Truce - The Man Inside
from the North Shore, featuring Dean Martelli (ex Terrorways) and Terry Towelling (Meemees roadie). This track ended up on our Bigger Than Both of Us album and is one of the few CO81 tracks to make CD
The Killjoys - I'm Normal 
guitarist Andrew Boak ended up in Propeller nu-punk band, No Tag, playing bass. From the Shore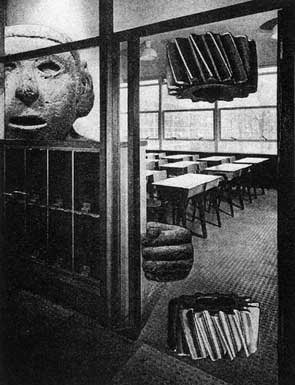 The Moderns - The Day Has Ended
another North Shore act. I have no idea what happened to any of these guys. Another favourite.
Screaming Meemees - All Dressed Up
like The Newmatics, an original demo from these guys, direct from Rosmini College on, uh, the North Shore. This is on the Meemees compilation, Stars In My Eyes.
Youth for a Price - Oh Yeah
veterans - led by Frank Stark who is now the chief of the film archive but had been in early Auckland punk bands, Junk and The Phantoms
Blam Blam Blam - Motivation
the first release by the Blams, and can be found on their Complete BBB CD. A Mark Bell song.
Rhythm Method - Carousel 
these guys mutated into The Bongos who released a single on Propeller in 1982. From Auckland city. Included Simon Mark-Brown, Gill Civil and Willy de Witt.
The Newtones - New Way
led by Christchurch icon and former punk, Tony Peak (he was in The Vandals), they had a top ten single with their next release and Tony was making music and running clubs for years before he moved to Australia (where he sadly died in 2010). That brings us to...
Vivid Militia - Let's Go to Australia
this track, from an Auckland city band, got substantial airplay on student stations and become quite a hit. The lyrics got printed in the Auckland Star. These guys mutated into Marginal Era, and one ended up in Fan Club who did well in Asia. Derek Zilch, who wrote this emigrated, naturally, to Australia.