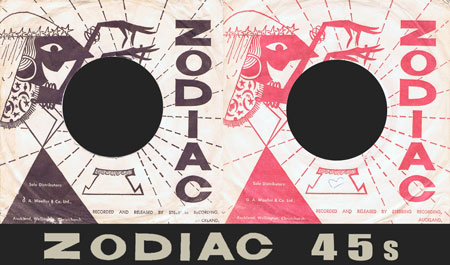 I don't think there's much argument that Eldred Stebbing's Zodiac label, which operated under that name, and then as Key, from 1957 (not 1960 as the Stebbings Studio page erroneously stated until recently - now fixed) to the early 1980s, is likely the most important record label to have set up shop in New Zealand.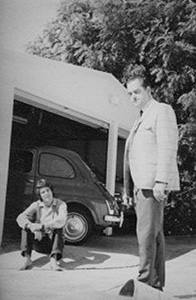 Eldred and a member of The Hi-Revving
Tongues during a recording break at
Saratoga Ave.
Photo courtesy: Bruce Coleman
There was, of course, an earlier label operated by the Stebbing family under that name, which released 78s from the 1940s to the early 1950s, but this page is mostly concerned with the later, post rock'n'roll, label of the same name. Eldred and brother Phil worked as partners until 1954 when they fell out and there was a very brief break until August 1957 when Eldred started releasing discs on his own. Thereafter it was Eldred, with wife Margaret, and, later, his sons who owned the labels. His sons, Robert & Vaughan, still do in 2015.
Not only did Zodiac record and release countless important New Zealand acts, they also provided recording facilities to many other acts that appeared on other labels, both in Eldred's basement studio at 10 Saratoga Avenue, Herne Bay, and, after 1970, in the Jervois Road, Herne Bay studio, which they still occupy. They were, with like-minded pioneers like Phil Warren and the earlier TANZA and contemporay Viking and Allied International, the beginnings of a New Zealand owned recording industry which has exploded in the decades since.
Before Saratoga Ave recordings were done in the Stebbing home in Methuen Rd in Avondale, a hall in Mays Rd in Mt. Roskill, the Pacific Building in Auckland's Queen Street (where the ASB now is near Wyndham Street) and just about anywhere else Eldred could fit his Grundig recorder.
They were the first New Zealand label to have an identity outside the national shores, and the first to have a number one anywhere else. Throughout the years Eldred was very, very, hands on – he built the equipment, he managed several of the bands, selected songs, produced or co-produced most of the records on this page, and owned clubs where the acts played.
Independent music in NZ owes a huge, often unrecognised, debt to Eldred Stebbing. Indeed, there are many in the NZ industry who felt that it was an unforgivable oversight that Eldred, who died late in 2009, was not the first person inaugurated into New Zealand Music Hall of Fame, in 2008. I'd agree with that sentiment.
The catalogue is filled with iconic New Zealand singles and songs that have become part of the national landscape, and it's obvious that taking risks was a big part of what Eldred did, whether consciously or instinctively.
But for all that, the catalogue below is patchy in places - there are many singles that make the casual viewer step back a little, but I guess there were bills to pay, and Eldred's obsession with the novelty and the MOR often turned into huge money-spinners. And the Hawaiian fixation of the early years apparently was reflected in the crowds at the dance halls in Auckland in the late '50s.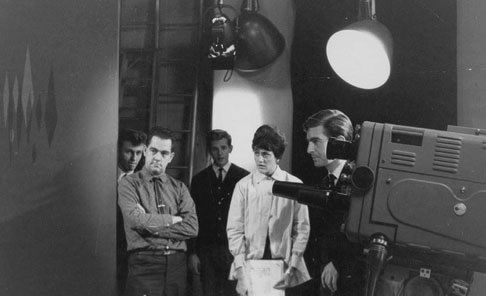 Eldred Stebbing @ the C'mon Studios in Auckland's Shortland Street.
Which makes another point: despite the presence of big non-Auckland names on the roster, this was primarily an Auckland label, with many of the singles from 1963 onwards reflecting what was big in the Auckland beat club scene that Eldred both had an interest in, as a club owner, and was immersed in. Some of these singles were never available outside the Auckland area.
And it's from 1963 onwards that the label really got interesting and where its reputation largely lies. One wonders who would've recorded many of these acts if Eldred hadn't. The answer is mostly no-one, as the other labels that followed were all very much in the shadow of Zodiac.
Not enough credit is given to Englishman John Hawkins who, with Eldred engineering, produced many of the key tracks of the sixties and gave them that edge and attack that still sets them apart. Witness the famed intro on 'How Is The Air Up There?', or the timpanis on 'Till We Kissed' (recorded upstairs at Saratoga because they couldn't get downstairs into the custom built studio).John is rarely credited but can often be identified by a boxed J/H Prod on the label.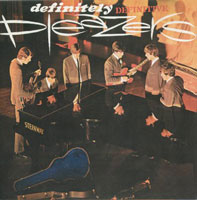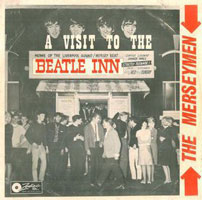 I've not tried to provide extensive bios for those acts, for that I'd point you at AudioCulture, John Dix's Stranded In Paradise, Roger Watkin's mighty books, Hostage To The Beat and When The Rock Got Rolling, and John K Smith's Just For The Record (all four sadly out of print at the time of writing).
Some acts though, simply defy my research, especially as I'm outside NZ much of the time but I am adding and updating as I go.
And I've not gone beyond the Zodiac singles roster, the z-1000+ series, as the Key singles are harder to track down having Festival numbers, mostly.
This does, however, include the Viscount label singles (indicated by a Viscount next to the catalogue number), which was a sub label owned and operated by Gary Daverne, Eldred's cousin, under the wing of Zodiac and was, I understand, partailly funded by Zodiac.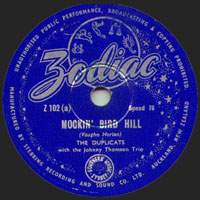 A Zodiac 78 from the late 1940s / early
1950s
Also included are The La De Das and other singles Eldred licensed to Philips in NZ, as these may not have carried the logo but are Zodiac releases and this list would be incomplete without them.
For the trainspotter, the catalogue prefixes on the singles varied over time. Z45- on 7" singles was the most common, but Z- alone (also used on the 78s), Z/45, Z (no dash) and other variations were common, some records using several on different pressings. To simplify matters I've just used Z-.
The earlier 78 series (the ones from the 1940s and early 1950s, as pictured left) used a number sequence in the range Z-100 upwards. However, later 78s carried numbers from z-1000 upwards and seemed to clash with many 45s in their numbering. And there are are one or two cases of duplicate numbers being given to 7'"s.
There are some records that appeared on Zodiac Icon (mostly the Keil discs) and others on Zodiac International, but the division and tagging seems to have been at best random.
There was also a Zodiac International label, existing outside this series (and seperate to the Zodiac International that appears here on a few discs) which released foreign acts, including James Brown and Tom T. Hall. They were in the ZISP500+ series.
There are inevitable mistakes here, especially on the early releases, but I'll correct as they come to light. The single images are mostly of my copies (I've got many more but they're unscanned to date) but I've borrowed one or two, however since these were publicly released records I'm hoping that's not an issue.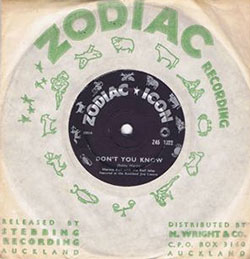 A Zodiac bag from the early 1960s and the Icon sub-label.
One needs to take the term 'chart' or 'hit' here with a large grain of salt. Many of these records sold very large numbers both by the standards of the day and, more, by those of today. But the charts as an accurate representation of what was being sold in NZ didn't exist during the Zodiac era. They were mostly complied by radio and media and reflected what was being played on radio or personal bias. Many of these big sellers, most in fact, hardly hit a sales chart but were public hits and regarded as such. Radio in NZ needs to hang its head in some shame at the way it treated NZ popular music through to the forcing of its hand by the Labour government in the 2000s.
This too, is completely unofficial. I've had no contact with Stebbings, the family or anyone else, partially as I thought that might (or might not) taint the words below, if it was to be officially sanctioned and groomed as such. Edit: The Stebbings have approved this page and I've been able to verify dates and releases that I was unsure of from Zodiac documents. Thanks to Vaughan and Robert Stebbing and Steve McGough.
But to the Zodiac singles:
Z-1001

The Hulawai'ans - Hawaiian Rock'n'roll / Isle Of Fair Hawaii (1957) (released on 7" 45 & 10" 78, pictured above)

The first release and I'm unsure if these first few releases were from late 1957, when Stebbing began the label, in his Avondale home, or early 1958. What I do know is that Phil Stebbing, Eldred's brother, co-wrote this.
Eldred seemed fascinated by the Hawaiian sound that the likes of Les Paul and many others championed. And the sound had some resonance with the large, and growing, Polynesian audiences filling many of the live venues around Auckland at the time. The A side of this featured Morgan Clarke on vocals, the B side Joanne Newdick.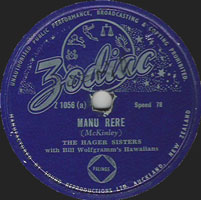 Z-1002

Hagar Sisters & Bill Wolgramm's Hawaiians - Manu Rere Ai Ai / Malie (1957) (released on 78 only)

Tongan born, Bill Wolfgramm and his band were a huge ballroom / community hall drawcard in the late 1940s & 1950s when, partially as a result of the massive influx of Pacific Islanders into the city over the decades, the Hawaiian craze swept Auckland. His vocalists included Morgan Clarke, Paul Linklater and Joy Yates.
Who the Hagar Sisters were, I have no idea, but he worked and recorded with them extensively. A 78 of this also carries the number Z-1056 (as pictured) just to add some confusion, and seems to date from a few years earlier so I'm guessing this was a reissue (or re-recording) of that 78.

Z-1003

Hagar Sisters - Maui Girl / Maui Chimes (1957) (released on 78 only)

Performers with Bill Wolfgramm's band, perhaps someone can provide more information?

Daphne Walker

Z-1004

Daphne Walker & Bill Wolfgramm's Hawaiians - Polynesian Love Song / Hawaiian War Chant (1957) (released on 78 only)

The clearly successful Hawaiian phase continues. The B side was a cover of an American song from The Playboys. Most of the pre-Saratoga Ave recordings were done by Eldred on a Grundig recorder, in living rooms, and other improvised places.
Bill Wolfgramm was a huge live and recording star in NZ in the 1950s, on the TANZA label before Zodiac, playing lap steel guitar. He recorded through to the 1970s and much of his catalogue remains in print on a variety of labels.

Z-1005

Benny's Five With Morgan Clarke - Haka Boogie / Hawaiian Boogie (1957) (released on 45 & 78)

A classic. Perhaps the first Rock'n'Roll record sung in Maori (by Morgan Clarke), when first recorded in 1956, this record underlines just how important Maori bands, singers and musicians were to the rise of rock'n'roll in New Zealand. This, deservedly, was Zodiac's first hit single but is still very hard to find. The Benny in Benny's Five was Ben Tawhiti.

Z-1006

Morgan Clarke And The Zodiac Paradise Islanders - Dusky Polynesian / Ninety-Nine Ways (1957) (released on 78 only)

Singer Clarke was a Maori vocalist from Auckland who sang with the ballroom bands, like Bill Sevesi's, at The Orange Ballroom (still at the top of Newton Rd) and others, and recorded before Zodiac for TANZA. He featured on many of these early Zodiac sides.

Z-1007

Johnny Granger With The Rock A Billys - I'm Stickin' With You / Empty Arms (1957) (released on 45 & 78)

In 1958 the Stebbing family moved to the famous Saratoga Ave property in Auckland's Herne Bay, and it was there, in the converted downstairs rumpus room, that Eldred set up his home studio, where he would record most of the records on this page. This was one of the last recorded before that move.

Z-1008

Morgan Clarke & Bill Sevesi & His Novelty Five - Christmas Time / Go Man Go (1957)

The legendary Tongan Hawaiian Steel Guitar player (since 1936!) was a massive drawcard around Auckland in the '50s and '60s but this seems to have been his only 45 for Zodiac. This was also the first Zodiac single to be released only on 7" 45.

Z-1009

The Howard Morrison Quartet - There's Only One Of You / Big Man (1958)

The first single for these guys, originally called The Ohinemutu Quartet, from Rotorua and the early Maori showbands. Little did the nation know what was about to break.
They were bought to Auckland, and to Zodiac by legendary Auckland promoter, Benny Levin after he found them at a talent contest in their home town.

Z-1010

The Howard Morrison Quartet - Haere Ra E Hine / Marama Pai (1958)

Single number two and there is conflicting evidence as to whether it was released on 78 too, perhaps a recognition of the fact that this single was aimed very much at the Maori audience outside Auckland, where 78 players were still supreme but the balance of evidence is that it was 45 only.

Z-1011

Bob Paris And The Auckland Jive Centre Band - Rebel Rouser / Rumble (1959)

Bob Paris's band was the resident at The Jive Centre in Auckland and Paris was in the backing band, as The Devils, put together by Bernie Allen as backing on many of the incredibly successful run of singles from Johnny Devlin recorded for Phil Warren's Prestige label. They signed to Zodiac and their first release was an EP in 1958. They followed that with this single, which covered Duane Eddy and Link Wray tunes.

Z-1011

The Howard Morrison Quartet - Deep Purple / Marie (1958) (78 Only)

This catalogue number was used twice for some reason likely an oversight, but there seems to have 2 identical number systems running at the same time: 45 & 78. it can't have helped sales of either. This was the first use and there seemed to be two concurrent series running up to the time 78 production ceased in NZ in 1958.

Z-1012

The Howard Morrison Quartet - Po Kare Kare Ana / Hoki Mai (1959) (released on 45 as a re-release of a title previously on 78, this being the last release on that format. The 78 was Z-1010 causing another number clash, and issued in 1958)

The staple and quite a hit for the Quartet. The songs remained in Howard's live repertoire until his death in 2009.

Z-1013

The Howard Morrison Quartet Featuring Jerry Merito- Goodbye Baby / Short Fat Fanny (1959)

The band goes rock'n'roll and targets a completely different demographic to the last two singles.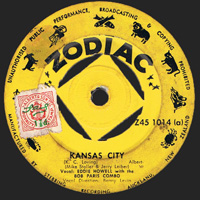 Z-1014

Eddie Howell With The Bob Paris Combo - Kansas City / Bob Paris Combo - Big Girl (1959)

Two popular acts on the same 45 - value for money. Prior to this, Eddie was briefly a member of The Howard Morrison Quartet, before they hit.

Z-1015

Red Hewitt And The Buccaneers - The Girl With In Teddy Bear Coat / Betty Lou's Got A New Pair Of Shoes (1959)

One of the first rock'n'roll bands in Auckland in a scene that coalesced around the Jive Centre, they recorded this single for Zodiac then went off to do three others for Audion, a label centred around Auckland University.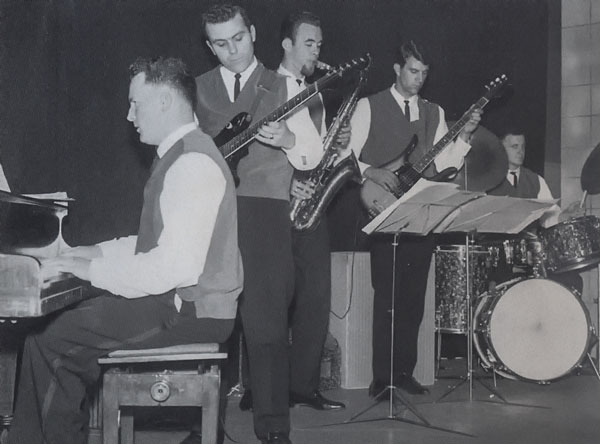 The Bob Paris Combo make some noise
Z-1016

The Beatnicks - Juvenile Delinquent / Dirty Feet (1959)

Every question I ask on these guys draws a blank, but it looks like a rock'n'roll single of sorts. Perhaps timed to coincide with the movie of the same name which came out this year.

Z-1017

Eddie Howell With The Bob Paris Combo - Summertime / I Need Your Love Tonight (1959)

Eddie was a highly regarded Maori vocalist from the East Coast of the North Island (where he still lives) and arrived just in time to launch himself out of the big bands of the Auckland scene into some pretty credible rock'n'roll. He also recorded the big ballads, like these, which his audience loved.

Z-1018

unknown

Z-1019

Eddie Howell - Primrose Lane / Just A Closer Walk With Thee (1959)

More ballads from Eddie, including the very often recorded B side.

Z-1020

Bob Paris And The Peppermints - Time Bomb / Theme From Peter Gunn (1959)

The Combo was renamed The Peppermints for some reason.

Z-1021

Eddie Howell - Sitting In The Back Seat / I'm In The Mood For Love (1959)

Eddie's records apparently sold in some numbers and he was quite a star in the late 1950s. He came to Auckland for school (Auckland Grammar), and, after a quick trip back south, returned and was discovered by promoter Benny Levin who passed him to Eldred.

Z-1022

Herma Keil And The Keil Isles - Don't You Know / Blue Guitar (1959)

The Keil Isles were formed out of the Samoan Keil family in Auckland in 1956 and were an immediate hit, with stunning stage shows and instrumental virtuosity, especially from guitarist Olaf. Vocals were shared by Herma, sister Eliza, and cousin Freddie and they recorded for singles for the TANZA label before signing to Zodiac.
Z-1023

Jerry Merito And The Howard Morrison Quartet - Battle Of The Waikato / Granada (1959)

The mega-hit which took both the Quartet and Zodiac to the next level. Recorded live at the Auckland Town Hall, it sold over 40,000 copies.

Z-1024

The Howard Morrison Quartet - Hawaiian Cowboy Song / Little Darlin' (1960)

In which Howard and co. take one last stab at the dying Hawaiian craze (although Zodiac would turn out Hawaiian flavoured budget albums for years to come). Recorded at the same concert that Waikato was taken from, and their 2nd to last for Zodiac (they moved to La Gloria, owned by Harry Miller, their manager).

Z-1025

Owen Griffiths And Clive Weir & The Rockettes- Out Of The Blue Gums / Waltzing Matilda (1960)

People from Hamilton singing songs about Australia, for some reason. Owen had earlier recorded a single for Auckland's Audion label.

Z-1026

Apaapa Sisters With The Down Town Boys - Mail Man, Bring Me No More Blues / Guess Things Happen That Way (1960)

The sisters, Lyn and Cheryl from Tauranga, cover Buddy Holly.

Z-1027

Jan Linden with the Jock Nisbet Group and Ann Holmes - Among My Souvenirs / Blue Skies (1960)

Jock Nisbet was an Scottish born pianist who immigrated to NZ in the 1940s and played prolifically with both his own group and others. Jan was the younger sister of (then) famous entertainer Don Linden, and was just out of Mt. Roskill Grammar when this was recorded. Ann was the organist at The Civic Theatre.
Eldred signed them all individually and as was his way, also recorded them in various combinations. Ann, who was a pakeha also recorded an EP of Maori tunes for Zodiac around this time.

Z-1028

Eddie Howell - (featuring the Jock Nisbet Group) Teenage Baby /(With The Choir Of The Auckland Choral Society. Conductor, Ray Wilson; Harp, Dorothea Franchi; Accordion, Silvio De Pra And Bass, Bob Ofsosk) When Its Springtime In The Rockies (1960)

Jock again. His band backed Howard Morrison live in the early sixties and, as an aside, someone of that name pops up in the minutes of the Taupo Lions club a few years back - was it the same guy? Perhaps it was. Either way, the prolific pianist and arranger found on these records also ran a musical importing business - sheet music, supplies - that sort of thing, from his house in Titirangi in the 1960s and was well known in the Auckland scene for many a year.

Z-1029

Red Hewitt And Buccaneers - Midnight Special / Beatnik Fly (1960)

The Buccaneers returned to Zodiac with this single. Their lineup included Gary Daverne, who was later to set up the Viscount subsidiary of Zodiac. The B side was just The Buccaneers.

Z-1030

The Keil Isles (with Herma Keil) - Be My Guest / Do You Miss Me (1960)

A scrap between cousins led to Freddie leaving the group (and signing to Zodiac) and the band expanded becoming perhaps the best known example of the big showbands that dominated the Auckland live scene before The Beatles turned the world upside down. A Fats Domino tune on the A side.

Z-1031

Red Hewitt And Buccaneers - Boston Blues Blues / Stay Away From Me (1960)

In a period of not much for than 12 months, these guys released some 6 singles.

Z-1032

Luke Dalton - Outside My Window / Wedding Bliss (1960)

Very clearly not the same Luke Dalton that appeared before U2 in 1987 (that was The Edge in disguise). I know nothing else about this though and It may be unreleased.

Z-1033

Eddie Howell And The Buccaneers - Lonely Blue Boy / By The Light Of The Silvery Moon (1960)

Two acts teaming up, for a couple of tracks of countrified rock'n'roll (the A side was a Conway Twitty tune, the B side, and old standard recently popularised by Doris Day). Either rare or unissued.

Z-1034

Glyn Tucker With Ian Lowe & The Tornadoes - I'm In Love / Carol (1960)

Glyn Tucker was also known as Glyn Conway. This was their only single, having made their way out of the suburban dancehall circuit in Auckland. It's highly regarded as an early NZ garage rock classic and can be found on a variety of collections. Tucker went on, with guitarist Paddy McAneney, to form the legendary Gremlins, and became a crucial player in the NZ recording industry as a producer.

Z-1035

Herma Keil And The Keil Isles - Boogie Boy / Shakey (1960)

A Gene Vincent cover and a hit.

Z-1036

Eddie Howell - Little Baby Girl / If I Had A Girl (1960)

Eddie goes rock'n'roll.

Z-1037

Herma Keil And The Keil Isles - Country Boy / Poor Man's Riches (1960)

The first single without Freddie in the band.

Z-1038

The Howard Morrison Quartet - Because Of You / Hoki Mai (1961)

The last HMQ single on Zodiac. They would move onto even bigger hits, on La Gloria, before splitting in the mid sixties. They reformed a few times over the years, but would never enjoy the huge success again they had in the brief half decade when they ruled the NZ airwaves and town halls.

Z-1039

Eddie Howell With Ben Tawhiti And The Matonaires - Hippy Hippy Shake / Stuck On You (1960)

More rock from Eddie and crew, with an Elvis cover on the flip, Eddie doing a very credible Presley style live apparently.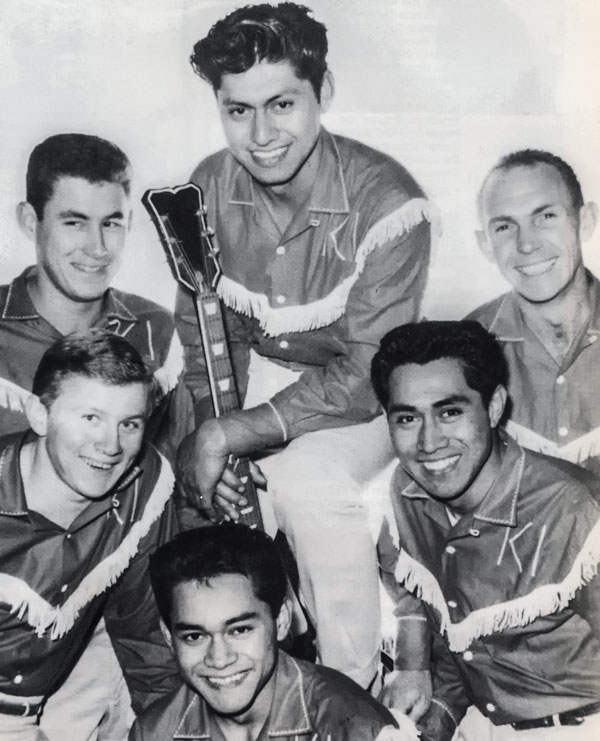 The Keil Isles
Z-1040

Herma Keil And The Keil Isles - Made To Be Loved / Come And Get Me (1960)

Around this time they toured NZ with Cliff & The Shadows, who were, if legend is to be believed, very impressed.

Z-1041

Charlie Couch & Toko Sisters & Jack Nisbett Group- Starlight Starbright / If I Had A Way (1960)

The pianist and legendary jazzman made two singles for Zodiac, this being the first. He was, at one stage, quite a live drawcard in Auckland, filling the Town Hall in the early part of the '60s.

Z-1042

Danny Robinson & The Toko Sisters - King Tawhiao / Pamai (1960)

Danny was a member of the showband, The Maori Castaways. Much of the scene that bred so many of these bands was centred around the hugely important Maori Community Centre in Freeman's Bay, Auckland, which stood until a few years back, on the corner of Fanshaw and Halsey Streets.

Z-1043

The Three Lads With The Jock Nisbet Group - Seabird / Drunken Sailor (1960)

An Auckland trio who had earlier recorded seven 78s for TANZA between 1954 and 1957, plus an EP on Zodiac in 1958 (EPZ104).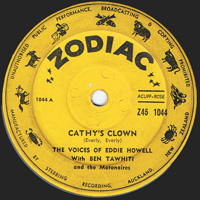 Z-1044

The Voices of Eddie Howell with Ben Tawhiti & The Matonaires - Cathy's Clown / Well Don't You Know It Well (1960)

The Everly's song of course, a very current sound at the time.

Z-1045

Zodiac Paradise Islanders - Hawaiian Boogie / You And I On Our Lanai (1960)

You get the feeling that the Hawaiian thing had well and truly run its course by this stage but Eldred tossed out one more with what seems to be a house band.

Z-1046

Owen Griffiths & The Rockettes - Swingin' School / Angela Jones (1960)

I guess Owen must've had some success as he was bought back for a second and, later, third single, now teamed with The Rockettes

Z-1047

Peter Posa - Sweet Georgia Brown/ Some Of These Days (1960)

Peter Posa, from West Auckland, was a phenomena, if only for the sheer number of records he produced for, mostly, Zodiac and Viking. In 1960 he approached Eldred and this, his debut single, was the result.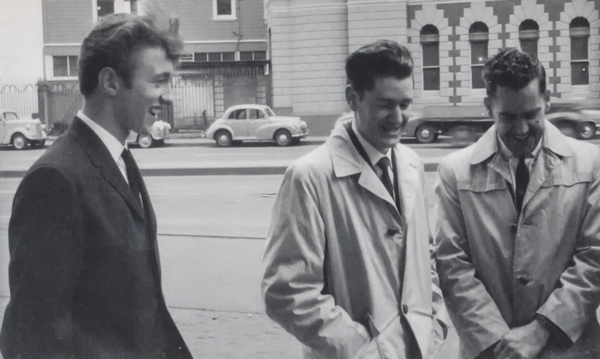 Ray Woolf, Peter Posa & Eldred Stebbing. Posa was the most prolific NZ recording
artist of the 1960s, although much of it was for Viking Records.
Z-1048

Bill Morton - The Hanging Tree / Riders In The Sky (1960)

A very rare Zodiac single. Morton was a country singer who also recorded for Viking, where he made an album with the Al Paget Sextet.

Z-1049

Esme Stephens And The Silhouettes With The Peter Posa Combo - Sixteen Reasons / Paper Roses (1960)

Esme Stephens was an Auckland singer with a fairly long and successful career from the 1940s through to the 1970s. She could often be heard singing live on various NZBC radio shows in the 1940s and 1950s. This record made number 5 on The Lever Hit Parade (the closest thing we had to a chart back then).

Z-1050

Red Hewitt And Buccaneers - Down Yonder / Goofus (1960)

This band featured Gary Daverne on piano and saxophone. His involvement in the Zodiac story was substantial in the years to come. Aside from the Viscount sub-label, he worked on many Zodiac releases and also became a distinguished composer, arranger and conductor. His own site is here.

Z-1051

The Silhouettes - My Tani / Alley Oop (1960)

This band recorded mostly for Allied International but worked as a backing band extensively with Zodiac and Viscount acts. They were from the North Shore of Auckland.

Z-1052

Apaapa Sisters With The Down Town Boys - Train Of Love / Sentimental Kid (1960)

The sisters harmonised their way through quite a few singles until at least the late 1960s, on several labels.

Z-1053

Eddie Howell With The Silhouettes, With Ben Tawhiti And The Matonaires - Tell Laura I Love Her / Trouble In Paradise (1960)

Eldred seems to have opted for covers of US hits for Eddie, and often had access to the new US hits before they were released in NZ, thus ensuring that his acts had the first version on the market.

Z-1054

Herma Keil And The Keil Isles - Don't Come Knockin'/ My Heart Crys For Me (1960)

Another single for the Samoan supergroup, and a hit.

Z-1055

Daphne Walker - Via Con Dios / Broken Wings (1960)

Daphne was a solo vocalist and with the likes of Bill Sevesi & Bill Wolgramm, and quite a star in her own right with hits on a variety of labels over the years. Born on Great Barrier Island, she recorded over thirty releases for the TANZA label before her three Zodiac singles. She later recorded for Viking. Her Maori Brown Eyes album was released globally and is still in print.

Z-1056

Charlie Couch & The Silhouettes & The Peter Posa Combo - Looking For A Star / The Shrine On The Second Floor (1960)

This may have been either 1055 or 1056, sources differ. Either way it was a duplicate number of another release. In late 2009, Charlie was still playing around Auckland, and had become quite a fixture on the corporate scene. This was his final single for Zodiac.

z-1056

Rusty Greaves & Peter Posa - Mule Skinner Blues / Fraulein (1961)

An iconic NZ country singer, comedian and yodeller, from the town of Patawa in the Manuwatu, Rusty, who's real name was Trevor, recorded on and off for Zodiac for years with quite some sales. This was his first single and launched quite a successful recording career.

Z-1057

Red Hewitt And The Buccaneers - Dreamin' / It Is A Bluebird (1960)

The Buccaneers singles have become very collectable in recent years, as have many early NZ rock'n'roll singles and this is perhaps the hardest to find. They also recorded for HMV.

Z-1058

Apaapa Sisters - E Waka E / Tehia (1960)

Their final for Zodiac, but their name could be found in the credits on a variety of records over the next years.

Z-1059

Rod Derret - Teddy Boy's Picnic / The Jester (1960)

Rod came from Christchurch where he played in big bands in the 1950s, and, skinny and bespectacled, he was an unlikely star, but I guess it worked for Buddy Holly. This, his first for Zodiac, was a rock'n'roll novelty, as were all his records.

Z-1060

Happi Hill - The Full Pack Of Cards / Pine Trees To Toothpicks (1960)

Happi Hill (real name Peter Hill) was a Canadian born radio host from the South Island, very popular in the 50s.

Z-1061

Peter Posa - Josephine / Steel Guitar Rag (1960)

Posa was a multi-instrumentalist but mostly he was a guitarist who was inspired by the Nashville pickers of the 50s. He recorded all his tracks himself, overlaying tracks in a way that was quite revolutionary for the time.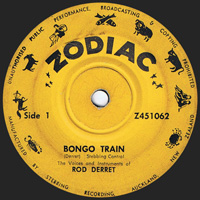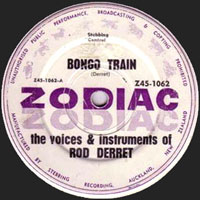 Z-1062

The Voices and Instruments Of Rod Derret - Bongo Train / The Kiwi Train (1961)

Rod had a big hit with this, which found the public fancy, especially the B side, the lyrics to which are here. After this he signed to HMV and had huge novelty hits with Rugby, Racing and Beer and the non-PC but funny Puha and Pakeha in the mid 1960s (where he had two ts in his last name).
He later moved to Australia where he passed away in 2010.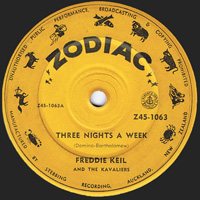 Z-1063

Freddie Keil And The Kavaliers - I Found A New Love / Three Nights A Week (1961)

The first of a string of very successful singles from Freddie's new band, originally called The Zodiacs.

Z-1064

Dawson Rata - Inamorata / Little Corner Of The World (1961)

Dawson was an 11 year old discovered by Eldred in a talent quest. This seems to have been his only record as Stebbings had huge plans for him, taking him to the US and trying his luck there, but his mum said no.

Z-1065

Claude Papesch - In Apple Blossom Time / Danny Boy (1961)

Claude was a blind Maori keyboardist from the Taranaki who played with Bob Paris and Johnny Devlin. He recorded an album for Zodiac in the 1970s, Hammond Electrique (ZLP 1055). He had a very successful career in Australia, where he was Entertainer Of The Year one year and a local body politician. He died in Australia in 1987.

Z-1066

Daphne Walker - Gay Hawaiian Party / Bill Wolfgramm - Hawaiian War Chant (1961)

And just when you thought the Hawaiian songs were in Zodiac's past here comes Daphne with the Gay Hawaiian Party, no less. Double A side. The Walker side was reissue of a '50s 78 (Z141).

Z-1067

Herma Keil And The Keil Isles - Little Too Much / Yes Sir That's My Baby (1961)

The last Keil Isles' single for Zodiac before they moved to Viking (Zodiac acts often did it seems), where they recorded successfully until 1967, when finally, as there were no longer any Keils in the band, they split. Herma is still living in Australia and the rest of the family are in the US, but they were quite a thing in their day. There is a great video of Herma, post Zodiac, here.

Z-1068

Red Hewitt - Girl With The Story In Her Eyes / I Don't Care (1961)

The band this time was Ann Holmes on organ, Jock Nisbet on piano, Bill Jones on drums and Peter Posa played guitar. The last single for Zodiac before the Buccaneers moved to HMV for one single and then split as their time was almost past. Red joined the flood of NZ musicians to Australia.

Z-1069

Laurie Morrison And The Del-Kings - Sweeter As The Days Go By / Nobody But Me (1961)

Howard Morrison's elder brother and his band.

Z-1070

Rex Jensen - Portrait Of My Love / April Showers (1961)

There is a Rex Jensen who owns a gas station in Dannevirke. That aside, I've drawn a blank on this guy.

Z-1071

The Multi-Guitars Of Peter Posa - Wheels / La Paloma (1961)

Wheels was a massive hit for Posa (and Zodiac) and remained a commercial radio staple for over a decade.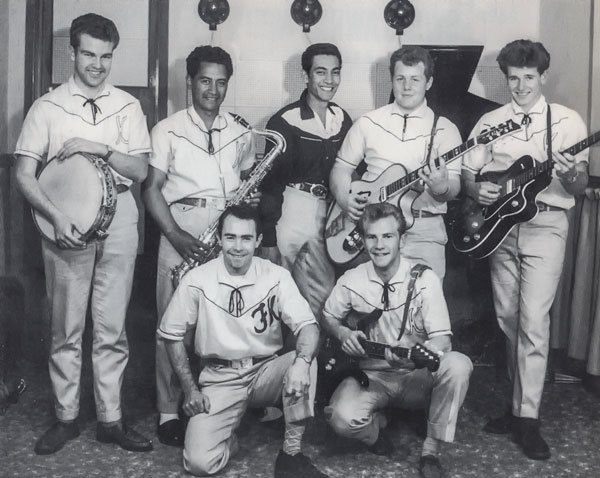 Freddie Keil And The Kavaliers
Z-1072

Trevor Coe - The Blizzard / The Coming Home (1961)

Yet another act I know nothing at all about.

Z-1073

Owen Griffiths & The Rockettes - But I Do / Blue Suede Shoes (1961)

Owen's last single before returning, I guess, to Hamilton. Very rare, perhaps unissued.

Z-1074

The Multiple Guitars of Peter Posa - Listen To The Mocking Bird / Sheik Of Araby (1961)

The first of three singles by Posa issued at the same time.

Z-1075

Peter Posa with Jeff Hemingway, Gene Blazer (as Gene Blaser) and Bill Jones - Playing Possum / Passion Flower (1961)

And the second Posa single, this time credited to a quartet of musicians. Around this time he toured NZ as support for Helen Shapiro.

Z-1076

The Multiple Guitars of Peter Posa - San Antonio Rose / Should I (1961)

And the third. These were all solid sellers as Posa was a commercial radio favourite especially in rural and small town NZ.

Z-1077

Rusty Greaves & Peter Posa - I'm Gonna Knock On Your Door / The Great Snowman (1961)

A teaming of two big names in the country scene likely paid dividends in sales at the time.

Z-1078

The Mystics - Phantom Train / Panic (1962)

From Auckland, that aside, no idea who these guys were. The record is a passable Shadows pastiche.

Z-1079

Freddie Keil And The Kavaliers - What About Me / Take Good Care Of Her (1962)

After the fairly large fallout with his cousin, Herma, Freddie formed the Kavaliers, and branched out on his own with some success. Guitarist Olaf also left the Keil Isles in '62, moving to the US where he made custom guitars for Fender for, amongst many, Jimi Hendrix, Buck Owens and Johnny Cash.

Z-1080

Peter Posa - Berlin Melody / Guitar Boogie (1962)

There seemed to be an endless market for Posa's guitar instrumentals and he was happy to supply it. He toured relentlessly around Australasia, the Pacific and into Vegas, which must've made his labels very happy.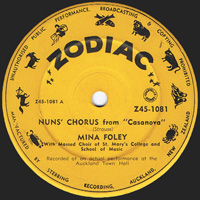 Z-1081

Mina Foley With Massed Choir of St. Mary's College And School Of Music - La Virgine Degli Angeli / Nun's Chorus From Casanova (1962)

The Auckland Opera diva of course. One of her few recordings.

Z-1082

Freddie Keil And The Kavaliers - The Twist/ Tossin' And Turning (1962)

Freddie's big hit cover of the Chubby Checker tune. Freddie was a member of the Keil family, who were like Polynesian music royalty in Auckland. The A side was just credited to Freddie.

Z-1083

The Hi-Brows Featuring Billy Muriwai And The Multi Guitars of Peter Posa - The Blue Water Line / Girl Of My Dreams (1962)

A superstar lineup of pre-Beatles Auckland based talent. Posa in particular played on many Zodiac 45s as backing.

Z-1084

The Kini Quartet with The Peter Posa Combo - Hard Times Are Comin' / The Kotahitanga (1962)

This vocal band came from Gisborne and signed to Zodiac after they came to Auckland. They released one album, Under The Sun (ZLP 1040). This single was recorded live in Gisborne.

Z-1085

Freddie Keil And The Kavaliers With The Hi-Brows - The Wanderer / Twisting The Night Away (1962)

Most of the Kavaliers songs were covers, in that particular Polynesian twist on rock'n'roll that so dominated the scene in the pre-Beatles days.

Z-1086

Peter Posa - Percolator Twist / Rebound (1962)

Even Posa wasn't shy to jump onto the '62 twist bandwagon, in the hunt for a hit.

Z-1087

Lou And Simon with The Peter Posa Combo - Young World / Nancy (1962)

Lou Clauson and Simon Mehana came from South Auckland, and were essentially a comedy act who sang. And sold lots of records.

Z-1088

Kini Quartet - Jenny & Johnny / Storm Girl (1962)

There was quite a touring circuit for bands like this around the time, not just in NZ, but across to the Australian East Coast where Maori acts dominated the club scene producing many performers who became household names in the coming decades.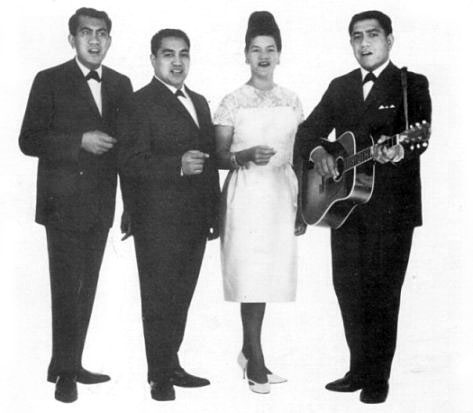 The Kini Quartet
Z-1089

The Hi-Brows & The Playdates - Left Right Twist / Look Around (1962)

This 45, with The Hi-Brows was The Playdates only Zodiac single. They too were a product of the thriving scene at the Maori Community Centre, and included amongst their members the legendary Danny Robinson. Rare, and perhaps unissued.

Z-1090

Peter Posa - Buttons And Bows / Georgia Camp Meeting (1962)

In 1963-4, Posa played 363 gigs in 364 days, something that most contemporary acts won't do in a decade. I guess it's called showbiz, and a hunger to succeed.

Z-1091

Fia Chaplin With Stuart Parson's Quintet - Too Hot To Twist / Twist With The Yeti (1962)

Fiapaipai Faleatuo was still a schoolgirl at Seddon Memorial Tech (now Western Springs College) when she beame quite a name on the Auckland club and ballroom scene. She launched her recording career with fashionable twist tune. That she was managed by Phil Warren gave her a major step up.

Z-1092

Kini Quartet - Sealed With A Kiss / I Only Have Eyes For You (1962)

A couple of covers of chart records hand picked by Eldred no doubt, as was his way.

Z-1093

Lou And Simon - Old Macdonald Had A Farm / Otangaroa (1962)

This was a novelty record, as were pretty much all their records, but it was also a big hit. I remember it on the radio as a kid, on those ZB Sunday request sessions.

Z-1094

Peter Posa - Mr Hibbs Theme / The Breeze And I (1962)

Posa was never shy to jump on a popular movie theme and give it his identifiable style. For years the record stores of Auckland seemed to overflow with the countless albums, many budget priced, that he recorded.

Z-1095

Ken Farr Featuring Peter Posa - John Kelly, The Boy From Killan / Girl In The Wood (1962)

I'm not sure who Ken was but the song itself is an old Irish rebel tune, also performed by, amongst others, The Clancy Brothers.

Z-1096

Ray Woolf And The Wooftones - Things / Fortune Teller (1962)

Woolf was an English immigrant singer who arrived in NZ in the early sixties and almost immediately signed to Zodiac.

Z-1097

Ray Woolf And The Wooftones - Ugly Ducking / Cry And Cry (1962)

The Woolf singles didn't set the world on fire either saleswise or artistically but he quickly cast himself as an all round entertainer and TV loved him for decades.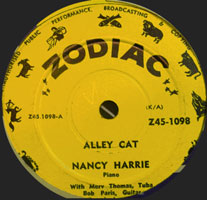 Z-1098

Nancy Harrie With Bob Paris & Merv Thomas - Alley Cat / Fascination Rag (1962)

Ngaruawahia born pianist Nancy's only single for Zodiac but she recorded for many other labels including HMV and TANZA over a very long career. She was resident at many Auckland clubs and cabarets over the years including the now demolished Peter Pan (later Mainstreet).

Z-1099

Ray Woolf And The Embers - If You Were A Rock & Roll Record / Little Boy Blue (1962)

Ray's earlier records were fare more rock'n'roll than his later 'all round entertainer' career would indicate, but mostly they slipped out without much fuss. The Embers included Glyn Tucker Jr (ex-Tornadoes and on his way to The Gremlins).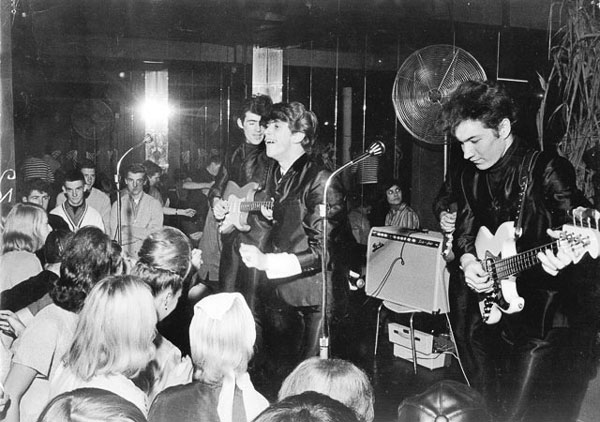 Ray Columbus & The Invaders
Z-1100

Lou And Simon with The Embers - This Time I Would Know / Its Just The Idea (1962)

Both sides written by John D. Loudermilk, the US writer best known for 'Tobacco Road'.

Z-1101

The Kavaliers - Chocks Away / Hot Toddy (1963)

A single which this time around was just the band without Freddie, on an sax led instrumental.

Z-1102

Waitemata Silver Band - The Longest Day / The President (1963)

Opportunistic movie themes it seems.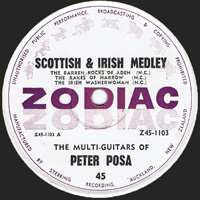 Z-1103

The Multi-Guitars Of Peter Posa - Scottish And Irish Medley / Moonlight And Roses (1963)

A last single for Zodiac before he headed off to Eldred's main competitor, Viking, where he had his biggest hit with White Rabbit, and discovered The Chicks. He'd return to Eldred later in the decade.

Z-1104

The Multi Guitars of Graeme Bartlett - Last Stage / West Sombero (1963)

Aside from a novelty hit in the 1970s (The Ballad Of Rob Muldoon), hit singles have always eluded Gray, although he is the king of promotion - both for himself and others - and had quite some success in China with albums in the 1980s. He also released an album that did well in Japan in the late 1960s.

The Auckland Star club guide, Dec 21, 1963. Like a Zodiac who's who of the time.
Courtesy of Larry Killip.
Z-1105

Freddie Keil And The Kavaliers - Should I / Its Only A Paper Moon (1963)

I'm guessing that there was quite a market for Freddie's particular style of Pacific Rock'n'Roll as he recorded (and was released) prolifically through to the late 1960s, despite the onslaught of the beat groups and beyond.

Z-1106

The Hi-Brows With The Embers - Room Full Of Roses / The Language Song (1963)

Two Zodiac acts teamed up, with The Hi-Brows providing the vocals.

Z-1107

Lou And Simon - Broken Heart / Broken Star (1963)

Their album, Lets Tour With Lou and Simon (ZLP 1019) was a big seller as they filled halls across New Zealand in the early and mid 1960s. It's hard to overstate, and indeed imagine 40 years later, just how big this sort of thing was. This single may not have been issued.

Z-1108

Anne Murphy - Back In Baby's Arms / Very Few Heartaches And Very Few Tears (1963)

A prolific Auckland singer from the early 1960s.

Z-1109

Freddie Keil And The Kavaliers - All The Other Boys Are Talking / Take These Chains From My Heart (1963)

There was a very clear move away from these old style big bands around this time and the gigs became a bit thinner in the inner city clubs and ballrooms, although there was always a Maori and Polynesian market for this sort of music.

Z-1110

The Multi-Guitars Of Graeme Bartlett - Skip To M'limbo / Loch Lomand (1963)

Gray does a Peter Posa styled instrumental and pulls it off.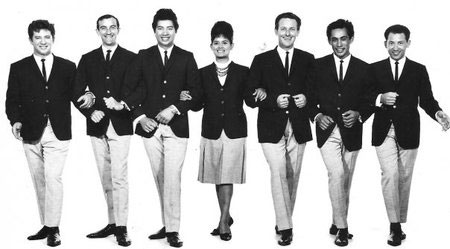 Quin Tikis
Z-1111

Ray Woolf With The H-Lites - Creole Baby / Wait For Me (1963)

Another single from Ray, this time just under his own name. Produced (and written) by Tony Lavelli, an American Basketball player!

Z-1112

Beverley Hill With The Kavaliers - Love Me Forever / Give Me A Break (1963)


I don't know this but I'd guess she was an Auckland club singer.

Z-1113

Jim Chamings - Whirlwind / Maori Maid (1963)

A briefly popular club singer, he recorded two 7"'s with Gray Bartlett backing.

Z-1114

Freddie Keil And The Kavaliers - Don't Try To Fight It Baby / No Signs Of Loneliness Here (1963)

You can see Zodiac straddling the line between the old and the new about this time, and it's to Eldred's credit that he managed to keep his finger on the pulse pretty much through to the 1980s, with a gap in the first part of the 1970s.

Z-1115

Lou And Simon With The Zodiac Strings - Here's Hoping / Blue Star (1963)

In the mid 1960s they also recorded a couple of EPs for Red Rooster, which was a shortlived Viking Records offshoot.

Z-1116

Anne Murphy With The Kavaliers - My Heart Said Bossa Nova / Pretty Boy Lonely (1963)

Anne also recorded for Viking. This was one of only two Zodiacs but her Viking tracks included duets with Herma Keil.

Z-1117

Lou And Simon - My Broken Heart / Poor Joe (1963)

Between 1962 and 1968 they recorded half a dozen albums for Zodiac, some live, and all steady sellers.

Z-1118

The Hi-Brows - Two Time Lover / Near (1963)

Maori vocal harmonies that could reallty only have come from New Zealand.

Z-1119

Lou And Simon - At The Balalaika / Sit Around And Talk (1963)

And the singles from this novelty act keep on coming (and I guess, keep on selling).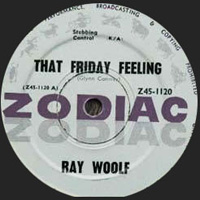 Z-1120

Ray Woolf - That Friday Feeling / Genie (1963)

That Friday Feeling didn't seem to find an audience, but his profile was growing so I guess these singles covered costs. Woolf was quite a popular household name in the 1960s and 1970s.

Z-1121

Lou And Simon - When I Met You (1963)

This seems not have been released as there is no record of a B side. Perhaps it was a one sided radio promo.
Ray Columbus & The Invaders
Z-1122

Ray Columbus & The Invaders - Money Lover / So In Love (1963)

The most famous of all the Zodiac bands was formed in Christchurch in 1963 as Ray and The Drifters. They cut their teeth playing to American servicemen at Operation Deep Freeze. Moving to Auckland, changing their name, this was their first single after signing to Zodiac.

Z-1123

Rusty Greaves - Hilly Billy Choo Choo / She Taught Me How To Yodel (1963)

Rusty performed and recorded for a variety of labels in NZ and Australia for over 40 years, plus assorted TV on shows like The Country Touch which was, back when country had quite an audience in NZ, a very popular saturday night show. He'd recorded 78s for Zodiac in the early 1950s. The A-side of this single was a German song, penned by Heinz Gietz and given English lyrics by Charles Singleton for US country act The Appalachians earlier in 1963.

Z-1124

The Multi Guitars of Graeme Bartlett - Dark Eyes / Moon Man (1963)

Another single from Gray - there were quite a few, most now forgotten - but he wasn't shy about leaping onto whatever trend was going with an instrumental or two, and some were quite ballsy garage instrumentals. Both tracks were covers of tracks from the Australian band, The Atlantics.

Z-1125

Fia Chaplin - Senora / Am I Blue (1963)

The second single from Fia seems not to have caused much of a reaction, as little trace can be found of it. The B side was penned by the great US songwriting team of Harry Akst and Grant Clarke and was first recorded by Annette Hanshaw in 1929.

Z-1126

Ray Woolf - You Can Never Stop Me Loving You / That's Why (1963)

This doesn't seem to have been issued and they used the flip side for the next single.

Z-1127

The Invaders - Ku Pow / Autumn Leaves (1963)

Originally the band was mostly instrumental, so it made sense for Zodiac to release a second single with no vocals. This was a hit, and the the band were an immediate sensation in Auckland with a r'n'b driven live show that made the Auckland bands look like something from the last decade (as many were).
This too was the first release on the new Australian Zodiac imprint, which issued some 39 singles and a few albums via Philips, in the catalogue sequence AZ1001-1033, and a bunch after November '66 under the ZF-1 to ZF-7 sequence, including at least one by Paul Fisher (It's Better To Have Loved / Happy Again, ZF-2) which looks to have not been released in NZ.
Some too were issued on a combined Philips / Zodiac brand (see Z-1307 below) although it's not known exactly how many.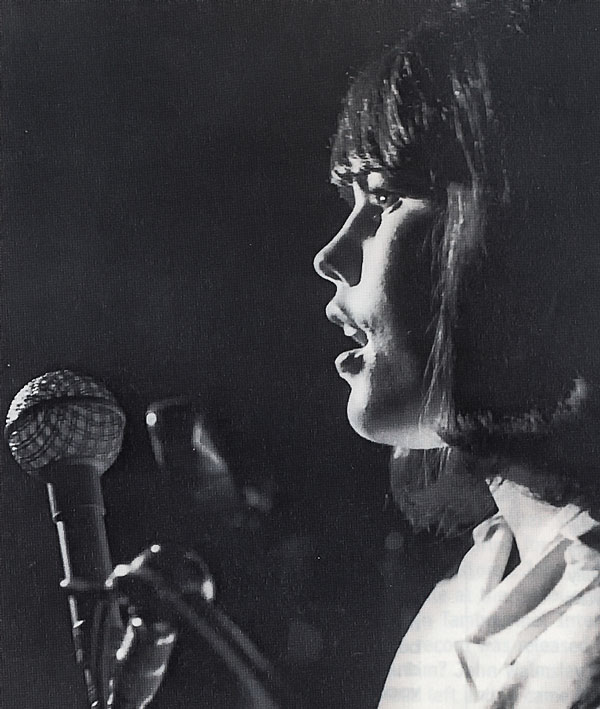 Cathy Howe
Z-1128

Lee Lingman - My Little Girl's Come Home / You Belong To Me / (1963)

Who Lee Lingman was I don't know. The B side was a Sam Cooke tune, whilst the A side featured The Hi-Lites. It was produced by John Hawkins, but unlike many of his productions was actually credited on the record by name.

Z-1129

Cathy Howe With The Silhouettes - Mommie And Daddy Were Twistin' / Then He Kissed Me (1963) (Viscount)

Cathy was from Auckland, Bayswater to be precise, and she recorded 8 singles for Gary Daverne's imprint, most of which were not huge hits, but had credible sales. She could be found many weekends in the clubs, halls and coffee bars that provided Auckland with a strong live scene for decades. The single was named top local pop record of 1963 by 1ZB. She was credited as Kathy Howe on this.

Z-1130

The Glendelles - Sally Goes Round The Roses / Ring-Ting-A-Ding (1963) (Viscount)

An all girl group from Glendowie College, put together by Viscount boss, Gary Daverne. They sang on most of the Viscount singles.

Z-1131

Steve Ellis - Mickey's Monkey / Jezebel (1963) (Viscount)

The first of two singles from this guy, this being a cover of The Miracles' recent hit (which I doubt was a hit in NZ, hence the crafty cover, which sadly didn't seem to work). Perhaps not released or limited release.

Z-1132

The Ridgerunners - Road To Freedom / So High (1963)

A record that Zodiac licensed from a US label, which I'm told came out in the US on a cardboard record.

Z-1133

Ray Woolf - That's Why / Just Gotta Have You (1963)

The B side of his last single became the A side of this. Did it sell? It seems not enough to chart it, but singles tended to sell over long periods of time in the 1960s, where they were the primary musical delivery format, and often reached fairly respectable, and cost covering, numbers over months or years.

Z-1134

The Ridgerunners - The New Frontier / Rainbow Bill (1963) (Viscount)

The band later became We Five, and included Michael Stewart (brother of singer / songwriter, John), whose claim to fame was as a producer of some of Billy Joel's biggest hits some years later.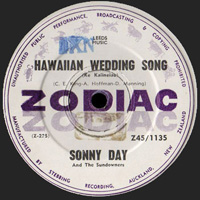 Z-1135

Sonny Day & The Sundowners - Hawaiian Wedding Song / Little Lovely One (1963)

Musicians like to hang around music stores and so it was that this influential and important band came together when the staff and customers of long time Auckland institution, Harmony House decided to form a band. Led by Sonny Day, they signed to Viking, releasing a brace of singles and an EP, after a change of name from Sonny Day and The Sharks, to The Sundowners, and then moved to Zodiac.

Z-1136

Lou And Simon- I Remember You ( You Gave Me Asian Flu )/ City Driving (1963)

Never one to miss a topical story...

Z-1137

John Goodare And The Galaxies - Make Me Know / I Really Love You (1963)

Country pop from a Hamilton singer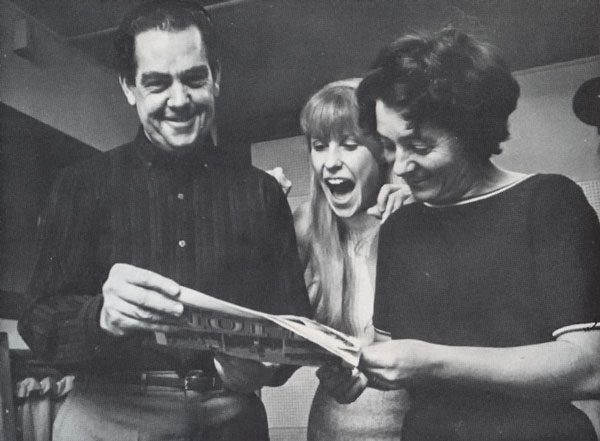 Eldred & Margaret Stebbing with Sandy Edmonds
Z-1138

Rim D. Paul And The Quin Tikis - Ol' Man River / Poi Poi Twist (1963)

One of the great Maori showbands that were such a feature of the South Pacific and South East Asian live scene through to the seventies, and produced a wealth of talent and household names, and, importantly, children who continue to make music across Australasia. Rim came from Ruatoria on the East Coast of the North Island, and joined this Rotorua oirginated band in the early 1960s. This B side of this single was a very New Zealand mashing together of the Maori classic Hoki Mai with The Twist.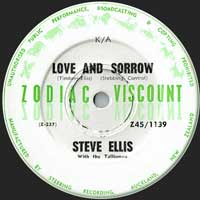 Z-1139

Steve Ellis With The Tallismen - Love And Sorrow / '509' (1963) (Viscount)

Steve was a UK born Auckland singer who was a regular name the dancehall scene of the early to mid 1960s. He lived in Birkenhead on the shore and in 1967 set up the briefly active Treble Clef label from his home. In its two year history it released a handfull of singles including The Music Convention and Bobby Davis records. Ellis is thought to have returned to the UK in the 1970s.

Z-1140

Cathy Howe With The Silhouettes - I Adore Him / Keep An Eye On Him (1963) (Viscount)

The recent compilation of Viscount tracks states that Cathy was big in the ballrooms and who am I to disagree. This A side was a cover of a US single by The Angels, and the B was originally by The Jaynettes. The Glendelles provided backing vocals.

Z-1141

Kini Quartet With The Graeme Bartlett Combo - Under The Sun / Mother And Child (1963)

The title track of their album and a minor hit.

Z-1142

Ray Woolf - Living A Lie / Just Like Eddie (1963)

The B side was a cover of the Joe Meek produced single by Heinz but it wasn't the hit it was for the Englishman.

Z-1143

Peter Hill - Rugby Solitaire / Big Deal (1963)

A novelty single about rugby from the Canadian-born Christchurch radio DJ who also called himself Happi Hill (see Z-1060).

Z-1144

Dave Henry & The Sundowners Ain't Got No More / Raindrops (1963)

The Sundowners, with vocalist Dave Henry as featured artist rather than guitarist, Day, as had been the norm before. These guys had built a following with residencies at clubs like the legendary Jive Centre and the Tijuana Coffee Lounge.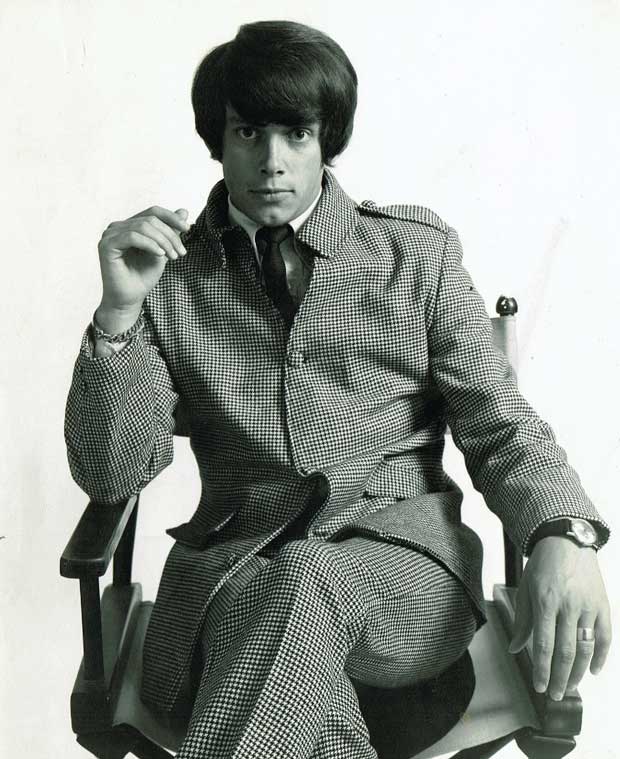 Ray Columbus
Photographer unknown
Z-1145

Ray Columbus & The Invaders - I Saw Her Standing There / Just A Dream (1963)

A timely Beatles cover, which was more of a holding single as the band made their first trip into Australia to check out the lay of the land. Under contract to Phil Warren, who'd bought them to Auckland, they continued to be a huge live draw.

Z-1146

Jim Chamings with The Graeme Bartlett Combo - Don't Make Sense, Does It? / Kiwi Lullaby (1963)

One last single for Jim, and then he moved to Australia where he was a broadcaster in Townsville and then Adelaide. He passed away in 2002.

Z-1147

Freddie Keil & The Kavaliers - Girls / Learnin', Trying To Forgive (1963)

From what I understand, these Keil records always sold in very respectable numbers and continued to sell past any 'hit' period. I guess you could call it a fanbase. That's what you get when play lots of gigs and it's a shame that for many acts today that concept seems to be alien.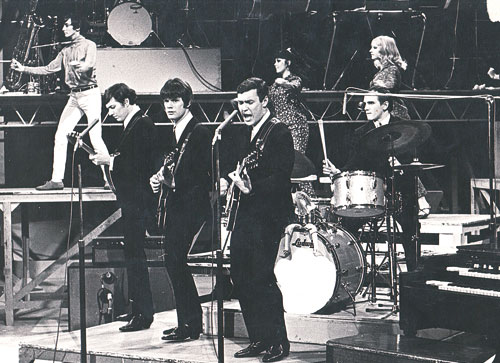 Max Merritt & The Meteors
Z-1148

Graeme Bartlett Combo - Jet Walk / Surf Rider (1963)

Gray goes all Shadows (albeit much tougher than the Shads), and has the closest thing to a hit he had at Zodiac. A killer instrumental nonetheless and quite sought after.

Z-1149

Max Merritt And The Meteors - Soft Surfie / She's Everything I Wanted You To Be (1963)

A great instrumental from one of the most prolific and respected NZ bands of all time. Why they only recorded one single for Zodiac, I have no idea. Their first recording in Auckland.

Z-1150

Ray Columbus & The Invaders - I Wanna Be Your Man / Cats Eyes (1963)

A big hit for Ray and the band (the B side was just the Invaders) which outsold the Beatles and Rolling Stones originals in NZ and was the definitive version locally for years.

Z-1151

Cathy Howe & The Glendelles With The Silhouettes - Please Mr Postman / Popsicles & Icicles (1964) (Viscount)

Gary teamed the East Auckland girl group up with label mainstay, Cathy Howe for this cover. It was a minor hit in those Beatles-happy days (even though it was originally by The Marvelettes, of course).


Z-1152

Jimmy Sloggett - Stompin' South / Crossfire (1964)

One of the most important NZ musicians of the '60s was actually an Australian. He played on and / or produced countless records, including his own smash hit Yackety Sax (on Viking). Two sax led instrumentals, this was the first of three singles for Zodiac.

Z-1153

Ray Columbus & The Invaders - On My Mind / Theme From Dr No (1964)

Two tracks from their debut album, Every Nite (ZLP 1020), once again vocal on the A, instrumental on the B.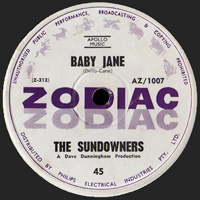 Z-1154

The Sundowners - Baby Jane / Keep A Knocking (1964)

The Sundowers solved the lead credit quandary by just not having one. The A side was a cover of a UK single by The Applejacks.

Z-1155

The Graeme Bartlett Combo - The Wobbly / Roller Coaster (1964) (Viscount)

Another single from Gray which doesn't seem to have caught the instant public fancy, but I guess sold respectable numbers over time. This time on Viscount.

Z-1156

Lou And Simon- If You've Got The Money / It's Only The Beginning (1964)

Aside from all these singles and the albums, there were also 5 Zodiac EPs from this duo!

Z-1157

Al Paget Sextet- Stampede / Chariot Stomp (1964)

Rock'n'Roll band from Auckland who played around the suburban clubs in the early 1960s. They'd released two singles for Allied International and one for Lexian before this instrumental, the first of two singles for Zodiac.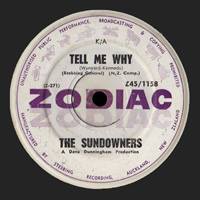 Z-1158

The Sundowners - Tell Me Why / Johnny Be Goode (1964)

Various people passed through the band over the years, including John Rowles, and drummer Trixie Willoughby, who was father to Kim Willoughby, later of the group When The Cats Away, and a solo act. She's married to Ian Morris, former member of Th'Dudes, who were signed to Key in the 1970s, and was the house engineer at Stebbings in the late 1970s - it goes full circle.

Z-1159

Kini Quartet - Hitch-Hiker / He Didn't Know (1964)

After they left Zodiac they recorded for RCA for while and eventually gave it away in the 1970s.

Z-1160

Bob Davis And The Wanderers - Short Fat Horrie (Long Tall Texan )/ No Vacancy (1964)

Zodiac clearly had some faith in Bobby, an English immigrant who was Christchurch based, as he stuck with him for some four years despite no real hits (but a TV profile). Not a PC title...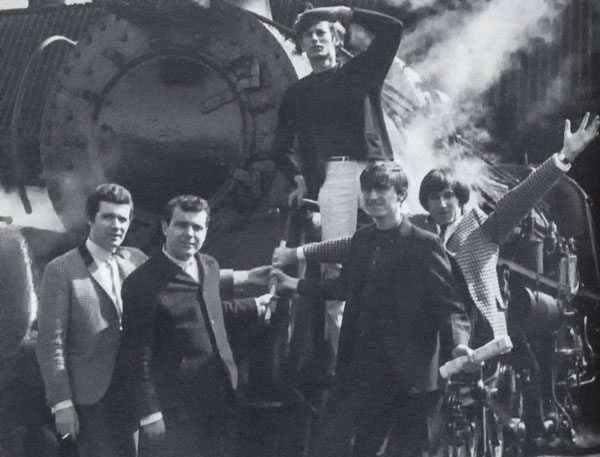 The Merseymen
Z-1161

Allison Durbin - Lovers Lane / Count On Me (1964)

Only 14 when she recorded this and four years away from her huge success for HMV. She was discovered by Eldred in a talent contest at Dave Dunningham's Surfside Ballroom in Milford. This didn't bother either the charts or airwaves.

Z-1162

Mauri Chan - Istanbul / Grazina (1964)

Mauri(ce) Chan was a Chinese Malaysian immigrant. He'd led a popular club band called the Maurice Chan Sextet around 1963-64 and then played pedal steel with Sounds Unlimited (see below).

Z-1163

The Glendelles - Please Please Daddy / (With The Silhouettes) The Four Winds And The Seven Seas (1964) (Viscount)

Final single for the gals. What became of them? Dunno..

Z-1164

Ray Columbus & The Invaders - She's A Mod / Poison Ivy (1964)

And here it comes, perhaps the definitive NZ pop single of all time. The song, a cover of an obscure single by The Senators, a band from Birmingham which included John Bonham, later of Led Zep., wasn't a hit in NZ originally but was picked up by radio after it had taken off in Australia.
Eventually it sold huge numbers and was number one in both countries. I suspect now that Eldred's gone, nobody knows exactly how many records this sold, but it was a hit all over again in 1981, and in a pop-rap version - best forgotten - with Ray, in 1990.
The Mint Chicks did a fairly faithful cover in 2009, but for my money the definitive cover remains that of The Terrorways in 1979. Is there a person alive in NZ who doesn't know the song?
Z-1165

Andre Lavelle Trio - Me Que Me Que / Les Amoureux Des Bancs Publics (1964)

A jazz trio from Auckland. I'm told that Andre lived in Eden Terrace in the late 1970s and made candles??!

Z-1166

Johnny Goodare And The Beatniks - I Begin To Like / Mandee (1964)

Moving to Auckland and changing backing bands still didn't get John a hit. He would return to Zodiac a few years later.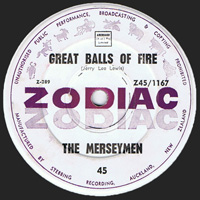 Z-1167

The Merseymen - Great Balls Of Fire / Memphis Tennessee (1964)

Formed to cash in on the all-things-Liverpool explosion and resident at The Beatle Inn in Little Queen Street. The A side maybe shows that they were already out of time. Featured Bob Paris amongst others. Their drummer, Jet Rink, later changed his name back to Dylan Taite and became an NZ broadcasting icon, after whom a New Zealand music award is named.

Z-1168

Gary Bayer - Big Bad Bass / Rumpus (1964)

This guy came from Wellsford and played bass guitar. His singles were all bass driven instrumentals.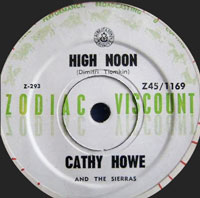 Z-1169

Cathy Howe And The Sierras - High Noon / True Love Will Come To You (1964) (Viscount)

A change of backing group. You have to give the label credit for keeping on with her, clearly there was some belief. The A side was the theme to the movie of the same name, and the flip a Cliff Richard album track.

Z-1170

Alan Morrison - Cry Baby Cry / Lovesick (1964)

A singer from Dunedin, and a member of The Embassy Six. He recorded an earlier single for Joe Brown Records.

Z-1171

Cathy Howe And The Sierras - Meet Me In St. Louis / Easy Come Easy Go (1964) (Viscount)

And another. The only acts on Zodiac who released more singles were those with big hits. But the single after the next was to provide just that...The A-side had been a hit for Judy Garland in the 1940s but dates back the early 20th Century (recorded by Billy Murray), while the B-side was a cover of a Helen Shapiro album track.

Z-1172

The Sierras - Romeo / Heaven (1964) (Viscount)

Centred originally around Viscount owner Gary Daverne's brother, Wayne, and two brothers, Len & Peter Riseborough, this was the first of seven singles they released for the label.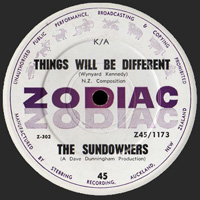 Z-1173

The Sundowners - Nitty Gritty / Things Will Be Different (1964)

The final Sundowners 45, as Sonny Day, who was the central figure, left the band and they broke up soon afterwards. Sonny played continuously in New Zealand from the 1950s through to his death in 2007, which was followed by a tribute gig featuring the who's who of NZ Rock'n'Roll royalty.

Z-1174

The Sierras - The Fall Of The Roman Empire / Tip Toe (1964) (Viscount)

The band backed most of the acts on Viscount including the first recordings of Mr. Lee Grant

Z-1175

The Merseymen - Jambalaya / Maybellene (1964)

Half this band, including the vocalist, Mick Leyton, were English and that was a huge advantage in those Fab days, as it was the next decade when punk hit.

Z-1176 Fia Chaplin - Johnny Let Me Go / My Beatle Boy (1964)

Never one to miss a trend, Eldred jumped on the Beatle bandwagon with this. Was it a hit? I can find no reference to it being so.

Z-1177

Freddie Keil - I've Got My Eyes On You / Move On (1964)

From all accounts Freddie was one of the great showmen of his era, which may explain his enduring popularity. This time he dropped The Kavaliers from the credit.

Z-1178

Rusty Greaves - No Money In This Deal / If I Could Come Back (1964)

Rusty was the first New Zealander to perform at the Grand Ol' Opry, and indeed performed there some 13 times over the years.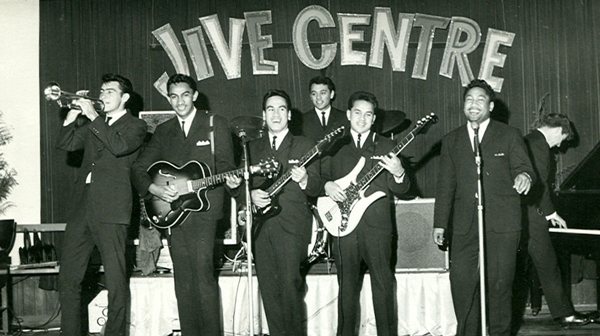 The Sundowners
Z-1179

Al Paget Sextet - Maybe Baby / Sea Of Clouds (1964)

The Buddy Holly tune and the last single for this group before they disbanded in 1965. Al joined The Newsounds with Ray Woolf.

Z-1180

Fia Chaplin - Gonna Get That Man / That's All I Want From You (1964)

Another Beatlemania framed single and Fia was finished at Zodiac, apparently heading off to Australia to try her luck.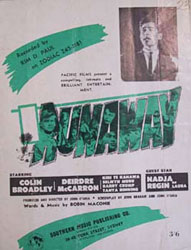 Z-1181

Rim D. Paul And The Quin Tikis - Runaway / Theme From The Inspector (1964)

The title song to the New Zealand feature film, Runaway, this was a hugely successful single for the Rotorua born singer.

Z-1182

Alan Morrison - Devil In Your Eyes / Dream Girl (1964)

Another single from Alan, the last for Zodiac although he would record an album in 1981 for Music World (with no other releases between that I can find).

Z-1183

Jimmy Sloggett Five - Temptation / It's Gonna Work Out Fine (1964)

The second single for the label. Although he worked extensively for the label over the years, it was 6 years until his name graced a Zodiac 7" again. He returned to Australia in the 1970s where he still plays with Max Merritt & The Meteors.

Z-1184

The Merseymen - Don't You Just Know It / Talking About You (1964)

Their last for Zodiac. These singles were lifted off their one album, notoriously recorded in one day. But they did get to support Manfred Mann and recorded a couple more for Allied International before calling it a day.

Z-1185

Ray Columbus & The Invaders - Yo Yo / She's Gone (1964)

After Mod any record would've been a comedown, but this was still a sizeable hit.

Z-1186

The Seakers - My Arms Want To Hold You / You Could Have Fooled Me (1964)

An Auckland band who were resident at The Shiralee. This was quite a big regional hit.

Z-1187

The Freddie Keil Five - Talk / Splish Splash(1964)

The end was nigh for Freddie here, the post Beatles wave meant that his style was now too old fashioned and sales dropped off. This was his last single for Zodiac and he later retired to Rarotonga where he died in 1994.

Z-1188

Gary Bayer - Mod Bod / Gary's Tune(1965)

More bass driven post Ventures instrumentals from the Wellsford wonder. A sound who's time had really passed by this time, at least in Auckland.For some reason this was not issued until late 1965.

Z-1189

Allison Durbin - Rules Of Happiness / Two Shadows (1964)

Single number two and still not much of seller, although she was performing regularly on the ballroom circuit by this stage.

Z-1190

Graeme Bartlett Combo - The Harem / Serenade To A Small Guitar (1964

Gray turned out so many singles it's hard to know what to say about them, although much of his Zodiac catlogue has held up rather well and some are almost punky (although not this one, which is still post Shadows sounding). This track was a huge selling single in Japan in the late 1960s. In 2010 he was still touring NZ, on the country circuit.

Z-1191

released as Z-1237.

Z-1192

Cathy Howe And The Sierras - When He Comes Along / That Boy (1964) (Viscount) (also on Zodiac)

The B side was Cathy's first self-penned recording (and one of the first recordings of an original by a New Zealand female vocalist). It didn't work sadly, but they hadn't given up on Cathy yet.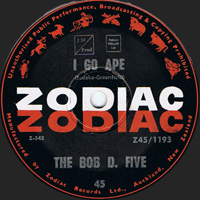 Z-1193

Bob D Five - High School Confidential / I Go Ape (1964)

This was Bobby Davis' next band after The Wanderers. Sadly the world didn't go ape for this single but sales were, I understand, respectable.

Z-1194

The Sierras - The Crying Game / Route 66 (1964) (Viscount, also appears on Zodiac)

The biggest hit The Sierras had, this garnered a lot of airplay and gave them quite a bit of live work.

Z-1195

Bridge City Jazzmen - Circus World / Po Kare Kare Ana (1964) (Viscount)

I'm guessing this was an instrumental single by this Auckland band, which featured amongst others, Bernie Allen, the legendary composer and band leader.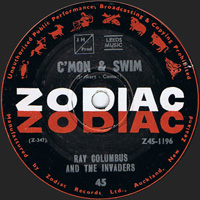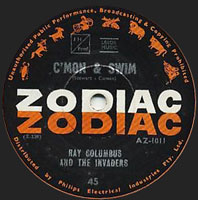 Z-1196

Ray Columbus & The Invaders - C'mon & Swim / We Can't Go Wrong (1964)

By now the band were a phenomena, being mobbed across Australasia, so yes, another hit. Both the NZ & Australian issues are pictured, showing the colour variations.

Z-1197

Kahu Morrison - Waiata Poi / He Wa Wata (1964)

The matriarch of the Morrison clan cut several records in her own name, including this one for Zodiac.

Z-1198

The Invaders - The Cruel Sea / Spanish Holiday (1964)

More Invaders instrumentals, the A side being the theme to a big movie of the '50s, and I guess, a part of the original Christchurch live set.

Z-1199

The Seakers - A Long Long Time / I've Had It (1964)

Not as big a hit as the first, after this they changed their name to The Rayders. I guess they got sick of requests for Morningtown Ride...

Z-1200

Bridge City Jazzmen - Bill Bailey / Hoki Mai (1965) (Viscount)

And another single from these guys. They seem to still be playing around Auckland in the 21st Century.

Z-1201

The Sierras - To Know Her Is To Love Her / Stick With Me Baby (1965) (Viscount)

A cover of the much recorded Phil Spector tune, gave The Sierras another minor hit.

Z-1202

Bridge City Jazzmen - Get Me to the Church on Time / Street Where You Live. Not Issued

Z-1203

Allison Durbin - Can't You Hear My Heartbeat / Little Brother (1965)

Third single for Zodiac, and a big hit - so much so that it substantially outsold the original from Herman's Hermits in NZ.

Z-1204

Dave Miller and The Byrds - Bright Lights Big City / Little Lover (1965)

These guys, led by Dave Miller, were actually The Byrds but the US group of the same name caused a renaming. From Christchurch originally, but Auckland based, they were a pretty decent R'n'B band. This track has been much compiled on garage collections. The first pressing was simply The Byrds, then second, from 1966, was Dave Miller And The Byrds.

Z-1205

Kini Quartet - Maori Is A Loving Tongue / Bye Bye Blackbird (1965)

The last single for Zodiac for 4 years.

Z-1206

Maurice Chan - Rickshaw / Skokiaan (1965)

Maurice later, after leaving Sounds Unlimited, formed The Diplomats before disappearing from the music scene.

Z-1207

Bill And Boyd - Bee Bop / Please Go Away (1965)

This duo from Wellington were kind of a very MOR take on the big early sixties duet thing (think Everly Bros) and they'd recorded seven singles and a few albums for Philips before signing to Eldred.

Z-1208

Bill And Boyd - Let The Sun Shine In/ Oh No Not My Baby (1965)

This was the closest they came to a hit on Zodiac (that had to wait until the '70s with the heinous Put Another Log On The Fire). The flip was the Goffin / King tune which both Manfred Mann and Maxine Brown had had international success with, and Rod Stewart was later to have a smash with.

Z-1209

The Rayders - Little Egypt / If You Had Love (1965)

The Seakers renamed and with a brand new debut album to promote (Eldred's vote of confidence - most bands didn't get to the album level), Platterack Raid With The Rayders (ZLP 1023).
Z-1210

Ray Columbus & The Invaders - Till We Kissed / She's Back Again (1965)

1965 saw two albums, Original Numbers (ZLP 1025) and a greatest hits (ZLP 1028, also released by Philips PY863045), and what a hit this was. Selling in excess of 50,000 copies in NZ, and winning the first Loxene Golden Disc (the 1960s equivalent of Record Of The Year), it's become a New Zealand anthem, and I have to admit I'm a sucker for it.

Z-1211

Ian Saxon & The Creditors - I'm Getting Better / He Gives Me Love (1965) (Viscount)

An Auckland singer. After this he went to Australia and became a major player in the drug underground, eventually serving a decade in jail before being deported back to NZ in 2008. Wow...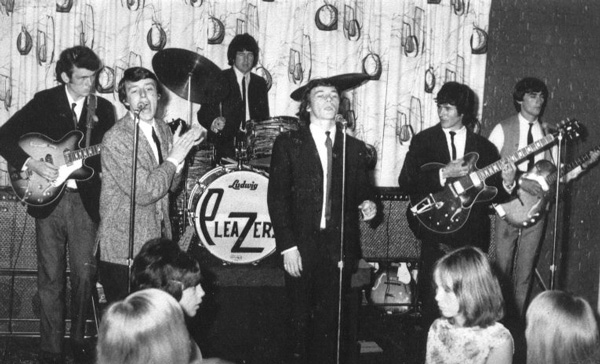 The Pleazers
Z-1212

The Pleazers - Last Night / Poor Girl (1965)

There were two bands with this name. The one with a S came from Auckland but were based in Wellington for a spell as resident band on the NZBC's Let's Go. This lot were trans-Tasman, in that the came over from Australia (in a nice reverse of the normal flow) and added a New Zealander (well, English expat) as singer, Shane Hale.
Eldred had encouraged them to come over to sign to Zodiac and this, their first, was a big hit, although Eldred recorded it in Australia. Famously, Eldred turned down another young bunch called The Bee Gees.

Z-1213

The Sunglows - Peanuts (La Cacahuata) / Happy Hippo (1965)

If this is correct, it seems that Eldred licensed in the famous Tex-Mex hit from its US owner.

Z-1214

Sandy Edmonds - Oh No Not My Baby / I Don't Understand (1965)

Rosalie Edmondson came from Liverpool and cut quite a figure in the mid sixties Auckland pop scene. She was a featured act on the NZBC TV shows. She was managed by Phil Warren, after having been discovered by Ray Columbus.

Z-1215

Tommy Adderley - Mr Jinx / Since I Don't Have You (1965)

A legendary figure in the Auckland live scene, from the early 1960s through to his death in the 1990s, Tommy was originally from Birmingham and came to NZ in the early 1960s. Before this he'd recorded for Lexian, Viking and RCA, and had a number two single in Canada in 1964. A wonderful man and very missed. Arranged by Doug Jerebine, who also plays guitar.

Z-1216

Brent Brodie - I Ain't Gonna Knock On Your Door / Danny's Dream (1965)

Originally part of The Brodie Brothers trio, they took a shot at the UK and had minor success with one release on EMI's Columbia label. Brent returned to NZ and had solo success including a TV presence. He later recorded for RCA and Viking's Kontact label. His name continues to pop up in revues.

Z-1217

Cathy Howe - He Doesn't Love Me / Yo Yo Lover (1965) (Viscount)

A hit at last. Her biggest record. It hit number 5 nationally and was number one in Christchurch for a mighty ten weeks.

Z-1218

Graeme Bartlett - Theme From The Munsters / Chips (1965)

I've not heard this, but NZ rock historian John Baker rates it rather highly despite what looks like a novelty title. One of the few Zodiac 45s to come in a pic sleeve.

Z-1219

The New Sounds - All Night Worker / Over You (1965)

Ray Woolf and Billy Belton from The Kavaliers formed this group, this was their only disc as a group and was a cover of a Rufus Thomas tune on the A side and the Aaron Neville classic on the flip (see Z-1241).

Z-1220

Dave Miller And The Byrds - How You've Changed / Wake Up Little Suzie (1965)

These guys were originally called The Playboys when based in Christchurch and their vocalist was a young Dinah Lee, before she blue-beated off.

Z-1221

Gary Bayer And Ben Tawhiti - Cactus Hop / Froken Fraken (1965)

This time bass-whizz Bayer teamed with guitarist Tawhiti (who wrote the A side), but alas it wasn't a hit.

Z-1222

Tommy Adderley - Once Upon A Time / In The Meantime (1965)

The second of the two singles (there was an EP too) Tommy recorded for Zodiac (he later turned up on Pye and Ripper amongst others, and led Headband, one of the great NZ bands of the early 1970s) but his recording career was never what it could have been and private demons always cursed him.
His funeral was a gathering point for much of the old generation of NZ rockers represented on these pages. Tommy was much loved - and is still much missed. RIP buddy.

Z-1223

Bridge City Jazzmen - Theme From Moulin Rouge / Get Me To The Church On Time (1965) (Viscount)

Third and last single on Viscount for these guys.

Z-1224

The Pleazers - Gloria / That Lonely Feeling (1965)

Another big hit for the band - they were hugely popular by this time and had a residency at The Galaxie.

Z-1225

Dave Miller And The Byrds - No Time / Love Is All I Need (1965)

After this single the band split. Dave jetted to Sydney where he eventually formed The Dave Miller Set and found fame in 1969 with the huge hit 'Mr Guy Fawlkes'.

Z-1226

The Rayders - I Cry / You And Me (1965)

Another single lifted from The Rayders album.

Z-1227

Allison Durbin - Mix It Up / Little Girl Go Home (1965)

The final Zodiac outing, and another (minor) hit. She went to Impact after this and then HMV and huge Australasian stardom, but sadly a dark downfall in the 2000s.

Z-1228

The Sunglows - Popcorn / Alabama Medley (1965) (Zodiac International)

Another single licensed by Eldred from the US Sunglow label.

Z-1229

Silvio De Pra - Angelito/ Innamorata (1965)

He was / is a piano accordionist, who performs emotional Italian songs. Not much more to be said.

Z-1230

Cathy Howe And Ben's Chimes - Selfish One / He's My Boy (1965) (Viscount)

Ben's Chimes was Ben Tawhit's band - this was their only recorded outing.

Z-1231

Mr Lee Grant - Doo Doodle Oo Oo / As Long As I Have You (1965) (Viscount)

From Poland via Palmerston North, Bogdan Kominowski as he was named by his parents, was destined to become the biggest male pop star in NZ later this decade. This was not the record that did it.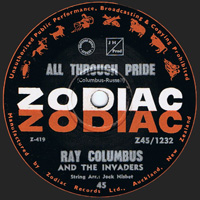 Z-1232

Ray Columbus & The Invaders - All Through Pride / Tonight Is The Time (1965)

After the last single there was increasing distention in the ranks of The Invaders with Ray's increasing profile and they split in early 1966, when half the band joined Max Merrit and The Meteors.
Ray signed to Benny Levin's label, Impact, went to the USA and became a solo star in NZ later in the decade and the next. Billy Kristian had quite a career in the UK and returned to produce Herbs in the 1980s.

Z-1233

The Mods - Love, Love, Love / Its In Her Kiss (1965)

These guys came from Hamilton, and released a couple of Zodiac singles, neither of which set the world on fire.

Z-1234

Bobby Davis And The Wanderers- Thanks Anyway / Work Song (1965)

It was back to Bobby Davis and the Wanderers on this, although later pressings had it just as Bobby Davis, indicating that it must've sold reasonably well. Bobby featured a lot on TV shows like C'mon at this time and was a bit of a national figure.

Z-1235

Neil & Susan - Blood Red River / Little Yellow Roses (1965)

An Auckland folk duo.

Z-1236

The Pleazers - Like Columbus Did / Sometimes (1965)

Single number three and yet another chart botherer. They were starting to a reputation beyond Auckland by this time and it showed in the sales. John Baker describes it as a 'shameless Ray Columbus tribute'.

Z-1237

Gray Bartlett - Music For My Lady / Give The World A Smile (1966)

Amongst Gray's later achievements was discovering and nurturing a series of very successful MOR and classical vocalists, as manager and mentor including the global smash Haley Westerna.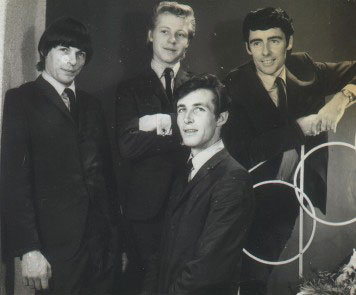 The Four Fours before they left for the UK
Z-1238

The Four Fours - This Time Tomorrow / Truckin' Blues (1966)

This, their first for Zodiac was actually this Tauranga band's 9th single, after 8 for Allied International from 1963. Amazingly enough, in early 2010, they are still recording under the name they became better known as: The Human Instinct.

Z-1239

Gray Bartlett - Thunderball / Runaway (1966)

Gray does 007 and Del Shannon, and does it pretty well.

Z-1240

Bill And Boyd - I Wanna Love My Life Away / If She Was Mine (1966)

Nope, still no chart action. They had, however had an NZ number one, on the radio determined Lever Parade, in the pre-Zodiac days, with a cover of Cathy's Clown. It was, incidentally, one of only two NZ singles to reach that chart between 1960 and 1965. The NZBS as it was then, was less than supportive of NZ singles that were often selling in their thousands.

Z-1241

Ray Woolf - The One In The Middle / Summertime (1966)

By this time Ray had become quite a fixture on the TV and toured NZ with various package shows. Backed by The Newsounds again, but as featured solo artist.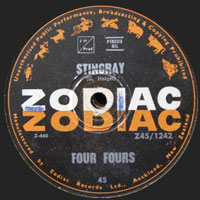 Z-1242

The Four Fours - From The Bottom Of My Heart / Stingray (1966)

Around this time the band supported The Rolling Stones on their 2nd NZ tour. They were pulling large crowds.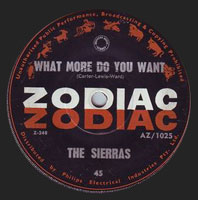 Z-1243

The Sierras - What More Do You Want / She's The One (1966) (Viscount)

Viscount was notable for sticking with its acts (having the owner's brother in the band likely helped). This, like many Viscount singles, was released in Australia (pictured above) on the Zodiac label.

Z-1244

The Layabouts - We'll Meet Again / I Don't Care (1966)

One off single from a shortlived Auckland R'n'B band.

Z-1245

The Raydars - It's All Over Now Baby Blue / Mother May I (1966)

This band's star was fading a little by this stage and they moved from Auckland to Hamilton, which must be one of the oddest career moves of all time.

Z-1246

Sandy Edmonds - Give Him My Love / La Bamba (1966)

Sandy was a regular on C'mon by the time this came out so it was a hit, and Phil had her, as only Phil could, touring the Pacific resorts.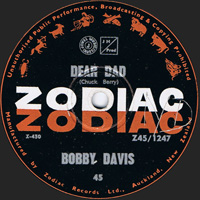 Z-1247

Bobby Davis - Leaning On A Lamp-Post / Dear Dad (1966)

Now without the Wanderers, covering George Formby because, I guess, Herman's Hermits were having a US hit with the song. The flip was an obscure Chuck Berry song.

Z-1248

The Climax Jazz Band - I Want A Girl / When My Sugar Walks Down The Street (1966)

Recorded for The Tauranga Jazz Festival by the Auckland Jazz Club.

Z-1249

The Mods - I'll Be On My Way / Hubble Bubble (1966)

After one last single for Zodiac, these guys split, and keyboardist John Bissett ended up in The Action. They reformed in Hamilton in the late 1990s.

Z-1250

Sandy Edmonds - Listen People / Sunshine, Lollipops And Rainbows (1966)

In mid 1966, with her looks and media presence, Sandy was a household name, so her records sold pretty well. This was no exception.

Z-1251

The Sierras - Magic Potion / Wine (1966) (Viscount)

These guys had really passed their time now, and sales were increasingly slim.
Z-1252

Neil & Susan - Julie Anne / Four Strong Winds (1966)

This was a second single from these Auckland folkies, part of the strong, through to the 1970s, Auckland folk club scene, centred around Newmarket's Poles Apart Club. I was never a fan abut remember being dragged along there in the early to mid 1970s. Big crowd, but seemed a tad feral to a kid listening to Bowie and Roxy then.

Z-1253

The Minutemen - Lament Of A Clerical Worker / Cinderella (1966)

A band from Auckland, this was their only Zodiac outing but they recorded two more for Allied International.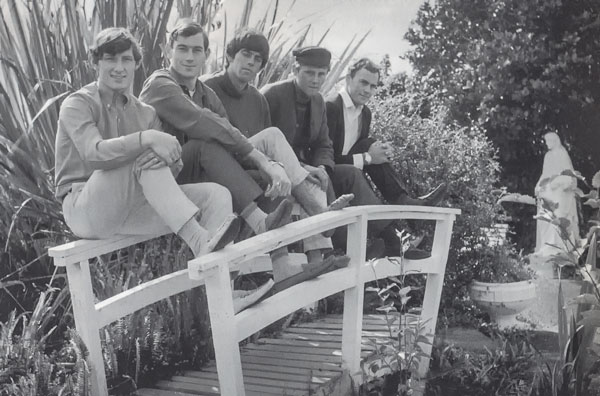 The Gremlins
Z-1254

The Soul Agents - For My Woman / If You And I Could Be As One (1966)

A one off single for an Auckland R&B band. Murray Grindlay went from here to The Underdogs and became the house composer for Stebbings in the 1980s and 1990s, until he fell out with Eldred and moved on.

Z-1255

Bridge City Jazzmen - Sit Down, You're Rockin' The Boat / When The Saints Go Marchin' In (1966) (Viscount)

Viscount seemed to think they were in with a chance with these guys, as they wouldn't give up.

Z-1256

The Gremlins - The Coming Generation / That's What I Want (1966) (Viscount)

Glyn Conway left The Embers and joined The Adventurers who changed their names to The Gremlins. And Glyn Conway was the stage name of the Glyn Tucker Jr, (see Z-1034) just to confuse matters more. This was a big national hit (number 2 on one of the dodgy charts of the era) and established these guys as one of the bands of the moment.

Z-1257

Bridge City Jazzmen - Second Hand Rose / The Sweetheart Tree (1966) (Viscount)

Final single on Viscount for the band, who continued to pop up on recordings over the years and were a fixture at jazz festivals.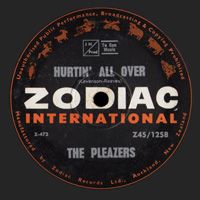 Z-1258

The Pleazers - Is It Over Baby / Hurtin' All Over (1966)

The B side of this (although it's probably better described as a double A side) is regarded as their finest moment, being a cover of a single by an Irish band called The Creatures, which completely demolished the original.
About this time the band moved to Melbourne briefly. This track appears on both the Zodiac label and Zodiac International.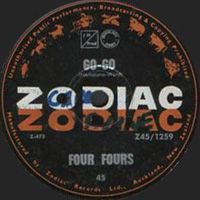 Z-1259

The Four Fours - Go Go / Don't Print My Memories (1966)

Much reissued and a garage classic, written by the band themselves. After this they packed their bags and headed off to the UK, signing to Deram, where they recorded, amongst other tracks, the psychedelic classic A Day In My Mind's Mind. They re-recorded this in the UK.

Z-1260

The Raydars - A Working Man / In Time (1966)

The final 45. Clive Coulson, the singer, although not on this disc, ended up as road manager for Led Zeppelin in the 1970s and managed bad Company before returning to NZ where he was a farmer before dying suddenly at age 58, in 2006.

Z-1261

Sandy Edmonds - Come See Me Now / That You've Made Up Your Mind (1966)

Backed by The Pleazers, this cover of a Pretty Things single is regarded as a garage classic and is much sought after. It was another hit, and like many Zodiac garage classics, produced by John Hawkins, an Englishman who'd worked with the eccentric genius that was Joe Meek, before coming to NZ.

Z-1262

Bill And Boyd - Edelweiss / Don't Ever Change (1966)

The B side was a cover of a Kinks' song, and the A was of course the then currently huge Rogers & Hammerstein composed fake Austrian love song from The Sound Of Music. This was, I think, a minor hit. They went on to huge MOR success in Australia and were still playing the the early 2000s.

Z-1263

The Pleazers - Guilty / Can't Pretend (1966)

They also released a killer 7" EP, Midnight Rave (Zodiac EPZ133) which goes for silly money now, if it can be found. On Zodiac International.

Z-1264

Gary Bayer - Tijuana Taxi / Brazilian Summer (1966)

Last Zodiac single for Gary, and this time a cover of the current Herb Alpert hit. He later turned up in PG & The Hot Tips in the 1980s.

Z-1265

Lou And Simon - Converted Maori Car / Around The Pops (1966)

The A side was sung to the tune of America (from West Side Story) and was a huge hit. Try getting away with it these days...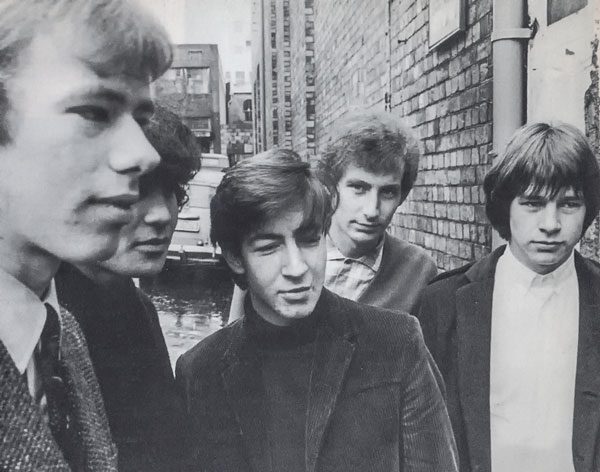 The incredlble La De Da's, 1966
Z-1266

The Fair Sect - Kimberley / Never Again (1966) (Viscount)

An all female group from Auckland. Sadly the novelty of this at the time didn't translate to sales and they left Viscount after this for singles on Allied International and Pye, before returning for one more go 3 years later.

Z-1267

The Gremlins - Understand Our Age / Ain't That Lovin' You Babe (1966) (Viscount)

Peaked just outside the Top 20, mostly from Auckland sales.

Z-1268

The Sierras - Big City, Lord / Now And Again (1966) (Viscount)

The band recorded a one hour radio special around this time, but this was The Sierra's last single and they are largely forgotten now, despite their output.


Z-1269

Sandy Edmonds - Please Don't Switch Off The Moon Mr. Spaceman / I Love Onions (1966)

Her last for the label, as Phil took her to Festival where she recorded the classic Daylight Saving Time. The B side was a big novelty hit but is better left in the past.
Sandy famously disappeared in 1970 - giving it all away. She turned up in the 2000s as a successful fashion designer in Melbourne, as Rosalie Edmondson-Corner.

Z-1270

The Surfires - I Can't Wait For Summer / Flying Saucers (1966)

The pickings from Huntly are fairly slim but that's where the The Surfires came from.

Z-1271

The Four Fours - One Track Mind / Hawaii (1967)

Really a posthumous single as they'd since hopped onto a cruise ship to the UK, and changed their name to The Human Instinct, under which guise, they'd return to Zodiac some years later to record one of the label's classic albums.
The catalogue numbering sequence jumps some 28 places here. Why? It seems that Zodiac started a new masters index book and someone decided that 1300 was an easy place to start. No other reason.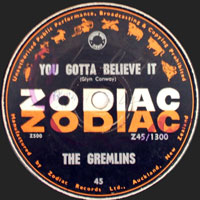 Z-1300

The Gremlins - You Gotta Believe It / I Can't Say (1967)

Back into the Top Twenty - just - once again from Auckland sales to their strong live fanbase. This marked the move to Zodiac as Gary Daverne had left for the UK. Zodiac took over the contract.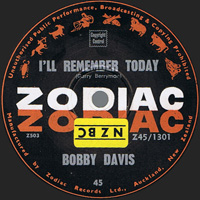 Z-1301

Bobby Davis - Nose For Trouble / I'll Remember Today (1967)

Another single, but no luck, although it got some airplay.

Z-1302

The Underdogs - See Saw / Lookin' Back (1967)

The Underdogs came from Auckland and formed in 1965 as The Underground Blues Band. Their wild live reputation meant they had a massive following almost from day one.

Z-1303

The Surfires - Friction / A True Gentleman (1967)

This, their second single, didn't make much of a dent in the public consciousness, but much more was to come.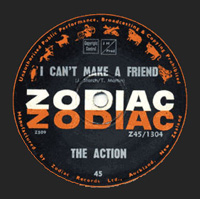 Z-1304

The Action - I Can't Make A Friend / Romeo And Juliet (1967)

A popular blue-eyed soul band, heavily influenced by Tamla Motown, formed in '66. Two members had been in Peter Posa's band and one in The Mods. They held residencies at both The Top 20 and The Galaxie. The A side is a cover of US punk band, The Vagarants.

Z-1305

The Pleazers - Here Today / La La La Lies (1967)

Back from Melbourne, The Pleazers continued to be a huge live drawcard and Shane Hales was becoming a star in his own right. The A side is the Beach Boys song, the B side was the Who song. On Zodiac International.
Z-1306

The Underdogs - Sitting In The Rain / Shortnin' Bread (1967)

This track was a fairly large hit for The Underdogs, and remains an iconic late '60s New Zealand single, being a cover of a John Mayall song, notable for Lou Rawnsley's fuzz guitar.

Z-1307

Peter Posa - The Moon Is Making Eyes / Somewhere My Love (1967)

After 16(!) albums for Viking, mostly interchangeable, in 4 years, Peter Posa returned to Zodiac for one last album, Internationally Yours (ZLP 1030).
This single was also issued in Australia on a combined Philips/Zodiac brand, as above.

Z-1308

Lou And Simon - Edelweiss / Yellow Submarine (1967)

Did the world need another version of either of these songs? This was their last single for Zodiac and they moved to Australia where they played the clubs into the 70s and 80s. Sadly both died a few years back and time has dimmed the memory of just how big these guys were.

Z-1309

The Pleazers - Three Cool Cats / Security (1967)

Their last single, with an Otis Redding cover on the flip (it was the side that got the airplay, and was an adaption of the Thane Russal's version), before Shane went off to become an NZ pop icon and a household name. Guitarist Bruce "Phantom" Robinson was a major player in the NZ music industry throughout the 70s.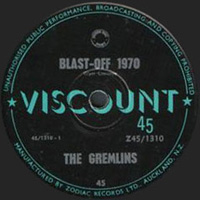 Z-1310

The Gremlins - Blast Off (1970) / Sunday Breeze (1967) (Viscount)

Like all their singles, this is regarded as a garage classic and much complied in NZ and further afield. Back on Viscount.
Z-1311

The Action - Never Ever / Something About You (Sept 1967)

When The La De Da's went to Australia, their drummer Brett Neilson opted out. He joined The Action and The Action's drummer, Brian Harris, joined the Te Atatu emigrants. Oddy, the A side here is a cover of a song by the UK band, The Action. The B side is a Holland Dozier Holland tune.

Z-1312

The Surfires - Notice Me / When Will The Seasons Bring (1967)

The final Surfires single wasn't much more of a hit than the earlier two, but in 1969 they re-emerged as The Rumour and released what is one of the biggest selling NZ singles of all time. Patience was a virtue and rewards flowed.

Z-1313

Cathy Howe - Then He Kissed Me / High Noon (1967) (Viscount)

It was indeed High Noon for Cathy as this was her last outing. She became a writer, basing herself on Auckland's North Shore. Ironically this was her biggest record sales wise, but times were a changing and Daverne had decided to move to the UK.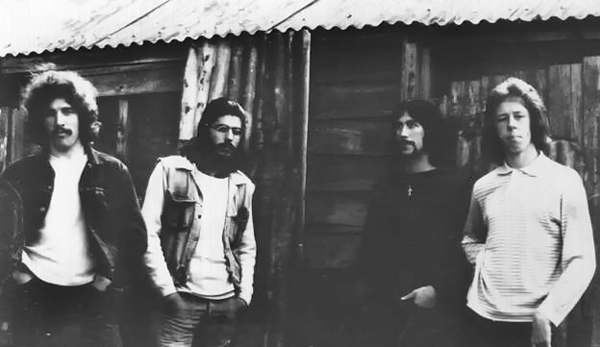 The Underdogs
Z-1314

The Underdogs - Cheating Pt 1 / Cheating Pt 2 (1967)

A minor hit but it was live and on album where the band earned its reputation and the NZBC was brave enough to take the band around NZ on the C'mon tour, which gave them a national audience.

Z-1315

Bob Davis - Have You Ever Had The Blues / When I'm Sixty-Four (1967)

Bobby becomes Bob and tries with a Lloyd Price song. That, plus a fab four tune on the B side (everyone was doing it) still didn't get Bobby into the charts, but he was on TV a fair bit.

Z-1316

Rusty Greaves - Hold On / China Doll (1967)

After a break of a couple of years, Rusty tried one last time with Zodiac. He died in 1998 but many of his children perform today.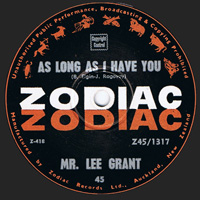 Z-1317

Mr Lee Grant - Doo Doodle Oo Oo / As Long As I Have You (1967)

Z45-1231 reissued on the parent label to cash in on Bogdan's massive success. He left for London in 1968 and still, as far as I'm aware, works there under his real name.

Z-1318

The Radars - Don't Get Around Much Anymore / The Piper (1967)

A blind Maori band who backed John Rowles. They were still playing around Auckland in the late 1990s.

Z-1319

Gene Pierson - Love Love Love / Celeste (1967)

An Australian, who's birth name was Giancarlo Salvestrin, he jumped across the Tasman to avoid a spell in the army in Vietnam. This was the first of 4 45s he'd record for Eldred.

Z-1320

The Underdogs - Hey Gyp / Mary Anne (1967)

The band moved to Wellington in late 1967, but it was rather unsuccessful. This track was from their debut album. The band was best described as erratic and unpredictable live, and couldn't last. They had one more Zodiac single to go.

Z-1321

The Action - Somethin' Fresh / It's Growing (1967)

This was also reissued on Philips, number unknown. It was The Action's biggest hit. They too headed to Sydney where they did well on the live circuit during 1967-67 and even appeared in a movie.

Z-1322

The Gremlins - Never You Mind / I Want Your Love (1967) (Viscount)

The last single to appear on the Viscount label and a regional, although not national hit. Gary Daverne had already departed to the UK so the label was essentially defunct, although Daverne would revive it in the 1970s.

Z-1323

Jennie Goodwin - You'd Better Love Me / My Tender Love (1967)

A single from the Auckland (or AKTV-2 as it was known) TV station 'personality'. She announced programs and things. Why she got to make a record is something that only Eldred likely knew.

Z-1324

Max Cryer & The Children - Talk To The Animals / Pinto Pete (1967)

This was also issued in 1979 under the cat # Z45-13124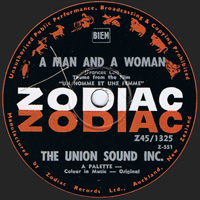 Z-1325

Union Sound Inc - A Girl In The Crowd / A Man And A Woman (1968)

The first of several singles licensed from a Belgian company.

Z-1326

Troubled Minds - Under My Thumb / Child (1968)

A band from Napier who formed as The Len Whittle Combo before changing their name to The Deep Set then The Troubled Minds by which time they included former Pleazer Bruce "Phantom" Robinson in their lineup. Managed by Ray Columbus, they became The Troubled Mind recording several two singles for first Festival then, as Dick Roberts And The Troubled Minds, Philips. Bassist Bob Jackson later ended up in Shotgun with Larry Morris in the late 1970s.

Z-1327

The Loot - Whenever You're Ready / I Got What You Want (1968)

A Belgian band, licensed.

Z-1328

The Klan - Nobody Will Ever Help You / Alone In The Night (1968)

Another Belgian group.

Z-1329

The Offsiders - I Was Born 100,000 Years Ago / Tears Don't Have To Fall (1968)

A band from Auckland produced by John Hawkins and arranged by the great Claude Papesch. This is one of the last Hawkins singles for Zodiac. He seems to have left under a cloud, and little trace can be found of a man who produced many of Zodiac's greatest singles thereafter.

Z-1330

Gene Pierson - You Got To Me / Rainy Day In June (1968)

Live, Gene appeared with The Cheshire Katt, a group from Wellington, and developed quite a following, and some sales. The A side was a Neil Diamond tune.

Z-1331

Max Cryer - Money To Burn / Ave Maria (1968)

Max Cryer had a book about popular song published globally in 2009, which is quite an achievement, but just the latest in a career that goes back decades and includes ten years touring the US. This was one of only two singles he recorded for Zodiac but I think there was an album as well around this time (from whence this single comes).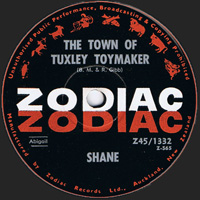 Z-1332

Shane - The Town Of Tuxley Toymaker / Breakin' My Back (1968)

The debut solo single and cover of a Bee Gees song, gave Shane his first solo hit. It's regarded as an underground classic of sorts, but his contact was over and he moved to mega stardom at HMV. In 2017 he's still playing in Auckland and has quite a following.

Z-1333

The Action - Try A Little Tenderness / Hound Dog (1968)

Two covers for their last single, which saw some lineup changes, with Nielson being replaced by Andy Anderson, ex-The Missing Links, an Australian proto-punk band and later an actor of some note. John Bissett later played with Bon Scott (AC/DC) and Jimmy Barnes in The Fraternity. Two other members became preachers - that's what soul music does to you....

Z-1334

Toni Williams - Sad Lonely And Blue / Please Send Me Someone To Love (1968)

Rarotongan born but based in Auckland, Toni recorded two albums for Zodiac in the late 1960s and these singles are lifted from them, this being from the first (ZLP 1035). Before Zodiac he'd recorded extensively for La Gloria.

Z-1335

Gene Pierson - Toyland / Matchsticks In A Whirlwind (1968)

Gene's sound was very of its time psychedelic pop and his tracks have turned up on various Psych collections over the years.

Z-1336

The Sound Investment - A Whole New Thing / Oh Pretty Woman (1968)

I have no idea who this lot was, and neither does google. The B side was the Albert King song, not the Roy Orbison classic.

Z-1337 The Gremlins - A: Ballad Of A Busker/ Listen To Me/ B: (as Zodiyuk Records) The Great Drain Robbery (1968)

A bit of wacky humour or a slap at their label on the B side title. This continued Gremlins sequence of pretty fine garage-pop singles, but the sales seemed to be diminishing (which just adds to their collectability now). This was also issued on Philips (cat# unknown).

Z-1338

The Gremlins - Kingsforth Hemingseen / Just Don't Stand There (1968)

One last single before they split. Glyn went into a few other acts before becoming one of the most important figures in the New Zealand recording industry with his Mandrill and Reaction labels and Mandrill Studios.
The list of acts Glyn Tucker has recorded over the years would dwarf this page. An industry giant and a nice guy.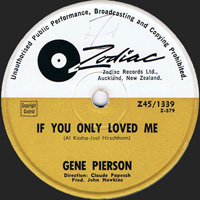 Z-1339

Gene Pierson - If You Only Loved Me / Just One Tender Look (1968)

This was his final single for Zodiac (there were two more for Festival) before heading back to Australia where he became a recording industry player. His Laser label returned the favour to Eldred by signing Th'Dudes and Hello Sailor in the late 1970s.

Z-1340

Toni Williams - There's No Limit / The Son Of Hickory Holler's Tramp (1968)

Prior to his work for Zodiac, Toni had recorded for both Viking and La Gloria and his career extended into the 1970s when he also recorded for Philips before returning to Eldred on Key in the late 1970s.

Z-1341

Toni Williams - I'll Be Your Baby Tonight / Ten Guitars (1968)

He formed his first band in 1956, and throughout the 60s was a featuring of the touring cabaret circuit in the Pacific, managed by Harry Miller.

Z-1342

Roger Skinner And The Motivation - Hey There (Have You Seen My Baby) / Time (1968)

Both Paul Crowther and Eddie Raynor, later of Split Enz, were in this band but not when this single was recorded. An Auckland band who recorded for several labels, although this was their only Zodiac 45.

Z-1343

The Dallas Four- Sitting In The Park / Rag Doll (1968)

A big live draw in Auckland for years, this was the last of their 5 singles (for 5 labels - sadly no hits). They included Sonny Day for a period. Two members went on to form Karma (see below).

Z-1344

The Underdogs - There Will Come A Time / Fing Jung Thing (1968)

Last single and then they split. However they reformed with a bunch of new and original members for one more album (on Pye) in the early 1970s and several members went on to successful solo careers. Their one Zodiac album (ZLP 1033) is a masterpiece. You can almost forgive Murray Grindlay for Monte Video...

Z-1345

Alan Dean - Till Tonight / Jackaranda (1968)

Another artist lost in time. Likely not issued.

Z-1346

Gerry Sword - Now She's Gone / Love Me (1969)

The only single by an Auckland singer who went on to become a songwriter in Australia.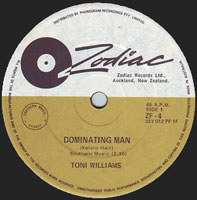 Z-1347

Toni Williams - Dominating Man / Beautiful Smile (1969)

This and the next two singles came from the second Zodiac album (ZLP 1039), produced by Jimmy Sloggett. In 1967 Phonogram Australia took over the Australian Zodiac label, when it absorbed the earlier Philips, releasing at least half a dozen 45s, one is above.

Z-1348

Toni Williams - I Love My Children / Your 're Not The Crying Kind (1969)

The 2nd to last last single on Zodiac. Antoni Williams was still performing in 2009. Released in Australia with Just a Closer Walk With Thee as the flip (ZF-7).

Z-1349

Hi-Revving Tongues - Baby Come Back To Me / Little Red Rooster (1969)

Also released via Philips as BF338102, all singles after this were on Zodiac.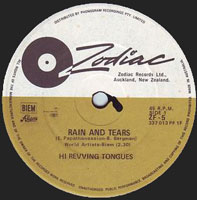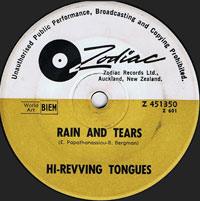 Z-1350

Hi-Revving Tongues - Rain And Tears / Watermelon Man (1969)

The band's biggest song, a number one, it was a cover of a record by Aphrodite's Child. It still gets gold airplay 40 years on. They hated it, but a whole generation loved it. The Australian release is pictured on the left, NZ on the right.
Z-1351

Vision - Daddy Sang Bass / Tom Cat (1969)

Another one that really defies research. Produced by Jimmy Slogget, the A side was a Carl Perkins song, with an original on the flip.

Z-1352

The Fair Sect - Rattler / Bye Bye Baby (1969)

After three years at other labels and a few lineup changes, the Sect returned, somewhat tougher than before in sound, but sadly no more sales and it was Bye Bye Baby. They went to Australia where a couple had careers as session vocalists. The A side of this was a Lulu cover.

Z-1353

Sea Of Tranquility - Epitaph / Charlena (1969)

A band that featured Tommy Adderly on vocals, Billy Kristian, Jimmy Sloggett, and Frank Conway. It must've sold fairly well as it turns up regularly in second hand stores. Tommy and Billy would go on to Headband.

Z-1354

Kini Quartet - Care For Me / Mr Jones (1969)

After a break of some years, The Quartet returned to the label, although lineup changes meant there was nobody with the name Kini left in the band.

Z-1355

Fresh Air - Country Pie / Got To Get Away (1969)

A band with quite a pedigree but only two singles. After this single Bruno Lawrence joined and they eventually became Blerta. They centred around Chaz Burke-Kennedy who'd been in The Underdogs and Jigsaw (who became Fresh Air) and was a cornerstone figure of the Auckland scene in the pre-punk days.

Z-1356

Tom Bradley - Fly With Me / Once Upon A Moment (1969)

A born again TV newsreader - what were they thinking? The label began to lose direction around this time - or at least there was less of the good stuff to counter the not so good.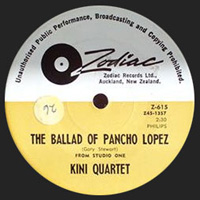 Z-1357

Kini Quartet - Ballad Of Pancho Lopez / Valley Inn (1970)

The band appeared on the NZBC variety series, Studio One and that's where this track came from. The Under The Sun album was recorded (produced by Jimmy Sloggett as was this single) and issued simultaneously with this. Original vocalist Martin Kini passed away in 2008.

Z-1358

Hi-Revving Tongues - Take Me To The Pilot / Highway (1970)

Chris Parfitt left (he recorded a couple of solo 45s for a label called Ventura) and The Hi-Revving Tongues became just The Tongues for the second album (ZLP1041), although the singles still used the old name. This wasn't a hit but was rather fine anyway.

Z-1359

Hi-Revving Tongues - Aspen, Colorado / Goodbye Holly (1970)

And goodbye (Hi-Revving) Tongues.

Z-1360

Jimmie Sloggett - Midnight Cowboy / Studio 17 (1970)

After a break as a solo act for the label, Jimmie returns with a sax instrumental of the movie theme.

Z-1361

Toni Williams - Patterns Of Sunlight / Walking In The Sand (1970)

The second to last single on Zodiac for Toni, but he would work with Eldred in the decades to come, with releases on Key and via Festival directly.

Z-1362

Ed Knowles With The Peter Posa Trio - Goodbye Girl / Talking Walls (1970)

I'm unsure who Knowles was, but it's a fair bet that it isn't the same guy who's in the 2000s NZ band, The Checks. The single's A side was written by Peter Posa and recorded in Henderson, not the Zodiac studio. Peter Grattan drummed on the A side.

Z-1363

Tony Hewitt - I Saw A Stranger/ Isabella (1970)

No idea.

Z-1364

The Arch - Sit By Your Window/ Dear Madeline (1970)

An Auckland group, who's major claim was as the first recorded work of the late Paul Hewson, later the key writer in Dragon, and a huge talent. Formerly Marble Arch. This was recorded a year before it was released.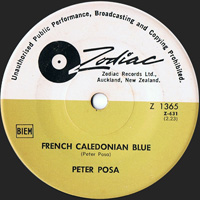 Z-1365

Peter Posa - Oh Lady Mary / French Caledonian Blues (1970)

The last single Posa made for the label. In 1970 he had a serious car crash, which had some unfortunate side effects, notably alcoholism and the next two decades were not good for the guy. With the help of a new wife he came out of his depression in the 1990s, and BMG released an album of his hits which sold huge quantities. He then recorded another, new album for the label. He's still around, but rarely plays. Recorded at Lou Smith's Studio in Henderson, with Peter Grattan on drums. Peter's hits album was te biggest selling New Zealand album in 2013.

Z-1366

Flying Wild - Help Us, Help You / Upside Down (1970)

Forgotten band from Christchurch, who were later based in Auckland.

Z-1367

John Goodare - Do Do Bust Or Die / Pretty Lights (1970)

Now just John without a band, and a bit of an NZBC star, he still didn't get a hit. His last single for the label. A move to Pye gave him a couple of minor hits. He later moved to Australia and did pretty well for a while before retiring to become a painter.

Z-1368

Mark Pedrotti - Ev'ry Little Bit Hurts / Pledging On Fear (1971)

Two acts do the same songs. Why? This guy was a baritone who left NZ in 1974 for Canada where he's been very successful.

Z-1369

Yolande Gibson - Ev'ry Little Bit Hurts / Pledging On Fear (1971)

An MOR singer who was on HMV before her one Zodiac single. She could be found on those terrible TV shows the NZBC were so fond of. Later recorded for Key and went to Australia where she still seems to be.

Z-1370

Flying Wild - She's A Devil / Night Town Home (1971)

The 2nd and last single and I guess it was over.

Z-1371

The Society Jazzmen - Walk To The Sun / Roses Of Picardy (1971)

There were lots of very exciting things happening in NZ music in the early to mid 1970s. Little of it seems to been on Zodiac. It was a sad ending.

Z-1372

Pipes And Drums Of Innes Tartan- Amazing Grace / Scottish Soldier- When The Battles O'er (1971)

Ahh, ok...

Z-1373

Denis Larcombe - The Other Side Of The Rainbow / Will It Ever Be The Same (1971)

Not the Canadian comedian of the same name.

Z-1374

Karma - Bygone Days / Minstrel Man (1972)

This band was formed by two members of The Dallas Four, Bob Smith and Pete Timperley. They were resident at Granny's, the club in Durham Lane, in the early 1970s. Little more is known about them, at least by me.

Z-1375

The Yandall Sisters - Come And See Me / Watch Out Boy (1972)

Had more records on EMI - easy listening - big on the less than exciting shows that the NZBC / TVNZ was offering as light entertainment.

Z-1376

Larry Small - Love Is Alive (In My Heart) / My Sweet Lady (1972)

Larry Small was from Whangarei, and at the time he recorded for Eldred he was the resident singer at Surfside in Milford. He could also be seen on TV's Happen Inn. The band here was essentially Headband (without Tommy Adderley). In 1974 this was reissued with the John Denver penned flip side as the A side, whereupon it charted briefly.

Z-1377

Toni Williams - Tying The Pieces Together / (There'll Come A Day When) Ev'ry Little Bit Hurts (1972)

One last Zodiac single for Toni (although he had a single and album on Key later). Was there an album? If so I can't find it.

Z-1378

Human Instinct - Down The Hall On Saturday Night / Simple Man (1972)

After five years in the UK and on Pye in NZ, and having recorded some of NZ's most highly rated psychedelic blues-rock, Human Instinct returned to Zodiac for their last released albums. Maurice Greer had pared back the excesses, changed the lineup some, and as the earlier records are classics of their genres, the last albums are now seen as country rock classics. This single was a non-album track and was written by folksinger/songwriter Peter Cape.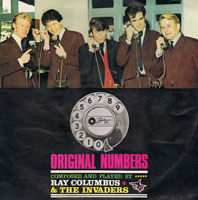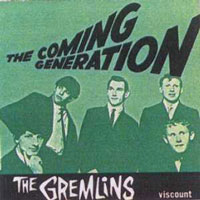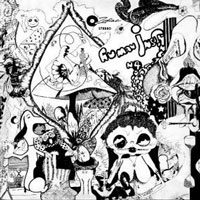 Z-1379

Karma - Rock'N Roll Circus / Ruby (1972)

A second 45 for these guys. No chart action that I can find.

Z-1380

Ken Lemon - Window Number 9 / Crying On The Inside (1972)

A country singer who featured on The Country Touch, Ken had recorded extensively for Octagon and Viking over the years. This is from his only Zodiac album, A Slice Of Lemon (ZLP1047).

Z-1381

Adriaan Vermunt - My Sweet Mama / The Magic Show (1973)

From New Plymouth I believe.

Z-1382

Karma - Clear Water Revival / Free (1972)

Not having heard this, the titles look like tributes to then current popular acts.

Z-1383

Littlejohn - Dead And Gone / Turning On To Rock'n'Roll (1972)

This band featured Bruno Lawrence and, perhaps, Corban Simpson and therefore can be seen as a forerunner to Blerta. They recorded three further singles for a label called Sonic Boom.

Z-1384

Lee Patrick And Gemini - Maybe Someday / Love A Little Longer (1973)

I keep thinking I should know more about this guy, but I've drawn a blank.

Z-1385

Glenn Halls - Sitting In The Apple Tree / Super Good Feeling (1973)

A singer who made a few records for a variety of labels in the '60s and '70s. You can't help feeling that whoever was doing the A&R at Zodiac in '71-73 wasn't exactly hitting the right buttons.

Z-1386

Ginny Peters - Love Is Gone / Satisfy Her Hunger (1973)

An Edgcumbe based, Scottish born, Christian country singer. She also recorded for Allied International, RCA, Viking, Innovation and Epic, plus a couple of Christian labels - all without any noticeable success.

Z-1387

Lee Patrick & Gemini - More Than Sympathy / Christine (1973)

Another single, still a blank.

Z-1388

Larry Small - The Golden Age / Pledging On Fear (1973)

A second single from Larry (followed by a rerelease of his first). He was later a lounge singer of note around Auckland, for a while performing as Larry Small & Kayde. This was his final single for Zodiac. He still performs occasionally.

Z-1389

Face - Hangin' Around / Mr Postman (1973)

This group from Dargaville came to Auckland in 1971 and were huge in the thriving church and community hall circuit, playing dances into 1972, and recording this. Their lead singer, Mark Williams then embarked on a very successful solo career, on EMI, before heading to Australia where he became a major session vocalist. Mark is now part of Dragon. Also included Willie Hona, later of Herbs.

Z-1390

Human Instinct - Gypsy Lady / The Hustler (1973)

The final Human Instinct single for Zodiac was backed with the title track from their last '70s album (although the last album, Peg Leg, didn't see release until the 2000s). I bought it in an electrical store in Glen Innes with a bunch of old NZ 45s (Split Ends, Dragon etc) around '74. Very rare I believe. Copies were also for sale in a Zodiac outlet store in Herne Bay. May not have been fully released as Stebbing's records show only a promo run.

Z-1391

Lee Patrick - Beautiful You / Sally Anne (1973)

Now without Gemini.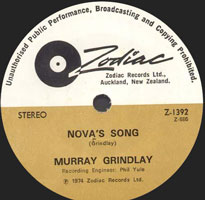 Z-1392

Murray Grindlay - Nova's Song / Thoughts On Returning Home (1974)


Nova was Murray's wife. This was the last release on the Zodiac label for Murray, but he would return on Key and was associated with Stebbings for many years.

Z-1393

Hot Ash - What A Day / Feel It (1974)

The very last 7" single released on Zodiac. Why Eldred killed the label, I don't know (there was probably more money in adverts – and less grief), but around this time he ceased distributing his own records, out of the little shop just down from the Stebbing Studios. The next releases on his own imprint were on Key, initially via Pye & WEA, and then, with some success, via Festival. through to the 1990s. The Zodiac name was revived in the 2000s for a variety of albums and reissues. Hot Ash came from Auckland. They were centred around Rod McAuley and his wife Pauline and recorded two singles for Dave McKee and Johnny Devlin's Kontact label before this, and one for EMI afterwards. They later changed their name to Cimeron and returned to Eldred with a final single on Key in 1978.

The next single, via WEA, was KK-1, the first single on Key, from the second Headband album (which featured Tommy Adderley and others with a strong Zodiac connection), in early 1975.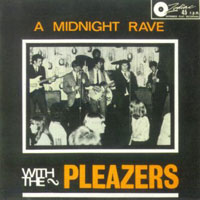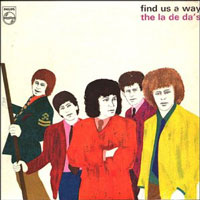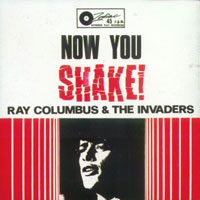 But to the Philips singles:
PF338077

The La De Da's - How Is The Air Up There / Pied Piper (1966)

The second La De Da's single (the first was on the small Talent City label) was licensed by Eldred to John McCready at Philips, although the album appeared on Zodiac (BZLP 100) and Philips (PL 08791) (I have copies on both). It was, as history records, not only huge, but an era defining record. The original was by a US act, The Changing Times, but this is the definitive take. And credit for it must go to John Hawkins, who produced this garage monster, and to Eldred who actively sourced a band with a keyboard sound that could do justice to the song he had in his head. The B side was the UK hit for Crispian St. Peters but The La De Da's own this too.

PF338078

The La De Da's - Don't You Stand in My Way / I Take What I Want (1966)

It's all credit to Eldred's vision that two years before this he was recording 50's styled rock and middle of the road, and yet was able to see the potential in these guys, who broke the rules. A band that all these years on still can make reasonable claim to being the coolest, in so many ways, NZ band ever. This single didn't chart.

PF339079

Sounds Unlimited - Come Along And Sing / You Thrill Me To Pieces (1966)

Not to be confused with the Wellington band of the same name, Auckland's Sounds Unlimited were a live drawcard around the city in the mid-1960s and could be often found at the Surfside in Milford. This was the first of five singles for Zodiac via Philips.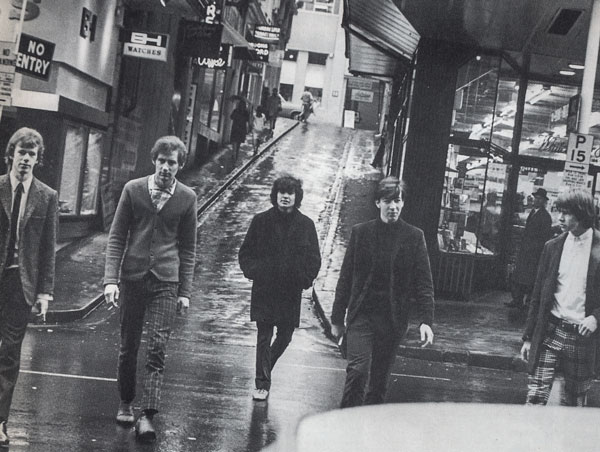 The La De Das in the Auckland rain
PF338090

The La De Da's - On Top Of The World / Hey Girl (1966)

But this did - back into the Top 5 and their second classic. Amazing what comes out of Te Atatu...

PF33091

The Sounds - Take You Where The Music Is Playing / Face In The Crowd

Sounds Unlimited changed their name at the beginning of 1967 to avoid confusion with the Wellington, Alan Galbraith-led, group of the same name. They added a new vocalist on this, Mike Leyton, ex-The Merseybeats.

PF338092

The La De Da's - Hey Baby / Other Love (1967)

An old Bruce Channell chestnut from dark days between rock'n' roll and rock, The La De Da's turned this into a sloppy R&B classic with some (intentional) humour. The first 45 I ever bought...

PF338093

The Sounds - Tickler Me / Take The Hurt Off Me (1967)

The third single from this lot, who featured Maurice Chan on pedal steel and a hot jazz trained drummer called Charley Gray.

PF338094

The La De Da's - All Purpose Low / My Girl (1967)

Off the second album, which was just as essential as the first (why these records have never been properly remastered and reissued is beyond me).

BF338095

The La De Da's - Rosalie / Find Us A Way (1967)

And the last single (there was an EP as well) for Zodiac as the band headed off to Australia and then the UK. Kevin Borich became an Australian superstar later in the 1970s, but for me at least, the best of The La De Da's is found on these Zodiac grooves.

PF338096

The Sounds - I'm Coming Home / Tears Don't Have To Fall (1967)

The Sounds were also used by a variety of producers as backing band, including Mike Perjanik (who featured them backing Tommy Adderley on his RCA album), and Eldred.

PF338097

The Sounds - Top Hat / Fall On You (1967)

Eldred definitely had some faith in these guys – he placed them via his Philips deal which was reserved for the big acts, and recorded five singles – but with diminishing returns. This was their last single before several (without Mauri Chan, Charley Gray or Mike Leyton) headed off to Australia where they became Ian Saxon and the Sound (fronted by Ian). They would record again there under that name.
Maurice formed The Diplomats with Bruce Jarvis (not the music photogra, Barry Brackenborough would play with Renee Geyer and Charley Gray became an Auckland legend, with cinemas and a booking agency. At the time of writing he has a regular jazz DJ spot in Auckland.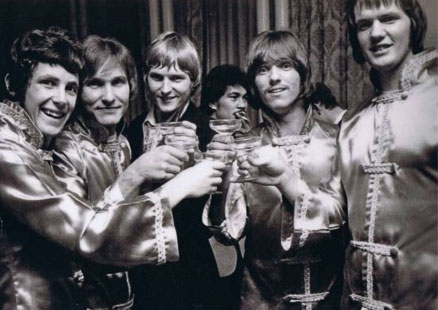 The mighty Hi-Revving Tongues
BF338098

Hi-Revving Tongues - Tropic Of Capricorn / Baby Need Your Loving (1968)

The debut Zodiac release (they had recorded 3 singles earlier for Allied International and had roots in The Sierras), this Auckland band was the resident at The Embers Club and won the 1968 Battle of The Bands. Very psychedelic with a pop edge, they were the right band at the right time. This was a huge record and deservedly so.

BF338099

Bobby Davis - High Classed / But I Do (1968)

Bobby's final Zodiac disc. Clearly Eldred had high hopes for High Classed as he licensed it to Philips, but it was not to be. he made a single the next year for Treble Clef and then seemed to stop recording, although I seem to recall he had some TV presence in the 1970s and worked as a promoter for some years. He later owned a carpet cleaning business.

PF338100

Hi Revving Tongues - Make Yourself At Home / To My Love (1968)

Philips co-released the Tongues' wonderful hit album (BZLP104 on Zodiac, and PL08794 on Philips) and also this single. There was a bit of a mish mash with Philips releasing some singles and Zodiac others - it must've confused retailers.

PF338101

Chris Parfitt and The Hi-Revving Tongues - Elevator / You'll Find Me Anywhere (1968)

A one off that credited singer Parfitt and the band, as did the debut album. Not sure why but it reverted for the next singles (see Z-1349). Elevator was originally by UK band, Grapefruit.

PR14

Nell Clinch - Home Sweet Home / I Truly Love You (1960?)

This turns up every now and then and has an odd number, taken, I think, from a custom pressings sequence, but this appears on the Zodiac label itself and was clearly commercially released. Sung in Maori & English, it says on the label.
Thanks to Chris Bourke, Adam Gifford, John Baker, Colin Linwood, Dennis Shearer, Mark Matheson, Col Chamings, Peter Grattan, John Pickworth, Robyn Scott, Larry Small & Wai Rata.