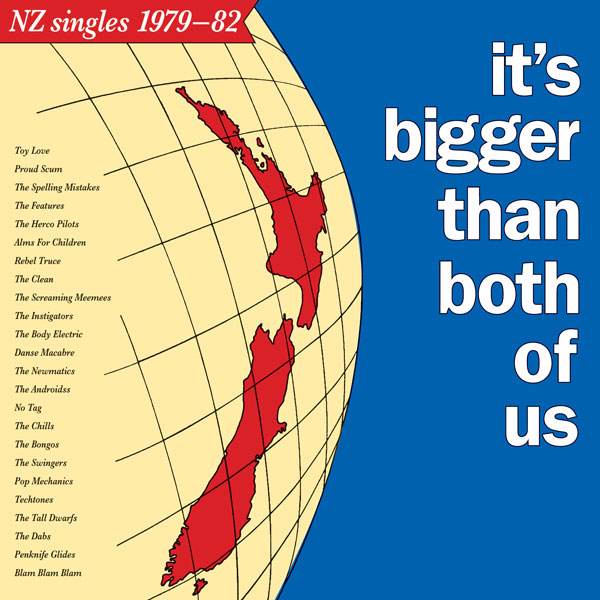 Bigger Than Both of Us is a double compilation album first released on Propeller in 1988, remastered in 2003, by Alan Jansson and repackaged with loving care by Andrew B. White, with some help from Dylan Pellett and myself. It is regarded as a vital document of one of the most important, albeit brief, eras in New Zealand music.
The idea to compile many of the singles from the first rush of indie releases came to me about 1985, and it took a year two to physically compile, master, and put together the rather voluminous liner notes (from five different writers: Colin Hogg, Murray Cammick, Harry Russell, Barry Jenkins and myself).
However, we finally did, and here it stands. I think it's fair to say that every track on this is a bona fide NZ post-punk anthem – an indie classic from the time. More, not one track on this album ever received any commercial airplay and none, bar the Blams, had any funding from government agencies.
That they still have such currency (and are such a major part of NZ's rock'n'roll history) itself is testimony to their enduring strength as songs and performances.
I released, with my partner Paul Rose, about half of these as singles, but 20 years on I think the whole damn album stands in its own right as a document.
They were special times and this, if you are at all interested in New Zealand music, is a very important collection.
Taken from the reissue's liner notes:
Its Bigger Than Both of Us was a labour of love that I put together back in 1988, with a great deal of encouragement and help from my good friend Simon Baeyertz (who was a little miffed that he is no longer credited as co-compiler on the CD issue as he was on the vinyl, this was not a slight as this album could not have existed without his massive input - he is more correctly credited as executive producer or something similar, but credit is due) at Festival Records New Zealand. The idea was to gather together a bunch of the classic indie singles that dominated New Zealand's rock'n'roll scene between 1979 and 1982, the post-punk era.
It was a period when New Zealand music took off, and especially the recording of the New Zealand music, done, predominately, by indies, came to life after being moribund for most of the seventies. At the time, the quoted figure was that there were more New Zealand singles released in 1981 than there was in the whole of the last decade. I don't know about that, but there were so many bloody great singles and most were due to be lost forever. In January 1980, there were almost no independent labels recording the hundreds of bands in the nation. That next year and a half saw Ripper, Propeller, Reaction, REM and at least a dozen others. In late 1981 the, to be giant, Flying Nun also arrived and from all these sources, literally scores of singles were flying out of the garages and studios all over the country. BTHBOU was / is our attempt to preserve some of these gems.
Simon Grigg 2003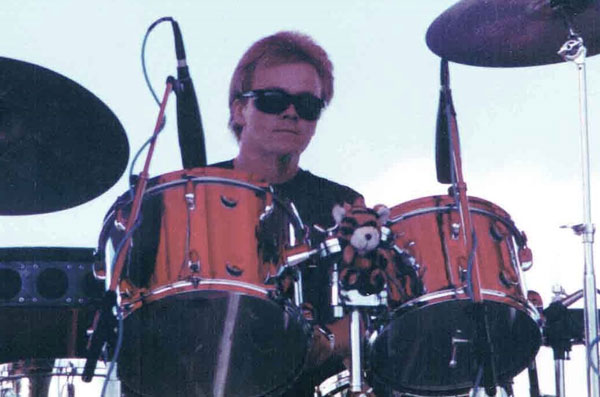 The late Steve Thorpe from The Dabs, Sweetwaters 1982. Photo by Grant Philpott.
From Smoke CDs
Excellent value 2CD reissue of this essential 1988 compilation covering an extremely creative and buoyant period of New Zealand pop music between 1979 and 1982 where music of the more "indie" nature really made an impression on the hearts, minds and souls of legions of "real" music fans. Across thirty tracks we get great hits from the likes of Toy Love, The Spelling Mistakes, The Clean, The Screaming Meemees, The Swingers, The Chills, Tall Dwarfs and a number of lesser known but equally thrilling out fits.
Lovingly compiled and basing the set purely around singles really gives the listener a feel for the time and era, and a number of these tracks genuinely shaped the sound of New Zealand pop music for many years to come. Even with the current renaissance in "historical" New Zealand pop compilations this set stands head and shoulders above the rest simply because of its focus and the era covered.
This is an essential purchase for any New Zealand music fan. Recommended.
Currently available on Propeller via Warner Music, or digitally via iTunes and Amplifier (including the booklet).
Now sadly on CD and file only - the vinyl package was quite a thing, thanks to the skills and hours put in by Chad Taylor, although the 2003 CD sleeve was a pretty fine replica of that, courtesy of Andrew B. White and Dylan Pellett.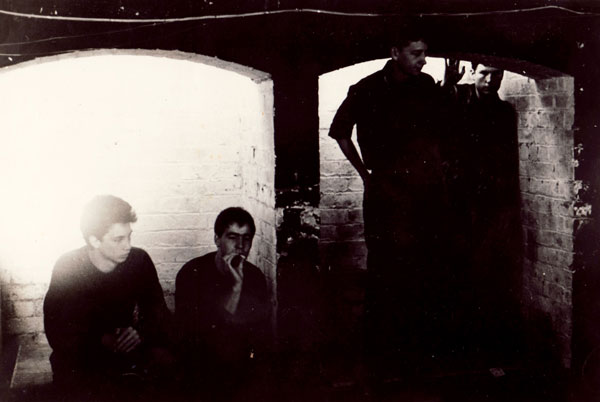 Danse Macabre, Auckland 1981
Original NZ release: August 1988 (Propeller 2REV210 ) (Festival Cat L60037-8)
Australian release: Feb 1989 (Propeller L60037-8)
CD Issue: 1990 (Propeller 2RED210) (Festival Cat D60037-8)
Remastered reissue: October 2003 (Propeller REV505)
Digital release: April 2012 (Propeller REV505)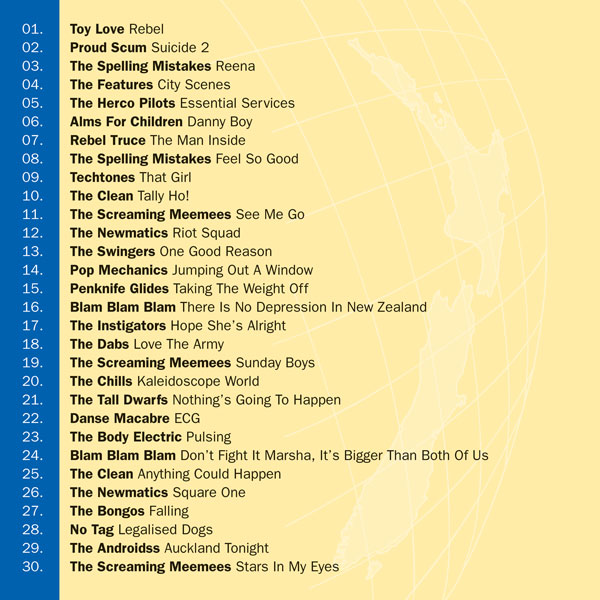 Toy Love: Rebel (original release Elektra Z10015, July 1979)

The first Toy Love single, and a landmark NZ release.

Proud Scum: Suicide 2 (original release Ripper RIP2, April 1980)

A song about their former guitarist, John Atrocity, and the first post punk NZ Indie single. An absolute classic of the genre.

Spelling Mistakes: Reena (original release Ripper RIP4, August 1980)

The first single from the band, released after the first. It was about actress Rena Owens, whose name seems to have been misspelled on all releases of this track, although the original live version was about the former bass player's girlfriend.

Features: City Scenes (original release Propeller REV 1, June 1980)

The first Propeller single and top 30 in NZ, it's still one of my all time favourite singles.

Herco Pilots: Essential Services (original release Rem Records, REM001, March 1981)

From the first of the band's 2 EPs for guitarist (and Rip It Up Magazine columnist), Harry Ratbag's label.

The first Herco Pilots 7"

Alms for Children: Danny Boy (original release Rem Records REM002, June 1981)

Also for Harry's label, with soon to be club mogul, Gary Rodent, on vocals. They later became This Sporting Life.

Rebel Truce: The Man Inside (original release on album Class of 81, Propeller REV201, March 1981)

From the Class of 81 album, so not really a single, but it should have been.

Spelling Mistakes: Feel So Good (original release Propeller REV 2, June 1980)

Propeller's second single and another top 30 single. By now they were banned from every venue in town!

Techtones: That Girl (original release Propeller REV 5, December 1980)

The first Propeller single distributed by Festival Records, these guys were a very snappy power pop band with punk roots.

The Clean: Tally Ho! (original release Flying Nun FN002, September 1981)

Legend has it that this was recorded for $50, which is probably just legend. The second Flying Nun single and the one that launched both the label and this important band.

The Screaming Meemees: See Me Go (original release Propeller REV8, July 1981)

Produced by ex Whizz Kid, Andrew Snoid, and mixed by me. Number one first week in, then immediately deleted. Why???

Newmatics: Riot Squad (original release Furtive / Propeller FUR2, October 1981)

Co-produced by the Blam's Don McGlashan, this was from the double 7" package, and the second release on Propeller subsidiary, Furtive, via CBS.

The Swingers: One Good Reason (original release Ripper RIP2, May 1980)

My favourite Swingers single, and to my ears the best sounding one. Recorded at Mascot and produced by Mike Chunn.

Pop Mechanix: Jumping Out A Window (original release XSF001, March 1981)

Originally from Christchurch, produced by Eddie Rayner, and on Mike Chunn's new label, XSF, via CBS. A Top 20 hit.

Penknife Glides: Taking The Weight Off (original release Warrior Z10042, April 1981)

Classic pop-ska produced by Alistair Riddell on Hugh Lynn's new Warrior label, distributed by WEA.

Penknife Glides, 1981. Photo by Chris Parr

Blam Blam Blam: There is No Depression in New Zealand (original release Propeller REV11, July 1981)

An anthem of the anti-Springbok Tour movement, and quite a big hit, reaching the top 10. No radio play, but...

The Instigators: Hope She's Alright (original release Ripper RIP23, August 1982)

The second single from this very popular second generation ska band. Sonya Waters later made records for Ripper and Arch Hill.

The Dabs: Love The Army (original release Propeller REV19, August 1982)

I loved these guys, great songs, great humour. This power-pop anthem made the top 40 ... just ...

The Screaming Meemees: Sunday Boys (original release Propeller REV 15, December 1981)

Way-oh way-oh... top ten but if radio had played it at all it would've been number 1.

The Chills: Kaleidoscope World (original release on Dunedin Double EP, Flying Nun DUN001, August 1982)

Produced by the fab team of Doug Hood and Chris Knox, the record that announced Martin Phillipps' genius to the world.

Tall Dwarfs: Nothing's Gonna Happen (original release on Furtive / Propeller FUR1, August 1981)

The first single on Furtive, and one that previewed what would later be termed the Flying Nun sound.

Danse Macabre: ECG (original release on Reaction REACT3, November 1981)

Classic synth pop which showed the division between the North Island and the South Island... they had The Clean, we had things like this.

The Body Electric: Pulsing (original release on Jayrem JAY107, December 1982)

This huge hit which spent almost 9 months in the singles chart on word of mouth only. The band featured Alan Jansson who went on to produce New Zealand's biggest ever single, How Bizarre.

Blam Blam Blam: Don't Fight It Marsha (it's bigger than the both of us) (original release Propeller REV14, December 1981)

"And I want you to be happy / but I'd rather you were still with me" ... what a lyric. Radio wouldn't go near it, with Hauraki's program director telling me it was depressing. Sometimes you need a gun. It should have been number one.

The Clean: Anything Could Happen (original release Flying Nun FN003, November 1981)

This sold truckloads, was in the charts for months and helped finance the fledgling Flying Nun label.

Newmatics: Square One (original release Furtive / Propeller FUR3, May 1982)

By the time this was released they had split up. Produced by The band and Tom Sampson (uncredited), and my favourite track from a band who should have made an album.

Bongos: Falling (original release Propeller REV20, November 1982)

Quirky, obscure and edgy from an Auckland three piece who recorded just one more track before splitting.

No Tag: Legalised Dogs (original release Propeller REV21, August 1982)

From the B side of their only Propeller single, which entered the top twenty. No Tag bridged the gap between hardcore punk and the more developed post punk sounds rather deftly and their one 12" is a very collectable classic of the era.

The Androidss: Auckland Tonight (original release Ripper RIP20, October 1981)

The ultimate Auckland anthem - from a band from Christchurch. There were dozens of Androidss, or so it seemed (in fact there weren't), and this tickled the bottom of the charts.

The Screaming Meemees: Stars in My Eyes (original release Propeller REV22, December 1982)

One of the great NZ singles of its era, and an appropriate way to close the album - very much signifying the end of the garage band era.