The Zwines Family Tree

(as printed - reproduced here without change - in Rip It Up Xtra, 1980)
Zwines opened in March 1978, and it proved to be a focal point for the growing punk scene which had up until then been forced to move from club to club because the management didn't like the crowd, or the music, or the money, or all three. It almost became home to the hundreds of kids who used to spend all weekend there, just listening and dancing.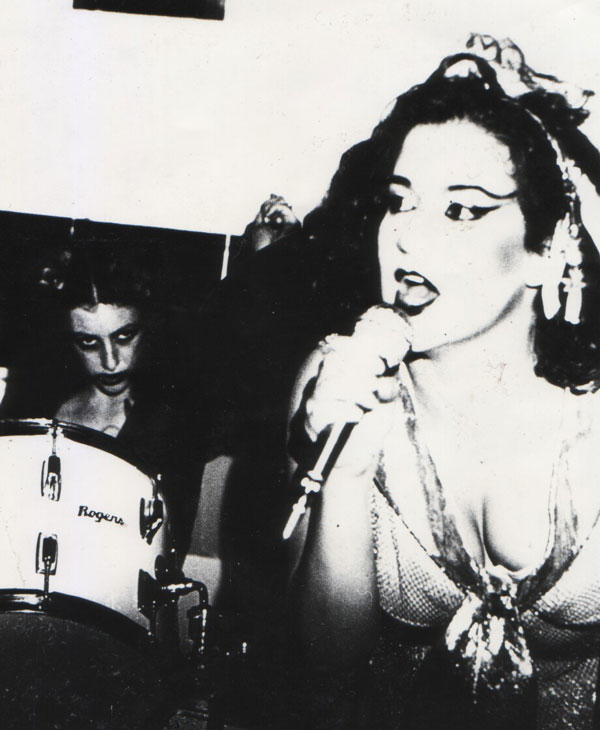 Shona Bruce and Sandra Jones / The Idle Idols
Photo: Jonathan Tidball
These bands were the ones who played that scene, or were responsible for the creation of it. I have only included bands important to that time, or whose members played then. Mistakes are inevitable and I'm sure nobody needs an apology.
Thanks to Kerry Buchanan, Julian Hansen, Chris Orange, James Pinker, Joe Gill, Jimmy Stimmy, Paul Robinson, Frank Stark, Karel Van Bergen, Nigel Russell, Paul Kean, Steve Roach and others. Dedicated to Gary and Brian.
Simon Grigg Sept 1980.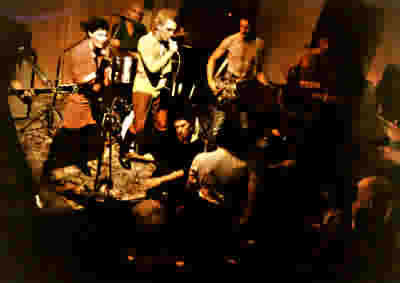 Photographer unknown
NB: The information below is taken from the original Zwines Family Tree. I've made no attempt to update or correct the Xtra bios...they are what they were in 1980, unmodified.
Some (most) of these bands were never heard of again and disappeared into history (and would, if not for this page be ultimately forgotten forever by now). Some are, 30 odd years on, probably more famous now than they ever were then.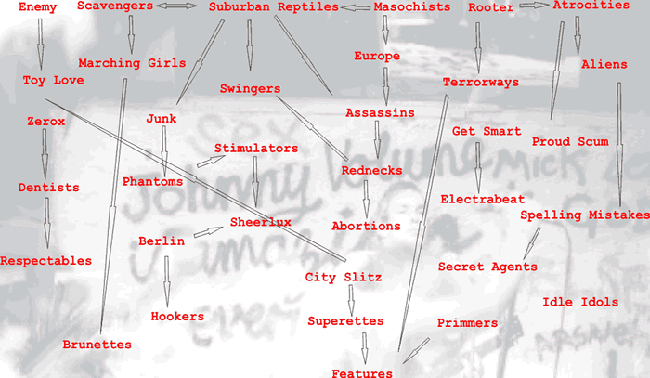 The Enemy (10.77-12.78)

Dunedin's first punk band. Formed late 1977 with Chris Knox (vocals), Mick Dawson (bass), Mike Dooley (drums) and Alec Bathgate (guitar) being the definitive line-up. They gigged around the South Island extensively gaining a huge reputation. Moved to Auckland in September 1978 where they played first at a University dance with the Scavs. Played regularly at Zwines until Dawson left to return to Dunedin at the end of 1978 to form The Heavenly Bodies. The band then went into hibernation and it seemed that Phil Judd would become a member .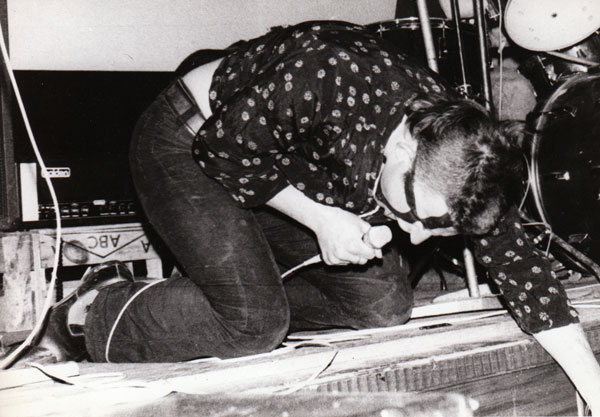 Chris Knox / The Enemy @ a State ance. Photo: Anthony Phelps
Toy Love (2.79-)

Remnants of The Enemy, joined by Jane Walker (ex Christchurch band The Basket Cases) and Paul Kean (Basket Cases via City Slitz). Released single Rebel / Squeeze (WEA Z10015) mid 1979. They have rapidly become one of the top two or three NZ bands. Second single Don't Ask Me / Sheep (WEA Z10022) went Top 10 and the Toy Love album (WEA Z20008) entered the national charts at number 9. Moved to Australia early 1980.
Zerox (2.78-6.78)

A genuine art-rock-punk band. Line-up of Dean Buchanan (vocals), Denys Watkins (guitar), Rod McLeod (bass). Original drummer was Des from The Scavs but Jeff Warr soon joined  Rather frantic but always interesting. Split June 78, McLeod to The Phantoms, Warr to The Hookers, and Buchanan to The Dentists.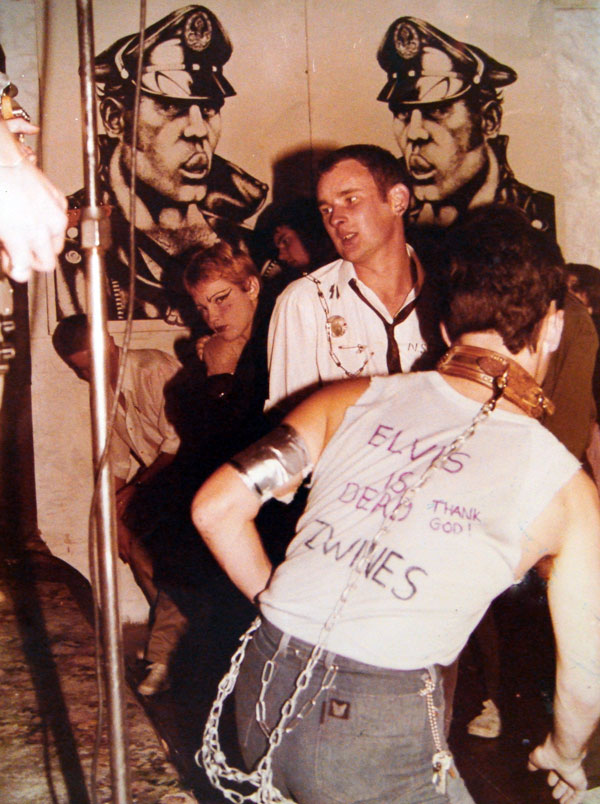 Zwines with Gail Young, Lindsay Page and Craig Emery.
Photo: Fiona Clark
The Dentists (5.79-2.80)

Formed by ex Zerox front-man Dean Buchanan, with William Griffiths (drums), Scavs' roadie Ross Townshend (guitar) and Mark Boyd (bass). Gained marks for best posters around town but little else. Played the normal rounds of parties and pubs until February 1980. Griffiths (Jonathan Jamrag's brother - see Proud Scum) and Boyd went to The Respectables. Buchanan into retirement.
The Respectables (3.80-)

When Boyd and Griffiths left The Dentists they added Paul Shawte (guitar) and Paul Tawle (vocals) and quickly learnt half a dozen Clash numbers and as many Undertones ones. They quickly gathered a hard-core following and are at present adding some quite good originals.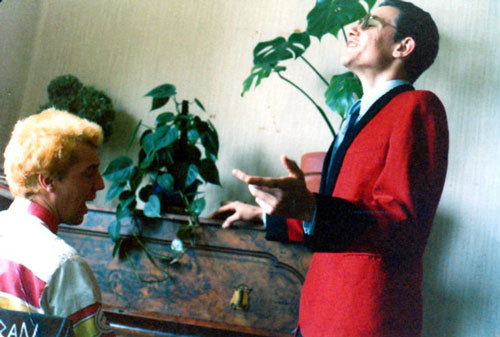 Buster Stiggs & Tony Baldock rehearsing 1978
The Brunettes (4.80-5.80)

Formed by ex-Scavs vocalist Mike Simons (nee Lesbian) after two years hiding in an advertising agency. With Ross Townshend (Dentists, bass), Mark McDonald (guitar), and Mike Morton (drums), they played two gigs in Hamilton and a private party before splitting. Simons headed for Australia.
The Scavengers (2.77-11.78)

Originally known as the 1B Darlings, The Scavs formed at ATI under that name in 1976 the original line-up was Mike Lesbian (vocals), Johnny Volume (guitar), Des Truction (drums) and Marlon Hart (bass). Volume had played in a variety of bands going back to The Label in the early 1970s. They got a residency at Crofts Nightclub in mid 1977 and played a series of gigs with the Reptiles and Junk. In September 1977, Hart left and was replaced by child prodigy Ronnie Recent. The band recorded a couple of tracks for Polydor early in 1978 but Lesbian left and nothing was released. They continued as a three piece with Recent on vocals. A residency at Zwines throughout mid 1978 made them a very popular band. They recorded a couple of tracks for AK79 (Ripper RPR1) plus assorted other demos. After a series of farewell gigs in October and November 1978, the band left for Melbourne.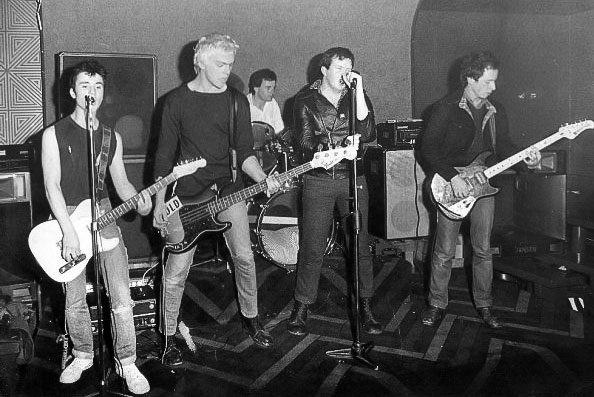 The Terrorways @ The Globe
Photographer unknown
Marching Girls (11.78-)

The Scavengers became the Marching Girls upon arriving in Melbourne. After a lot of lying around and some gigging they returned to New Zealand in early 1980 for a series of successful shows. Upon returning to Australia they signed to Au-Go-Go Records and released True Love / First In Line (in NZ Propeller REV 4). Ronnie quit before the release and formed Dead Can Dance. The band is in limbo at present.
Junk (5.77 – 2.78)

Formed May 1977 by Iain Myers (guitar), Frank Stark (guitar), Des Edwards (drums), Grant Dillon (bass) and Nick Rutland (vocals, tambourine). They first appeared in June 1977 in a very rough and ready form (like all the early punk bands except The Scavs) at Crofts with The Masochists and The Reptiles. Played Disco D'Ora with The Scavs and The Reptiles. Edwards left for Australia in late 1977 and was replaced by Graham Schnell. In January 1978 Rutland and Schnell left to become The Stimulators and the rest of the band became The Phantoms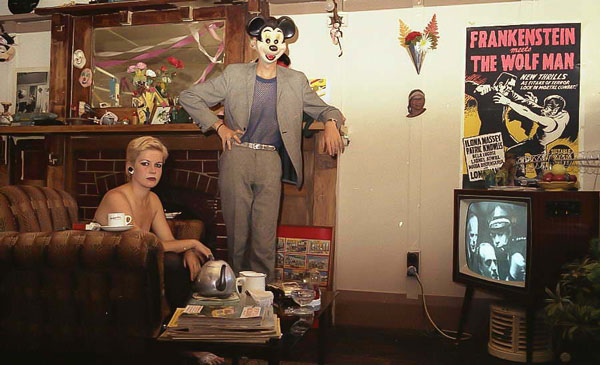 Jimmy & Zero at home in Grafton. Photo: Jeremy Templer
The Phantoms (2.78 -11.78)

Robbie Van der Listonk was recruited by the survivors of The Phantoms, with Stark, Dillon and Myers sharing the vocals. First gig was at the State Dance in February 1978. Rod McLeod (Zerox) joined later when Dillon moved to keyboards. Dillon left for France November 78 and the band folded.
Berlin (11.77-12.78)

Not strictly a Zwines or a punk band, Berlin are notable for their membership of Paul Robinson (vocals), Joe Gill (bass), Phil Eagan (drums), Mark Gillett (guitar), and Rob Guy (guitar). Robinson and Gillett came from Biggles. Rob Guy left for Lipservice. His replacement, Steve Roach, and Robinson then joined Sheerlux, Gill ended up in the Hookers, and Eagan & Gillett went to Sydney to become The Winged Devils and then The Krystal Kids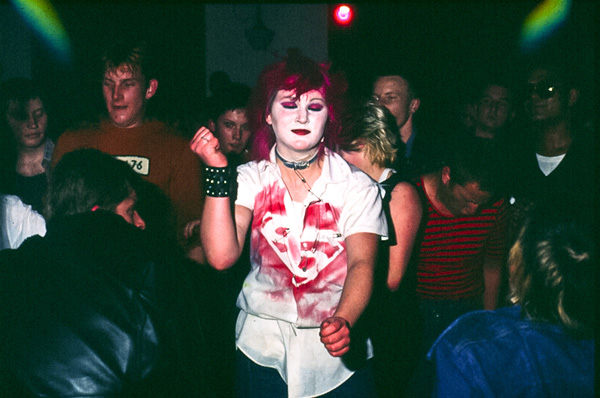 The Hookers (3.78-10.79)

Originally Stiletto with Dave McLean (guitar), Johnny Bachelor (guitar), Paul Andrews (vocals), Mark Page (bass), and John Gray (drums). Basically and R'n'B band, they played a wider range to begin with. Gray and Page replaced by Jeff Warr (Zerox) and Joe Gill (Berlin). Played many an afternoon at the Windsor and were accepted by the punk crowd. Went to Australia July 79 after McLean split to form The Furys. Broke up in Sydney October 1979. Gill now in The Valentinos, Bachelor in Sydney band Socket Set and Andrews in Hit and Run after a brief spell in The Furys.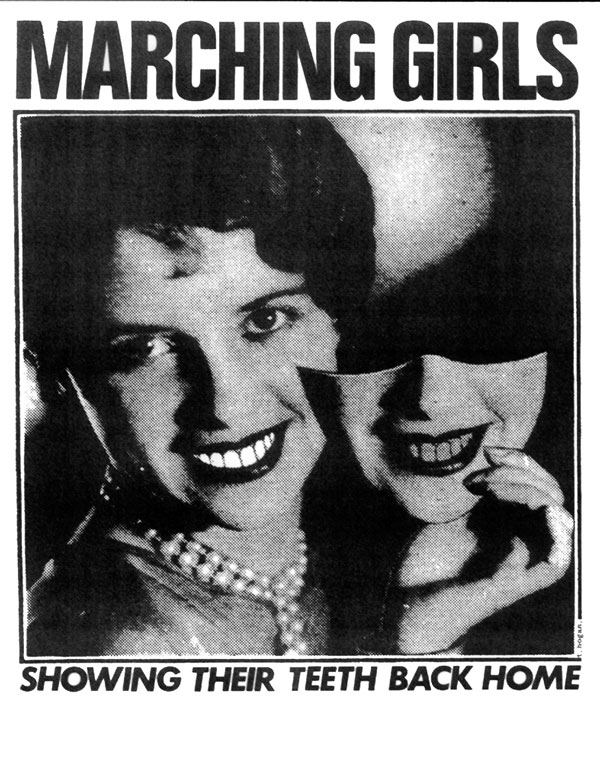 1980 NZ tour poster. Design: Terry Hogan
Suburban Reptiles (1.77 – 11.78)

Formed January 1977 with Des Edwards (drums), Zero (vocals), Billy Planet (bass), Jimmy Joy (sax), Shaun Anfrayd (guitar) and Sissy Scott (guitar). Played one gig to a small select audience in the Scavs practice room. Edwards left for Junk and was replaced by Buster Stiggs who had previously played in After Hours with Geoff Chunn and Neil Finn. Anfrayd and Scott left, Anfrayd for Sydney and The Sideshow Theatre Troupe. Johnny Volume was borrowed from The Scavs, August to September 1977, but then Planet moved to guitar and Bones Hillman (Masochists) came in on bass. Signed to Phonogram Oct 1977, and the first single Megaton / Desert Patrol (Vertigo 6036 920) was released in January 1978. Bones left for the Assassins in March 78, replaced by Roland Killen. In May, Tony 'Europe' Baldock replaced him. The second single Saturday Night Stay at Home / 45 Single and album demos were done at this time with Phil Judd producing. In August Planet and Joy left and Judd came in on guitar but the band effectively ended at this stage. Jimmy and Zero went to Sydney at this stage and Stiggs and Judd ended up in The Swingers (Judd via The Enemy)
The Swingers (4.79 -)

Stiggs, Judd and Bones got together in April 79 and after a few months practice, emerged as the support band on the Split Enz tour. Despite their origins they are a snappy pop band and achieved a degree of success and a top ten single with All Over Town / One Good Reason (Ripper RIP 3) before leaving for Australia in July 1980.
The Stimulators (2.78 – 5.78)

When Schnell and Rutland split with The Phantoms they roped in Jimmy Jurecivich (guitar) and Roland Killen (bass) and made their debut at the first State Dance playing punk covers. Early Zwines favourites, they gradually changed their name to Sheerlux. Rutland left for Holland in April and the band continued as a three piece for a month or so.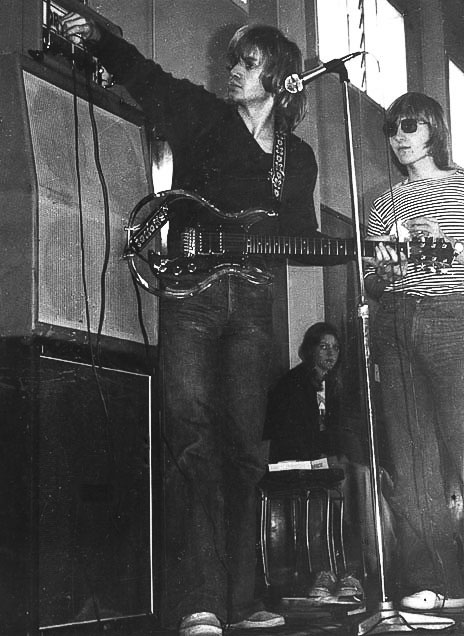 The 1B Darlings, who eventually became The Scavengers, 1976, left John Cooke, right Mike Simons
Photo courtesy of Johnny Volume.
Sheerlux (5.78 – 3.80)

Marlon Hart (Scavs) joined The Stimulators as vocalist and they became Sheerlux. Played loads of covers and Marlon became something of a Zwines star until he left for Europe (the continent not the band) in September 78. A split seemed imminent but Paul Robinson and Steve Roach were acquired from the collapse of Berlin. The band changed its image and became very chic with the wealthy young kids and out of favour with the original Zwines set. They put out a single Lonely Hearts / Chinatown (WEA Z10016) in June 79 and were immensely popular up and down the country, being far more accessible than the bulk of the Auckland punk bands. Roland left in September 79 and was replaced by Peter from Easy Street. In March 1980 Robinson went to The Valentinos and Schnell went to Australia. The band re-emerged a month later as The Techtones.
The Masochists (3.77 – 9.77)

Also known as The Metal Masochists, MM, Vandals, and The Avondale Spiders. Original line-up was Kevin Grey (vocals), Spike Bastard (drums) Bones Hillman (bass) and Jimmy Sex (guitar). Very Velvet Underground influenced, they played their first gig in a hall in Mt Roskill, followed by a Varsity dance in July 77 with the Reptiles and The Scavs. One of the best bands I've seen, Bones left to join the Reptiles in September 1977 and the band became Europe. The original line-up later reformed as The Rednecks.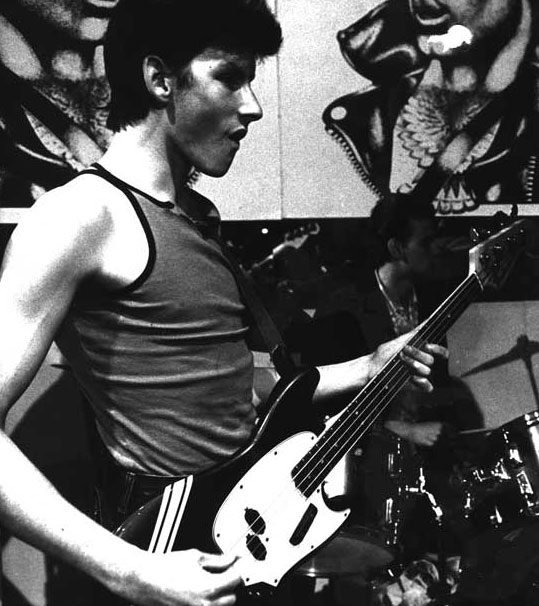 Ronnie Recent @ Zwines.
Photo: Murray Cammick.
Europe (9.77-11.77)

Bones was replaced by Tony Europe and the band continued before calling it a day in November 77. Tony ended up as Bones replacement in The Reptiles. Jimmy and Spike went to The Assassins.
The Assassins (3.78 -9.78)

Fronted by Bones with Jimmy and Spike, Roger Roxx (vocals), Dave Burgess (guitar) and Geoffrey Fiebig (keyboards). They played first as a Scavs support at The Windsor in April 78, followed by regular Zwines gigs. Split September 78. Burgess to Panic, Roxx to Australia, and Bones, Jimmy and Spike back to Kev Grey again.
The Rednecks (10.78 – 2.79)

Basically The Masochists, still good, although some of the power seemed to be missing. Played Zwines, including The Scavs' farewell. Inevitably unstable, they finally split in February 79 with Spike and Jimmy going to The Abortions and Bones to The Swingers.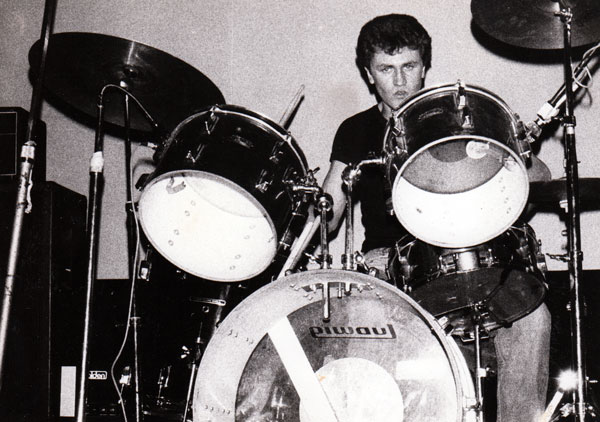 Spike from The Masochists / Rednecks etc.
Photo: Anthony Phelps.
The Abortions (2.79 – 7.79)

Jimmy and Spike from The Rednecks linked with a couple of guys called Steve (bass) and Kirk (vocals) to form this punk / reggae band, also known at various times as Front Line, The Mucky Pups, The Corduroys, and The Fire Engines. Sometimes the name changed half way through a gig.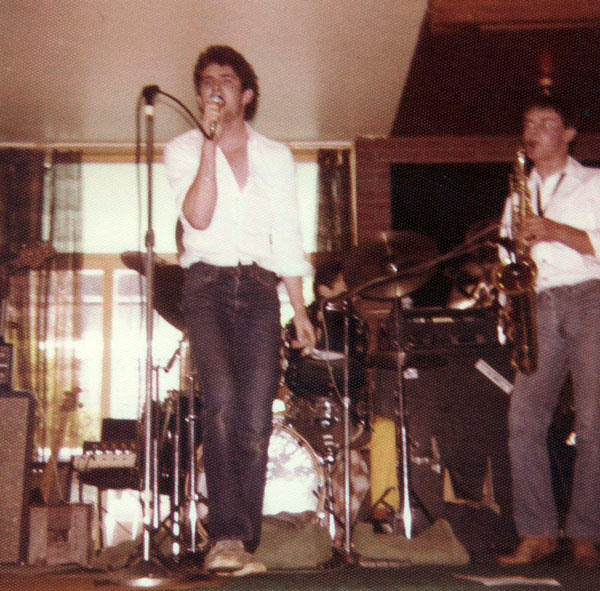 City Slitz at The Windsor Castle, in a pre-David Bowie gig on December 3rd 1978. Pictured are Michael Malloy, James Pinker and Mike Allpress.
Photo: Derek Zilch
City Slitz (6.78 – 5.79)

Subjects of an intense graffiti campaign all over town for months before they ever played, The Slitz even inspired a Citizen Band song. They were James Pinker (drums), Andrew Austin (vocals), Mike Malloy (guitar), Mike Allpress (sax), and Paul Kean (bass).Kean soon left to join Toy Love, and was replaced by Richard Stillwell. Four months after their first gig they fell apart. Malloy went to Australia and joined Seems Twice, who did a single for Double Think Records. Stillwell and Pinker joined The Superettes.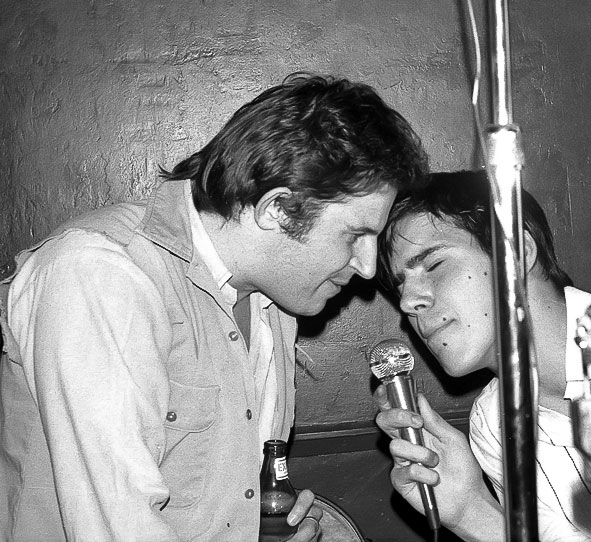 Chris Knox and Tall Tony (Secret Agents), Reverb Room, 1979.
Photo:
Jamie Mcleod
The Superettes (7.79 – 12.79)

Stillwell and Pinker were joined by Jed Town (Forever) and guitar. The Superettes had immense power but friction led to Pinker and Town splitting with Stillwell to form The Features
Features (1.80 – 8.80)

Jed Town and James Pinker (Superettes) joined with Chris Orange (Terrorways) and Karel Van Bergen (Primmers), debuting as support for the Marching Girls at the Gluepot. They soon became, as The Auckland Star put it "the band of the moment". Released City Scenes / Secret / Police Wheels (Propeller REV 1 ) which made the Top 40. They split, August 1980, although a second single is due. Jed and Karel played part time as The Anaesthetics.
Rooter (4.78 -12.78)

The first of the second wave of punk bands, formed by fans of the first wave. Original line-up was John No-One (vocals), Peter Hoffman (guitar), Kerry Buchanan (drums), and Jonathan Jamrag (bass). They appeared at Zwines in April 1978 and, as with all the second wave, were extremely rough to begin with. Throughout their career they played almost only covers, but became immensely popular, especially with the underage drinkers at The Windsor and The Globe. A fact which led to mass arrests. Jamrag left in July 78 to form The Atrocities, and Ronnie Recent stood in for a while until Chris Orange (bass) and Dean Martelli (guitar) joined In September 78.
The Terrorways (12.78 – 11.79)

Forced by a lack of bookings to change their name from Rooter to The Terrorways, the band continued unchanged until Buchanan left at the end of 78 and was replaced by Gary Hunt (Gary Havoc and The Hurricanes). Did a national tour, recorded two tracks for AK79, She's A Mod and Never Been to Borstal, plus a single, Short Haired Rock'n'Roll (Ripper Rip 1) and then split. Hoffman and Hunt joined Hamish Kilgour (The Clean) in The Sobs and Orange ended up in The Features.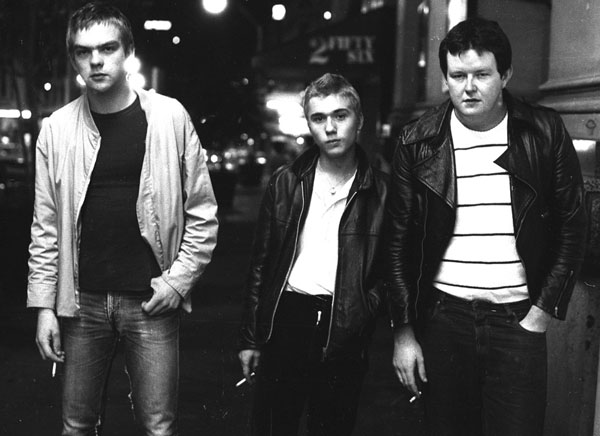 3 Terrorways in Queen Street, 1979. L to R: Chris Orange, Dean Martelli, John 'No-One' Hunter.
Photo: Murray Cammick
Get Smart (5.78 – 1.79)

Nick and Julian Hanson (vocals and drums) formed this Zwines band with Jules Moloney (bass) and Ben Free (guitar). They gigged extensively including Citizen Band supports. One of the best Zwines bands, they split in January 1979. and Moloney and Free formed Electrabeat while the Hansons ended up in The Spelling Mistakes.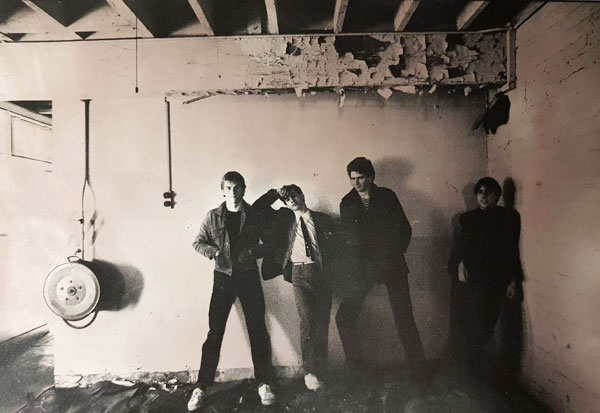 Get Smart, 1978. L to R: Ben Free, Nick Hanson, Jules Moloney and Julian Hanson.
Courtesy of Jules Moloney.
Electrabeat (2.79 -10.79)

Formed from the other half of Get Smart, Electrabeat played their first gig at a Ponsonby party. They generally played to an audience close to the Sheerlux crowd rather than a hard core punk following. They became fairly popular but split in late 79. Notable for their matching football jerseys.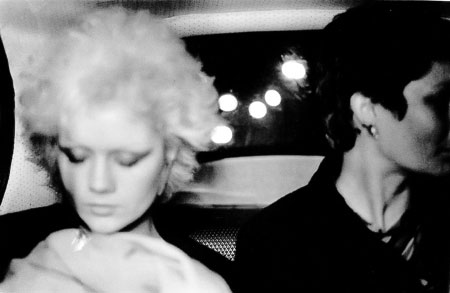 Jamie Jetson / Idle Idols. Photo: Sara Leigh Lewis
Secret Agents (11.78 -)

Very much a part time band from late 78 with Tall Tony (vocals), Tom Wilson (Aliens, drums), Keith Bacon (Spelling Mistakes, guitar) and Eddie (bass). Played infrequently and nobody really knew if they had split or not. There are rumours of a comeback…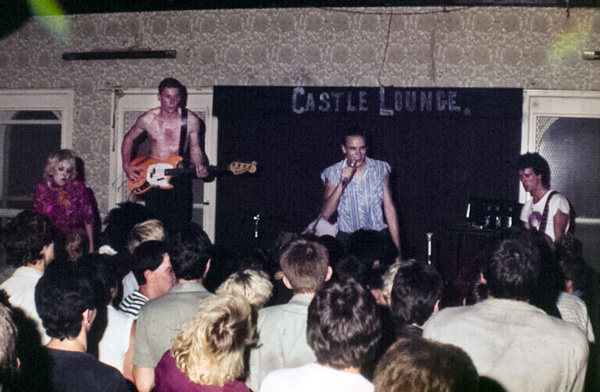 Proud Scum, Reverb Room.
Photo: Unknown
The Primmers (2.79 -3.80)

Chris Malloy (bass), Karel Van Bergen (vocals), Miriam Ludbrook (keyboards), Cliff Skeets and Dave Bebb (drums) formed the first Primmers line-up at their first Rock HQ gig in early 1979. Karel left in July and Cliff took over vocals. They split in March 1980, when Miriam, Chris and Dave went to Australia. Chris is rumoured to have formed a band with Graham Schnell (Sheerlux).
The Atrocities (8.78 – 11.78)

Formed at Zwines by Jamrag (Rooter, vocals), John Atrocity (guitar), Alistair Rabbit (bass), Tom Wilson (drums) and Warwick Fowler (guitar). They tended to live down to their name and always suffered from a lack of equipment and expertise. However they compensated with enthusiasm and pure noise. They were short lived with Jamrag, and Atrocity ending up in the infamous Proud Scum and rest in the Aliens.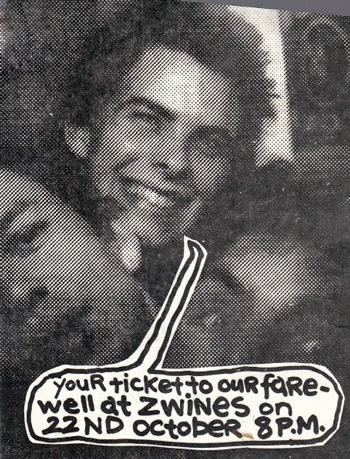 The Aliens (11.78 -3.79)

Successors to The Atrocities with Wilson, Fowler and Rabbit from that band, and Craig Emery (vocals), Keith Bacon (guitar) and Yvette and Giselle Trezevant (vocals). They played the normal round of Zwines and parties doing the standard punk covers and even entered the Radio Hauraki Rock Quest, to no avail. Bacon and Fowler went to The Spelling Mistakes, Wilson to The Secret Agents and Rabbit to Proud Scum.
Proud Scum (4.79 - )

Jonathan Jamrag's polished garage band, the ultimate punk revivalists, with Jamrag (vocals), Rabbit (bass), and Bruce Hoffman (drums). Played extensively at the Occidental attracting a hard core punk following, many of whom had never seen Zwines. Atrocity left in June 79 and was replaced by Sid Rabbit. Also known as The Beagle Boys, they contributed two tracks to AK79,  Suicide and I am a Rabbit and did a side of a single (Ripper RIP 2) Suicide 2. They left for Australia, minus Alistair Rabbit and are rumoured to be returning.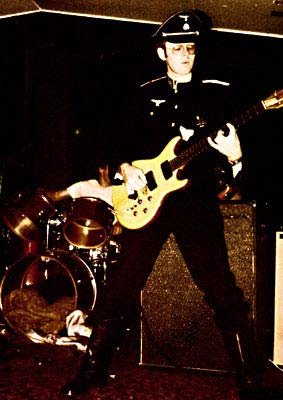 Warwick Fowler, Spelling Mistakes @ Rock HQ
The Spelling Mistakes (5.79 -)

The Hansons from Get Smart and Keith (now on bass) and Warwick from The Aliens. Keith didn't last long and was replaced by Nigel Russell from a Selwyn College band, Retrox. The infamous Reena was originally written about Keith's girlfriend and was the band's first single although it didn't appear until after the second. It was on Ripper RIP 4. Their second single Feel So Good / I Hate The Spelling Mistakes / Hate Me Hate Me (Propeller REV 2) was a Top 30 hit in June 1980.
The Idle Idols (sometime in 78)

The Idle Idols deserve a place in history, if only because it could never be done again. They were perhaps the worst band ever to perform at Zwines. And they were perhaps the best band to perform at Zwines. The main members of the band were Julie Collette (Jamie Jetson) (guitar), Leonie Bachelor (bass), Sandra Jones (vocals), Paul Gibbs (vocals) and Shona (drums). Paul was the only male, and although none of them could really play, they had a verve and fabulous bounce all of their own.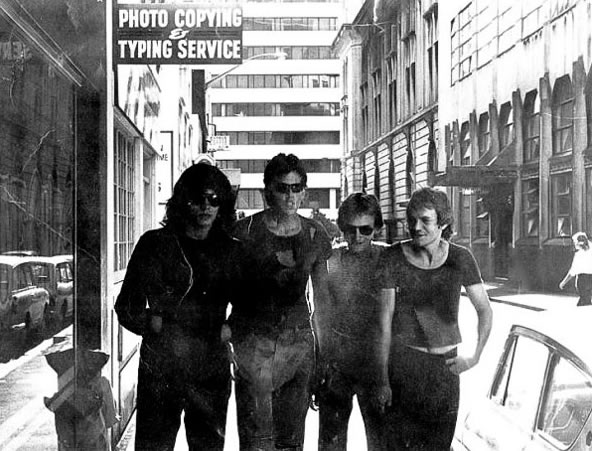 The first Scavengers lineup: Marlon 'Mal Icious' Hart, Simon 'Des Truction' Monroe, Mike 'Lesbian' Simons,
Johnny 'Volume' Cooke. Jean Batten Pl., Auckland.
Photo courtesy of Johnny Volume.
Photos © Courtesy of Jonathan Tidball / Anthony Phelps / Warwick Fowler / Jeremy Templer / Murray Cammick / Sara Leigh Lewis/ Johnny Volume / Gail Young.