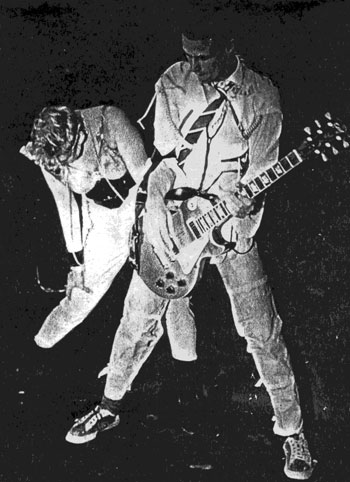 Billy Planet / Jamie Jetson
Zwines and the Auckland punk scene in the 1970s
This page and the one that follows are centred around a family tree of the Auckland, New Zealand, punk scene, which I wrote in July and August 1980. It was first published in October of that year, in Rip It Up's short lived offshoot Xtra, a more in-depth sister magazine to the monthly, published, as I recall, quarterly for a year or so.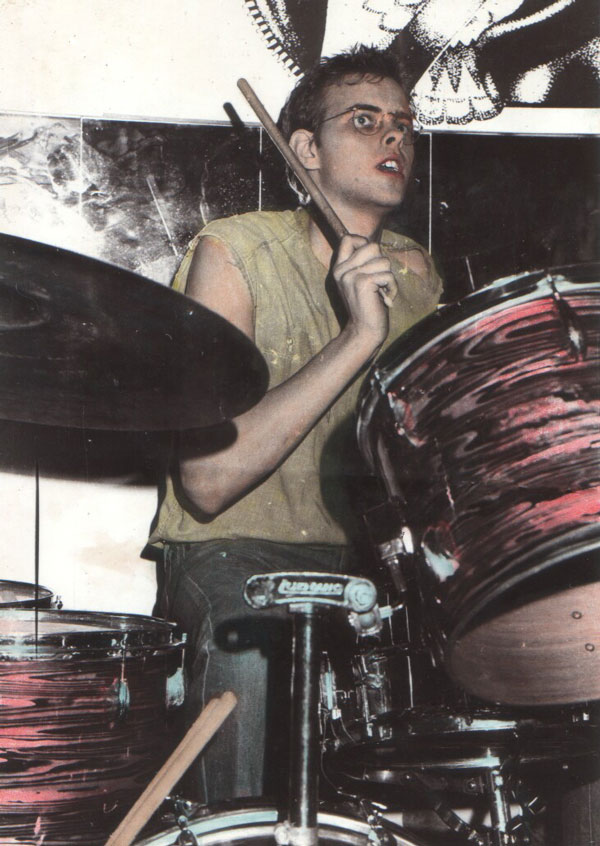 Des Truction / Scavengers, at Zwines, June 1978.
Photo: Jonathan Tidball
How it came about, I'm not completely sure, but Murray Cammick, founder and editor of Rip It Up and I had become fast and good friends (as we remain to this day). We had discussed this on and off, as we both felt the scene that exploded in Auckland in the late seventies needed documenting before it was lost.
And so I attempted to do exactly that. This, which took - as I recall - many many hours and more than a few phone calls, being the result.
And now, heading quickly towards three decades later, so it is again. This history and these short lived acts are fast fading into history as the generation that spawned them inevitably ages and memories fade.
Some, such as The Enemy, The Suburban Reptiles and The Scavengers now have a global reputation far beyond their few releases, but most didn't even get into the studio and are in danger of being forgotten.
Hopefully, if nothing else, this page will preserve that memory for a little longer and allow us to revel a little in something that was so important to so many of us that were there, and, to the development of rock'n'roll in New Zealand.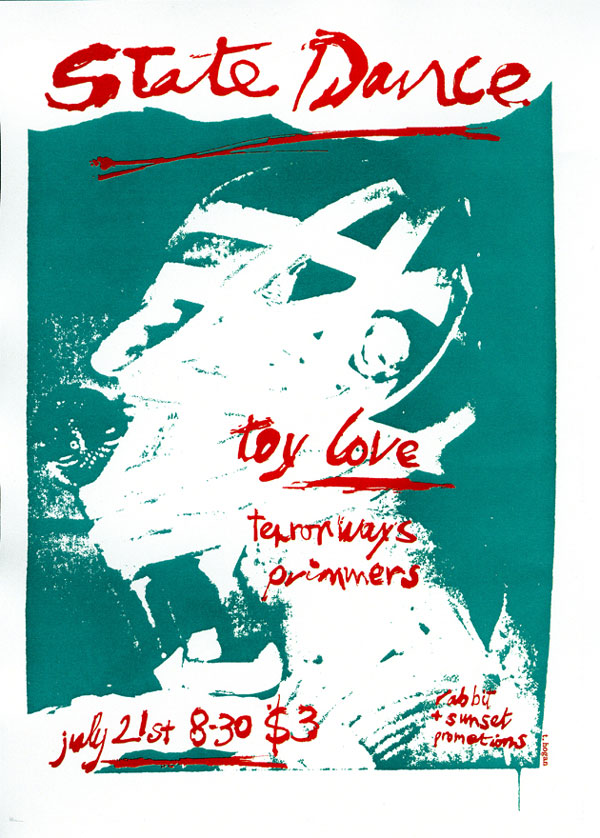 Design: Terence Hogan
Zwines was a dirty, very old (build in 1861) club just off Durham Street West in Central Auckland. It opened in late February 1978 and was, until the around October of that year compulsory every weekend night for so many of us.
The building had quite a history. It was built as a warehouse and was used as such for a century (there is no evidence it was ever a jail or gallows despite claims over the years). From 1963, it housed a number of rock'n'roll clubs – The Top 20, 1480 Village, Bo Peeps and then from 1971 it was Granny's downstairs and Granpa's upstairs. Owned by the late and vety great Tommy Adderley and Dave Henderson, the latter club was a private members club. The Rolling Stones and The Pretty Things played there in in the 1960s (the Stones revisted in 1973) and I saw both Hello Sailor and the late, great, Adderley's Headband play there circa 75.
It was shut down by the licensing authorities in 1976.
By 1978, when it was converted to Zwines, it was largely derelict.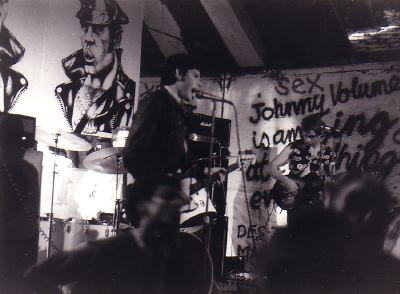 Ronnie Recent / Scavengers @ Zwines 1978.
Photo Murray Cammick
To get there you wandered up past Babes' Disco – it was in the same building and you had no option but to walk past the Grey Lynn based gang that frequented the place. In doing so you ran a gauntlet and took a real physical risk. Few went to Zwines alone.
Up around the corner, after acknowledging the small groups huddled outside you went up the stone steps and into a private party.
Whether it was heaven or hell depended on who you were and how far you were willing to push yourself.
But to an ever increasing number of us, regardless of whether you went to a party after (with one of these bands playing), or to a pub before, at some stage during the night you ended up in this seedy, smelly black hole that was, for a brief moment, the epicentre of Auckland's cutting edge live scene.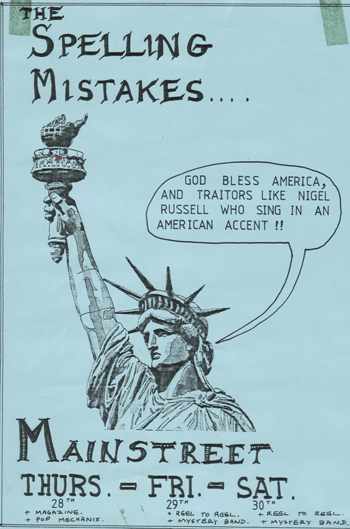 Most bands wanted to play here, and many, such as Citizen Band, or the much disliked Th' Dudes (who actually hung out with many of the people mentioned here but were outsiders), tried and failed badly simply because they existed outside and didn't understand the dynamic. Only those that understood and were part of the scene as such could do so successfully.
It was a tough place to play as the audience were an integral part of the act. The band playing to, with, in, and at the crowd.
The Auckland scene developed in isolation from the equivalent scenes in London and NYC, simply because of the way the country remained shut behind a government enforced screen. We heard and read little that was contemporary. We couldn't buy most of the records until many months after release and nothing of any interest was available via the state owned media.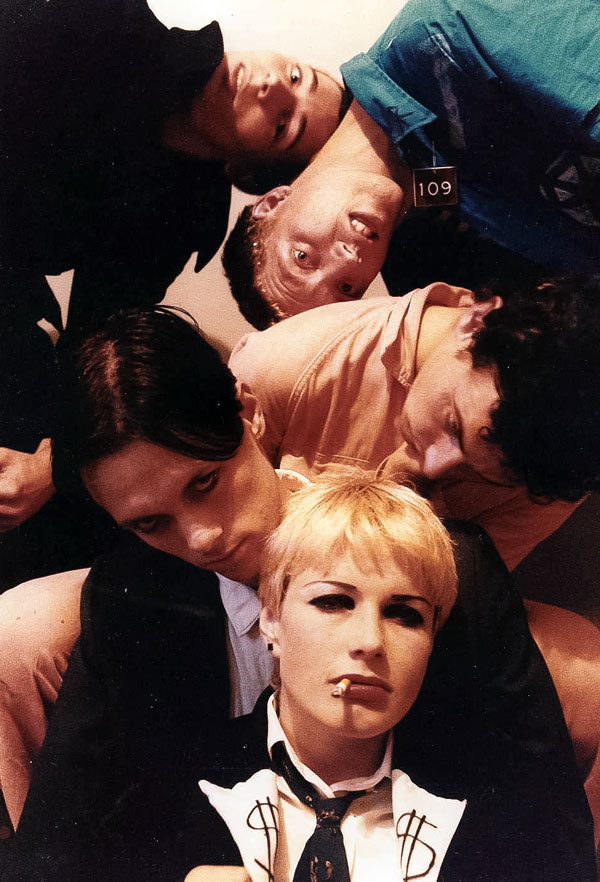 The Suburban Reptiles, Grafton, April 1978.
Photo: Jeremy Templer.
The only music on TV consisted of family troupes and singers, like Steve Gilpin, who later reinvented himself with unintentional parody punkers Mi-Sex, doing ABBA covers. But despite that, there was a strength, verve and uniqueness arguably not found in places like the more contrived, and clearly UK-aping Australian scenes in Sydney and Melbourne.
Unlike their Australian counterparts nobody, even if they were doing covers, was trying – until much later that is – to be the Sex Pistols, The Stooges or The Clash.
It's hard to successfully mimic someone when all the information you are getting comes via word of mouth, 3 month old magazines, mainstream media's half stories, the odd image and an imported single or two.
New Zealand was very, very, isolated in those days, and our music reflected that. It really was the end of the earth.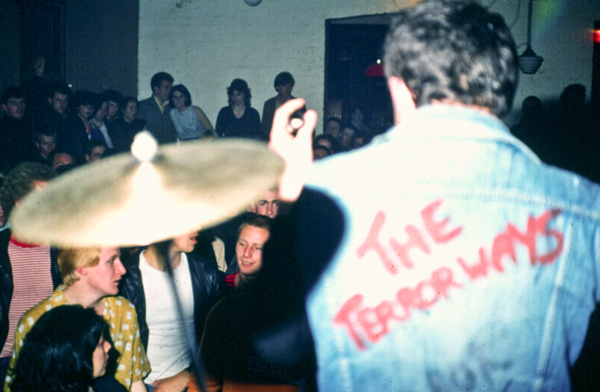 The Terrorways, XS Cafe.
Photo: Bryan Staff
However, perhaps because of that, it was quirky, arty and quite different – probably as close to whatever produced early Split Enz as to The Damned, and you can hear that strong point of difference on the very few records that came out of the scene.
There were different strata of Auckland punk acts. The most clearly defined included the first wave, effectively the Suburban Reptiles, The Scavengers, The Masochists and, very briefly, Junk.
There was the second wave, or probably more correctly, the purist Zwines bands – the acts whose existence rotated around the kids who virtually lived at the club - like Rooter, Get Smart, The Aliens and The Stimulators (although the latter pre-dated Zwines by months), and many more not listed here.
Bootgirls, Windsor Castle
Photo: Bryan Staff
The Scavengers and the former Masochists merged into that scene too, almost as the godfathers, whereas the Reptiles, whilst accepted and popular, didn't really want to. They were recording and touring and had ambitions beyond Zwines (as did The Scavengers). The Enemy were adopted by the Zwines crowd, many of whom didn't realise they were from out of town, but they too had clear ambitions.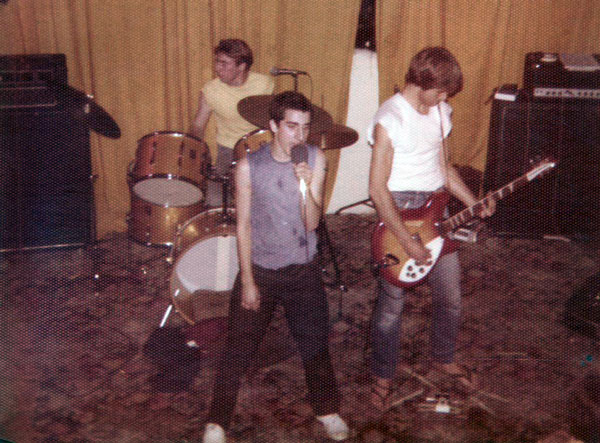 Three quarters of Get Smart at Zwines, 1978. Nick Hanson (vocals), Julian Hanson (drums) and Ben Free (guitar). Out of shot is Jules Moloney (bass). Photo: Derek Zilch
There were those who sat on the periphery, like Zerox and The City Slitz. And there were those that existed primarily after Zwines ceased to be relevant from early 1979 onwards, effectively the post-punk acts in the now accepted terminology.
Many of the bands played there so often, because they couldn't get a gig anywhere else in those very conservative times.
A bunch of Zwines bands (and a couple who were not) including members of The Terrorways, Toy Love, Sheerlux and The Hookers. Photo: Murray Cammick
The interior was decorated by Johnny Volume and Ronnie Recent, the wallpaper coming from the airmail NMEs stolen from my room in the flat we all shared in Remuera. They also made and installed the PA system.
It was, at first, owned by a couple of expat Liverpudlians only remembered as Don & Richy. Later it was sold to Brian Ball. There was intially a jukebox full of imported punk 7"s, but on the opening night it was smashed open and they were stolen.
The pinball machine didn't last much longer, after one 'fan' jumped onto it from the balcony.
Myself, for about six months in 78, I loved it. You could sit on the balcony observing the drama, the scenarios and the interaction between the bands and those dancing, many of whom were in bands also playing that night. Dancers would wander onto the stage to sing a song – or, on one occasion have fairly obvious sex with the bass player of a band.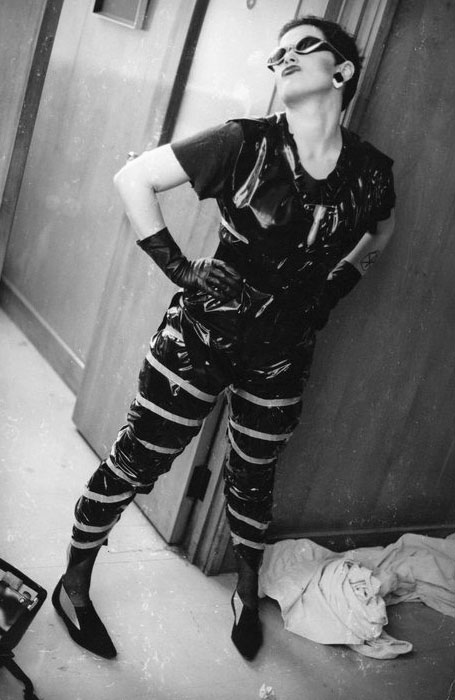 Zero / Suburban Reptiles, Oct 1977.
Girls would dance wrapped in glad-wrap and nothing else; the crowd would throw friendly heckles at the bands and they would be returned all night. Everybody knew everybody. And nothing was regarded as outrageous, although the first time Chris Knox slashed himself on stage it came close. Even the death of a punter(from a drug OD – there was suprisingly little alcohol in the unlicensed venue, but there were drugs – he lay on the floor all night and no-one noticed) caused little more than a passing murmur. Although the attempted gate crashing of the place by the Headhunters did cause a ruffle. There are stories too of a member of Hello Sailor pulling a knife on a guy over a failed drug deal.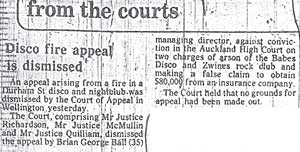 From the Auckland Star, October 16th, 1980
These were interesting times as they say.
It staggered on into mid-1979 (when the owners did the classic club scam and set it on fire) but it really was a little sad by late October 1978. By 1979 was dying as other pubs and clubs had taken over, although, as with any scene there were those who refused to let it go.
And then the wonderful Proud Scum turned up almost as a parody of it all, and were huge.
The irony.
For a brief moment in time it was the playground for incendiary forces of a differing kind. All that punk rock shit, you know the historical gaze, the tight pants, the sneakers, ripped t-shirts, the fucking safety pins. The art school crowd, the working class dumbos, bad boys and good girls lost in a fantasy of their own making.....
.....Who gave a fuck, these men [The Scavengers] seemed like renaissance saints in our befuddled punk state, history will always look kindly upon them, and fuck anyone who says otherwise.
Kerry Buchanan in his notes to the long unavailable compilation Move to Riot.
To the 1980 story...
The story (on the next page) is being printed verbatim as it appeared in the magazine in 1980. There has been no attempt to modify opinions, fix the odd mistake which crept in, or update the information. Some of the bands were a little upset at the time at what I wrote (I received some flak from the Idle Idols but it was meant to be vaguely complimentary and I'm still surprised they couldn't see that – I LOVED The Idle Idols) but c'est la vie.
Any updates on where or what people are, is on my where are they now page, or will be as it comes to hand.
The much graffiti-ed wall opposite (with band names etc) was there for all to see until mid 2005. With Auckland City Council's usual sense of history it has now, I believe, been "cleaned up".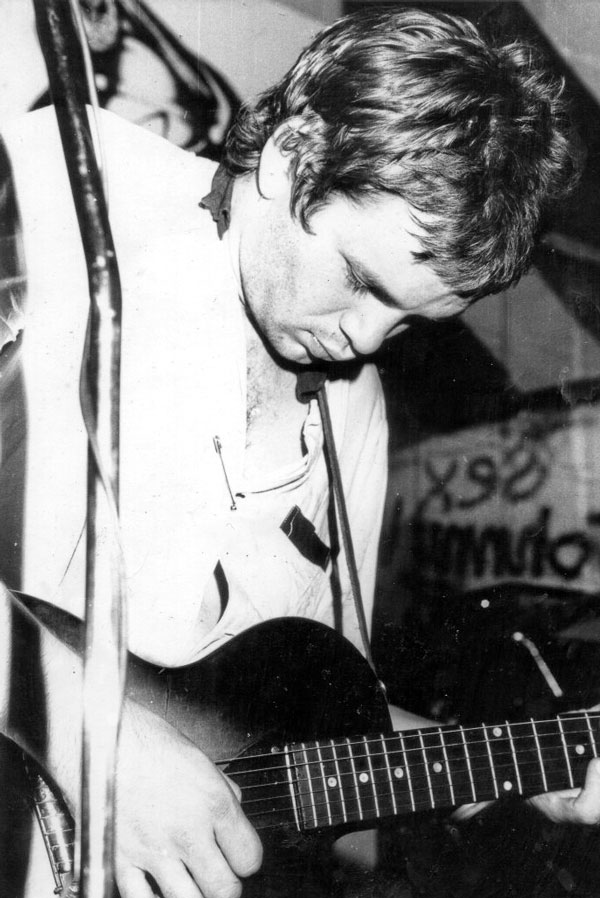 Johnny Volume / Scavengers, @ Zwines, June 1978.
Photo: Murray Cammick
For the Zwines Family Tree go here.
For Auckland's other lost punk venues: scroll down.
The Venues
Zwines
From late 78 until it was burnt out in mid 79 under circumstances which remain murky (although convictions followed). See above.
Auckland University Café
The first public punk gig there was in July 77, a benefit gig organised by myself and David Blyth for David's groundbreaking film, Angel Mine, with The Scavengers, Suburban Reptiles & The Masochists. After the Reptiles emptied rubbish bags over the crowd punk was banned, or at least until late 78 when The Scavengers and The Enemy, amongst others, managed to get in there again.
The notorious Enemy gig when a guy was tossed off a balcony by thugs and broke his back was at the café.
There were regular gigs there in 79-80, but punk was seen as rather safer by then.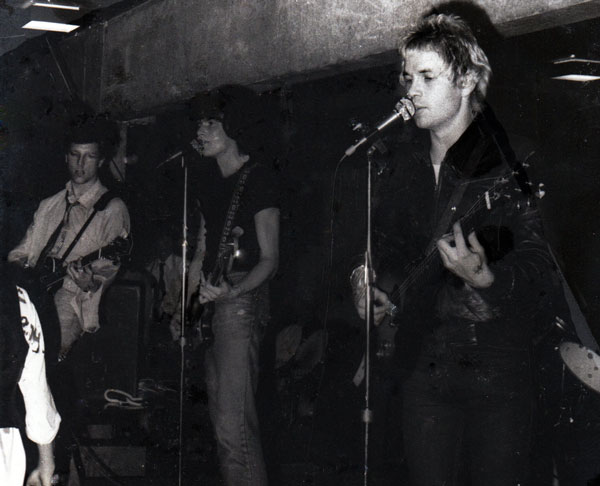 The Scavengers (with Buster Stiggs), University Cafe, 1978.
Windsor Castle
Thanks to the open-minded booking policies of Larry Young and Fiona Grigg (my sister), this legendary and important Auckland live venue hosted punk bands from early 1978 (The Scavengers were first on New Year's Eve 77/78) and its Saturday afternoons, often with Toy Love, were legendary and chaotic.
The first "established" venue to open its doors to punk...
Disco D'Dora
In Newton Rd, to the left of the Caltex Station (upstairs). It was a failed disco which we used for several punk gigs in mid to late 77. The first bands there were the Suburban Reptiles, then The Scavengers and Junk, who did a two week residency. Lots of mirror balls, smoke and Day-Glo.
The venue where the kids who later became Rooter and thus The Terrorways first appeared.
Crofts / Moody Richards
In Airedale Street. Used for early punk gigs from August 1977. The building is still there but are anonymous offices now. Johnny Volume got arrested outside here in late October, after pulling Spike from Europe off the stage and abusing a cop or two.
We finally extracted him from jail but the police had broken bones in his feet with their boots.
XS Café
Also in Airedale Street, now demolished, it was formerly Charley and Anne Gray's Island of Real. Owned by Bryan Staff, Sheryl Morris and Gary Summerville, it replaced Zwines as the key venue in 1979. Increasingly violent into 1980, there would've been a few bodies found when it was knocked down.
The State Theatre
Long demolished, this old theatre in Symonds Street was the venue for several large, and important, gigs in 1978 and 79.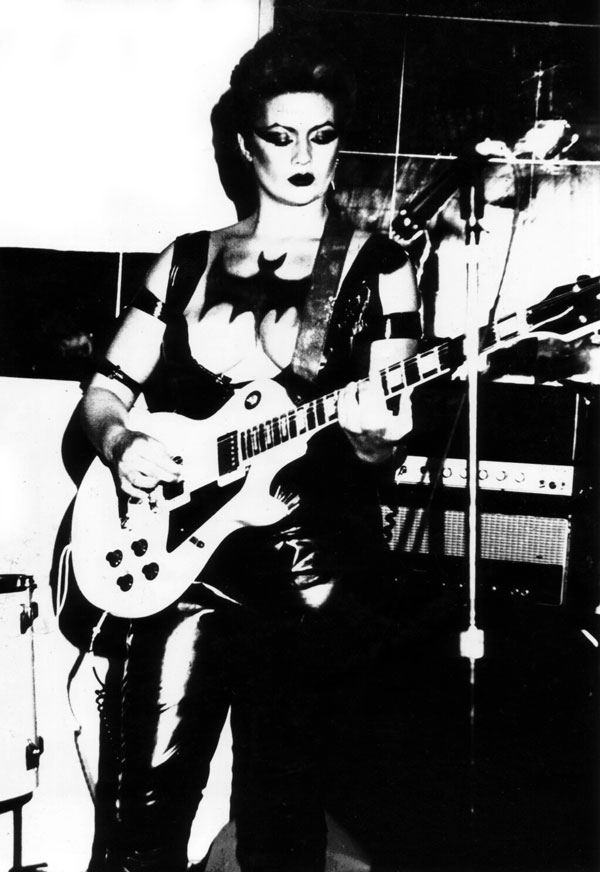 Jamie Jetson (Julie Curlette) / Idle Idols, Zwines 1978.
Photo: Jonathan Tidball
Liberty Stage / Reverb Room
If you sit at the intersection of Symonds Street and Newton Rd and look up you can still see Liberty Stage. The top floor of the old Edinburgh Castle hotel was a venue for several years, changing name early 1980. There were repeated clashes between the clientele downstairs and the fans upstairs and it got very heavy at times.
Rumba Bar
Upstairs at the now demolished Victoria Hotel in Victoria Street West, from 1980 onwards. Booked by Doug Hood amongst others.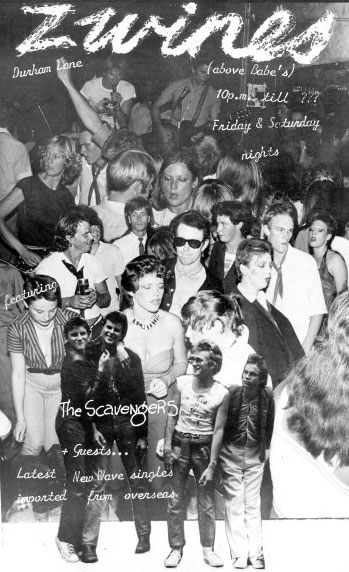 Diamond Dogs
Another now demolished. This venue which used to be a drag club called Mojos. It was owned by Hugh Lynn and sat on the site of what is now a faceless office building in Queen Street, just up from the Saint James near Wakefield Street. This was Auckland's first dedicated punk club, opening in January 1978 but it was argugably just before its time and was short lived reverting to Gobbles Disco a mere three weeks later.
The Masonic Hall
In Upper Queen Street, the scene of many a one off gig in 77 and 78. Demolished now of course. Also the Orange Ballroom in Newton Rd, and a dozen other halls around the city. Often only once....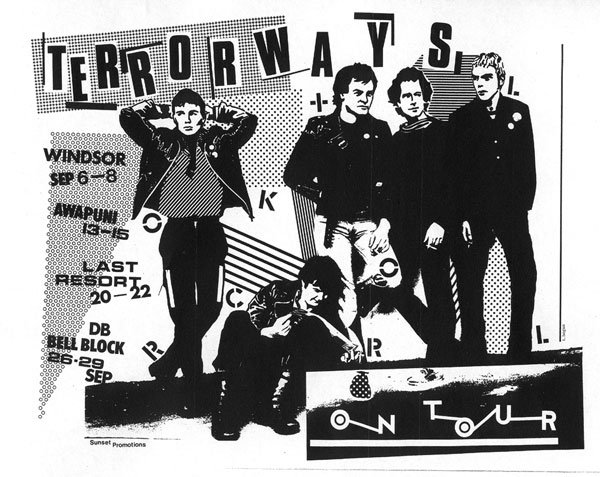 1979 Terrorways tour Poster (designed by Terry Hogan)
The Occidental
Now a Belgian Beer Bar in Vulcan Lane, the Occidental came into its own in the post-Zwines era when Proud Scum became stars here. Popular with the skinheads, who started appearing everywhere about then, and with the police – it was a toss up as to which gang, the skins or the cops, were more thuggish. Scary times.
Rock HQ
This anonymous building at 52 Upper Queen Street was, in 79 and 80, a short-lived post-Zwines venue. It's still there.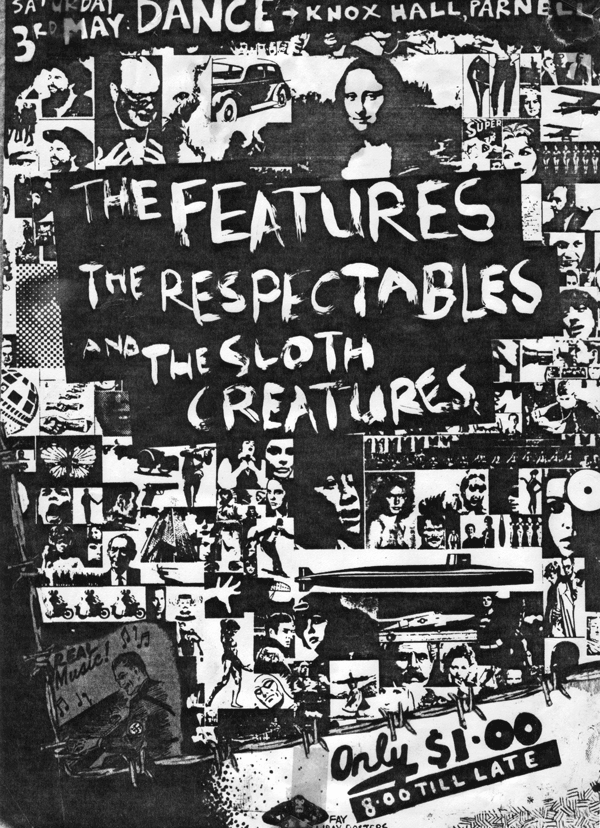 The Gluepot
A Ponsonby landmark. People still refer to the road behind as 'behind the Gluepot'. Very conservative in its bookings and crowd, it wasn't until 1980 that Toy Love and the Marching Girls were allowed in, and then only with strict dress codes that kept their crowd out. And Toy Love's drummer, Mike, until he removed his boots....
The Globe
Now a faceless apartment block sits on the site in Wakefield St, but The Globe had an Auckland rock history that pre-dated punk, with Hello Sailor, Street Talk and Dr. Tree being residents there in the pre-punk days. In 1979 The Terrorways had a residency there that was a massive draw with suburban underage kids, and, once again, inevitably the Police Task Force.
The Classic Cinema
Inspired by the legendary Hello Sailor gigs in 1975, upstairs at what is now the Classic Comedy in Queen Street, I suggested the Reptiles play there and they did three gigs in November and December 1977 and January 1978, which are now the stuff of legend. Until the mid-1990s the Reptiles posters from the final night could still be seen in the windows if you looked up
The video for the Suburban Reptiles's 'Megaton' single was filmed in and around the Classic.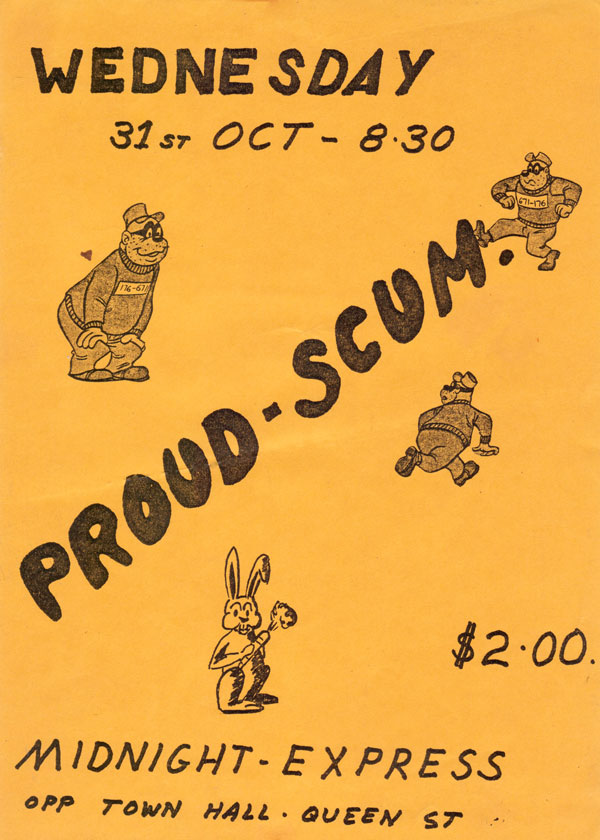 There were of course many more, Midnight Express, Crofts, Squeeze (an underage venue in Fanshaw Street), the now demolished Maori Centre also in Fanshaw Street. Oh, and about 10,000 parties - at least 4 or 5 every night.
For Buster, Brian, Sarah Findlay, Sue Schrieber, Ross Townshend, Tall Tony & Tich.
Photos © Courtesy of Jonathan Tidball, Jeremy Templer, and Murray Cammick