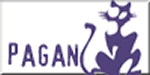 An Overview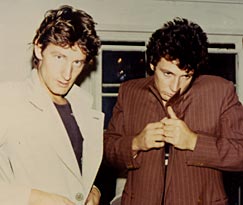 Dave McArtney & Graham Brazier
Pagan and its sister label, Antenna, is the often unsung hero, and major player, of the New Zealand post punk indie scene.
Whilst Propeller and Ripper may have set the scene, and Flying Nun garnered the reputation (and released far more records), Pagan was far and away the most successful independent label, and had a massive influence. Its influence goes beyond its own catalogue.
It was Pagan that discovered Bic Runga and passed her on to Sony. Indeed the list of Pagan signed acts is quite incredible as this list, of the singles on the labels up to 2000, is clear evidence. Think Shihad, The Warratahs, Hallelujah Picassos, Strawpeople, Shona Laing, Ardijah, Tadpole, Greg Johnson, Relaxomatic Project, Pluto, Eye TV and many others.
Indeed it can reasonably be argued that Trevor Reekie has the best set of A&R ears since the golden NZ pop days of the sixties. Perhaps ever.
Pagan existed from 1985 until the partners quietly shut up shop in 2005. It's twenty year run is much longer than Flying Nun's independent era (it was largely Murdoch owned from the mid nineties) and this list is testament to one of New Zealand's greatest record labels.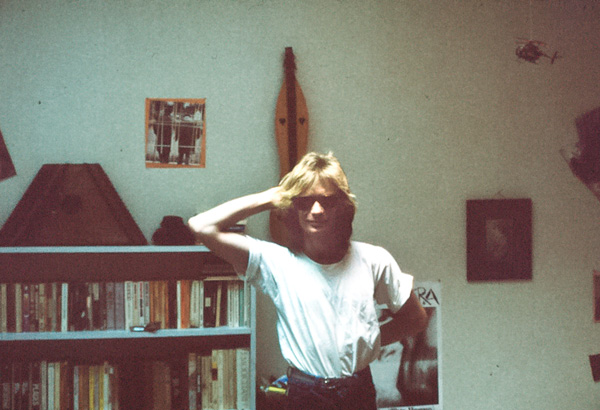 Trevor Reekie / Pagan offices, 1986.
Photo: Simon Grigg
Pagan managed to balance indie eccentricity with hits (and indeed was renown for turning those eccentrically indie records into hits) and was a goldmine, much plundered by the majors.
Pagan was started by Trevor Reekie, whose earlier history included some years in Europe plus stints running Terry Condon's Stunn label, and Glyn Tucker's Reaction imprint. It was originally a division of Mirage Films, with an eye to soundtracks, but when Mirage ceased trading Reekie took over the label. One of the towering figures of NZ's indigenous industry, he ran it continuously for the next two decades, with partner Sheryl Morris, then alone and then with a further partner, Tim Moon. Distribution was at various times with RCA, RTC / Virgin and then EMI.
The notes below are Trevor's own comments about each release, and a bit of label history.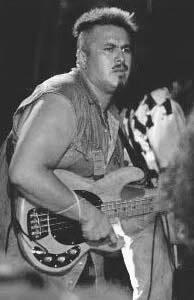 Ryan Monga, Ardijah
PAG 001

Shona Laing - America / Sally Gap (June 85)

PAG 1002

Scotty And Co – I Like To Drive / Get Into The Act (Aug 85)

Scott Calhoun was in Dave Dobbyn's horn section for a while and also a member of Wentworth Brewster & Co

PAG 1003

Prince Tui Teka -Out In The Cold / Work For The Money (July 85)

From the film Came A Hot Friday. Peaked at 33

PAG 1005

Shona Laing - One In A Million (12") (Sept 85 )

Released after the Genre album. Remixed by Bruce Lynch. Radio wouldn't touch it.

PAG 1006

Wentworth Brewster & Co - Welcome to The Club / Smoke Me, I'm a Cigarette (Nov 85)

12" featured artwork from Gavin Chilcott. Amazingly hit the top 20 peaking at 19

PAG 1007

Billy T James - A Child is Born / Caucasians and other People (Dec 85)

From the album Live at Pips

PAG 1009

Shona Laing - Glad I'm Not A Kennedy / Haunted (Jan 86)

From Genre

We released this twice but the first time no one would touch it with a barge poll – really frustrating coz we knew it should be a hit! It made radio uncomfortable the first time.

PAG 1010

Chrome Safari - Fight / Sorted Out/ Bop to The Drummer (Feb 86)

Simon Alexander, one time Grammar Boys member and a hugely accomplished muso and engineer

Trevor Reekie

PAG 1011

The Rapture - Cry For You Only / Prey For Tomorrow (May 86)

Peter Soloman, ex Techtone solo . A mate of Simon Alexander.

Recorded at Last Laugh Studios in Vulcan Lane, on 8 track

PAG 1012

Ardijah - Give Me Your Number (May 86)

Ryan played bass for us in Car Crash set and then I heard Betty… so as soon as I stated Pagan I rang Ryan. This peaked at 15 but we hooked into South Auckland and to a certain extent bought the band into the CBD. They were a wonderful band.

PAG 1013

Tex Pistol - Ballad of Buckskin Bob / I Don't Know What Came Over Me / Winter (June 86)

Ian Morris. Chris Bourke sold me on Tex. I knew he was gonna do us good but it wasn't gonna be this one but we managed to get Winter into a film.

PAG 1015

Ray Columbus - Till We Kissed / Angela (86)

PAG 1016

Shona Laing - Drive Baby Drive / Somebody Found You (86)

We wanted to move forward from Genre and this was a taster to the big one South.

Featuring Alan Jansson

PAG 1017

Ardijah - Your Love is Blind (Nov 86)

Peaked at 14 and consolidated Ardijah's reputation, but by then they were touring. The single got little airplay but the band and TV drove it.

PAG 1018

Obscure Desire - Obscure Desire / Bullet/ I Wonder / 4a (Nov 86)

Remixed in London by Liam Henshall. This record was kind of ahead of its time cos we didn't have the technology to do what we really wanted to do.

PAG 1019

Jim'n'Jo - A Place to Hang His Hat (April 87)

A weirdo little obscurity from 2 Hamilton guys. Dobbyn was in Mandrill at the same time and came in and lent us his talents to it. Died without trace

PAG 1021

Cheek Ta Cheek - Colonial Reggae (March 87)

From the film Queen City Rocker

PAG 1022

Graham Brazier - Fight / Same Old Deal (Jan 87)

I got Dave McArtney the music director's job on the Queen City Rocker movie . They needed a rock scene in the movie so Graham and Sailor recorded this Simon Alexander song

PAG 1024

Johnny Bongo and Debbie Harwood - Blue Water / You Drive Me Out of My Mind (May 87)

Johnny Bongo was John Quigley. This won Best New Band at the awards despite the band never playing a gig. Had a great clip filmed underwater by Jed Town

PAG 1025

Chrome Safari - Anything For You / Meaning of Life (87)

About here we switched from RCA to Virgin (under Brian Pitts)

PAG 1026

This Boy Rob - Reconciliations / Shirt And Tie Man / Hours Of Waste / Waxed Wings (87)

Greg Johnson's first recordings engineered by Paul and Mark of the Straw People before they were the Strawpeople

PAG 1027

Shona Laing - Glad I'm Not A Kennedy / Neutral And Nuclear Free (87)

This version was remixed by Pete Wilson in the UK. Number 2 in NZ and 6 in Oz. It was reissued on the album South and released in America by TVT

PAG 1028

The Warratahs - Hands Of My Heart / Walk On By (87)

PAG 1029

Pagan Shake Down EP (Aug 87)


Lonesome Cowboys – Tonight / The Morlochs – Psychedelic Dream / Rhythm Cage – Freeze City / The War Brides – Total War / Dark Star – Fighting / Dean Heazelwood – Cat and Mouse

My first sampler. Daniel Barnes was War Brides and David Parker came out of Rhythm Cage

PAG 1030

Tex Pistol - The Game of Love / Boot Hill drag (87)

The old Mindbenders hit. Our first number one single and radio lapped it up

PAG 1033

Rhythm Cage - Break Our Backs/ Return To Sender/ Cannibal Instinct (Mar 88)

PAG 1035

The Warratahs - Maureen / East Of Mt Eden (88)

By this time we were on TV with The Warratahs and TVNZ used it as a filler..

Tex Pistol (aka Ian Morris)

PAG 1037

The Holidaymakers - Sweet Lovers / Sensible Shoes (May 88)

6 weeks at number one and the biggest selling single of the year. A cover of the little known Bill Withers song. Produced by Nigel Stone. Mirage Films (who originally set up Pagan) went into receivership at the same time but I'd set up an artist royalty acct with Noel (RIP) Agnew so the royalties were protected.

PAG 1038

Tex Pistol - Nobody Else / Wilf (May 88)

I convinced Ian Morris to make this recording he'd done with Rikki to be part of Tex Pistol. Then we found Paul Middleditch, a 20 year old genius video maker to make what is still a fantastic video.

Went to number one. By this time I'd bought the label from the receivers.

PAG 1041

Shona Laing - Caught / Highway Warriors (Nov 88)

From South. This is a great song and also had a Middleditch 'one long shot' video coz that was all we could afford. And he nailed it. But radio just didn't wanna know. Fuckers!

PAG 1042

The Holidaymakers - Waiting in the Sunshine / Serious (88)

How do u follow the biggest selling single of the year? This made number 6 but by then the band were in array. They came back from a tour of Japan and folded.

PAG 1043

Chicago Smokeshop - Mind on My Sleeve/ Fuss and Fight (89)

Smokeshop were such a great live band. Darren Watson just had this sound and notion of economy in his playing that is unique. Bruce Iglauer (Alligator Records), Robert Cray and George Thorogood all gave Smokeshop a thumbs up. From their first album

PAG 1044

The Warratahs - St Peters Rendezvous / Thanks A Lot (89)

From their 2nd album Too Hot To Sleep, a song about Barry's dad. By this time the The Warratahs were one of the hardest working bands in the country. They could play a gig anywhere and did!

PAG 1047

Greg Johnson Set - Strange / Winter Smile (Mar 89)

By this time Greg had dumped This Boy Rob and joined the remnants of Car Crash Set which when u think about it was big of Nigel to relinquish the vocal seat.

PAG 1048

Tex Pistol and Rikki Morris - Come Back Louise / Notting Hill Shuffle (89)

By this time the tall poppy thing was clobbering us big time

PAG 1049

The Parker Project - The Phone is Ringing/ Hold On To Your Body (89)

This could have been a hit. We all knew David Parker had a hit in him except radio. Fuckers

PAG 1053

The Warratahs – Bruno's Last Ride / My Friends Say Fool (89)

Off the album Too Hot To Sleep

PAG 1054

Chicago Smokeshop - Another Man / Nothin' but Fine (89)

Still pushing the first album

PAG 1055

Rhythm Cage - Precious Ways / Something Has Changed (90)

Produced by Terry Moore from The Chills. Still nothing at radio.

PAG 1056

Greg Johnson – Josephine (90)

I asked Airforce Studios which day the studio would never be able to book. Tim Foreman said Xmas day and Boxing Day. So I said we'll give you $400 for both days and we'll bring our own engineer (wee Terry). gregs parents bought in xmas dinner, girlfriends and mates were all around and it was one of the best xmas I ever had. The single flopped and it was truly a gem of a song ...! pop !

PAG 1057

Chicago Smokeshop - I Can't Live / Another Man (90)

I finally got the PD from 91 FM to come see the show and these guys were a show. It cost them a fortune to go on the road 'cos they had horn sections and backing vocals but that's what Darren was chasing. Radio finally played us in time for the 2nd album So Glad.

PAG 1058

Merenia - Confessions / Blues About My Baby (90)

This girl from Whakatane was only about 16 when we released this. We released her album on cassette only and with the money we saved not making a CD spent on the cheapest TV time we could find around the soaps during the day time, where housewives watch. It didn't quite work but it certainly came close.
NB : Its about here where singles were a huge problem because 7" vinyl was no longer made here or in Oz and CD singles were for us cost prohibitive, so it was a real issue of how to service radio . We were fucked actually and some good singles suffered as a result

Strawpeople with Merinia

PAG 1061

The Straw People feat Merenia - One Good Reason / Ave Maria (90)

This should have been a monster hit. An old Swingers song, immaculate production and remixes by the Straws … it was almost ahead of its time. We tried everything to get radio behind this and no one would play it – fuckers!

PAG 1062

Rikki Morris - Heartbroke (90)

PAG 1063

Smokeshop - So Glad / Truth In Life (90)

From the album So Glad

PAG 1064

The Warratahs - Fools Paradise / Down Your Street (90)

From the 3rd album Wild Card

PAG 1068

Death Ray Café - I Love The News / All Gone Crazy (90)

Dunedin band with David Pine. I Love The News mentions Paul Holmes 'how I love that little guy'

Shihad 1991

PAG 1070

The Parker Project - Tears on My Pillow / Jazzy Rap remix (91)

By this time Rhythm Cage folded and David teamed up with Dan Barnes and John Cooper. A cover of the old Johnny Nash song with the right production and it took a few weeks to knock Push Push out of the number one slot but we did.

PAG 1071

Straw People - Blue (91)

This started off as a milk ad

PAG 1072

Merenia - U Know I Like It / Hard Line (91)

By this time Virgin Australia was putting a bit of money for select projects on a first option basis. 91

PAG 1073

Shihad - It / Down Dance /Subject Matters / Wizard (91 on 12", re-released on CD 96 )

I tried so hard to convince Virgin and EMI Australia to do this band. I knocked on every door in Sydney. No one wanted to know. Within 10 years Australia were claiming them as their own.

It charted but Id stopped recording positions by then

PAG 1074

Greg Johnson - Two Feet off the ground / 7th Deadly Sin (91)

From Everyday Distortions. By this time GJS were touring and this song was right on the mark but commercial radio wouldn't play it coz it was too 'alternative' and BFM thought we were too commercial. 7th deadly Sin was one of my favourite recordings done at bFm with Mark Tierney in about 3 hours

Ted Brown and Greg Johnson

PAG 1076

The Warratahs - Backlog of Love / Akautangi Bay (91)

From the album Wildcard. By this time the Warries were playing town halls up and down the country

PAG 1077

The Parker Project - Looking For The Real Thing (91)

I think it charted but it was a hard act to follow …

PAG 1078

Hallelujah Picassos - No More / Marshall Law Dub (92)

A side produced by Mark Tierney and the B side produced by Mike Hodgson from Pitch Black. With the beautiful voice of Bobbylon

PAG 1079

Southside of Bombay - What's the Time Mr Wolf / Say (92)

Produced by Ian Morris. Southside are such wonderful people and I truly believed in this song but this was before Once Were Warriors and radio dismissed it
By this time we left Virgin and signed to EMI – then about 6 months later EMI bought Virgin and followed us to EMI

PAG 1080

Al Hunter - There's A Blue Sky Waiting For Me (92)

This was actually an AMP commercial (the one with the deck chairs) It went to number 6 and was on Al's album The Singer which we made up at Radio NZ and added a few trax at Mandrill.

PAG 1082

The Greg Johnson Set - Isabelle / It's Only Me (June 92)

Trevor Reekie, 1985...The Car Crash Set beckons

We were initially going in to do a different single. But Greg once he got us there played us this song which he'd written that day. So we changed tack and recorded this with Mark Tierney. It was recorded and mixed in one nite and 'cos it had no drums I thought it stood no chance at radio. We promoted it thru retail where we did a competition saying to all the key chart shops that we would ring them in their lunch hours (peak traffic) and if they were playing the song in-store we would send them vodka which for some reason we had shit-loads off after some sponsorship thing. Suddenly it showed up on the charts and then radio picked up on it. It took off and hit top 10. Of course we were only about half way into the album and no body would advance us any money so we lost a huge opportunity although it's the first time that we started seeing a cross over at gigs.

PAG 1084

Merenia - When U Leave / Help Me Now (92)

By this time Merenia was in Sydney. This song was a ballad, always a hard call but she was a great singer and pulled it off. But radio wouldn't go near it – had a great video made by Niki Caro who went on to do Whale Rider

PAG 1085

Straw People - The Slide / Full Power (92)

A Chris Knox song.

PAG 1087

Southside of Bombay - All Across The world / Changes (92)

I really believed in this band 'cos they pulled big crowds live but radio just never gave them a shot .

PAG 1089

Straw People - Have A Little Faith / Sly (92)

A John Hiatt song from World Service. So good and criminally ignored by radio .

PAG 1090

Ted Brown – Swerve / Love Explodes (92)

Ted used to support us at Greg Johnson Set gigs. Now he lives in LA with Greg. A monster singer who won Most Promising Vocalist at the Tuis.

PAG 1091

Greg Johnson Set - Talk in this Town / Lean Fields (92)

Great song ignored by radio

PAG 1092

The Warratahs - Tightrope / Wild Mountain Thyme (92)

From their 4th album Big Sky

PAG 1095

Greg Johnson Set - Baby / Pleasure and Overdose (93

)

Great B side on this recorded live at Progressive

Hallelujah Picassos

PAG 1097

Tin Soldiers - You're My Reason / Sleaze (93)

Produced by Andrew Brough. A young Dunedin band promised a lot but kind of drifted away

PAG 1100

Straw People - Love Explodes / Cruelty (93)

By this time Virgin Oz were sort of financing some of their recording but wouldn't go the full way. It cost them and us 'cos the Straw left for Sony… Ted Browns song

PAG 1101

The Nixons - House of Flowers / Sometimes I Think (93)

Before they went to America and changed their name to Eye TV. I truly loved The Nixons. They were onto a sound.

PAG 1103

The Greg Johnson Set - Winter Song (Suddenly Cold) / In the Can (93)

I loved this song and the recording we did at Airforce. Greg let me layer it with dulcimers and nylon string guitar. It's a truly great song but radio didn't get it – surfaced on Vine Street Stories.

PAG 1105

Ted Brown - If Ever You Need / Swerve (93)

If ever there was a great song, If Ever You Need was it.. of course no one would play it . Fuckers

PAG 1110

Exploding Poppies - Come See Me / Ploppy Pants Man (93)

The Smokefree Rock Quest winners and we released the winning band

PAG 1111

Greg Johnson Set - Let The Sun Beat Down / You Wont Get Away With It (93)

By this time I think we'd given up with radio so this was a pretty lateral choice for a single, but we were building towards the Vine Street album and this was our first recording with Nigel Stone (aka Noodle Stain) producing. We nearly all went mad making Vine Street. We drank shitloads 'cos we moved Nigel's mobile studio into Greg's house.
By this time EMI were helping us out 'cos EMI Oz reneg'd on a deal we thought we'd done with them... The shit going on behind the scenes for the making of this album was incredible. EMI (NZ) MD Kerry Byrne (who was himself Australian) fudged the figures to bail us out. He was a true gent that man!

PAG 1112

The Nixons - Tick Tock / Cold/ Shallow Sun / Drone (94)

Recorded with Malcolm Wellsford. This was to set up the debut album

PAG 1113

Straw People - Trick With A knife (94)

Sung by Fiona McDonald. Ignored by radio and it's brilliant – fuckers

PAG 1115

Ted Brown - How Is The Air Up There / Swerve / If Ever U Need (94)

PAG 1116

Billy TK Jnr. - Ain't Nobody's Business / Fire (94)

Billy TK is an incredible guitar player, and so was his dad, who was in Human Instinct.
In 1994 we re-released Southside of Bombay What's The Time Mr Wolf (with same cat number) for the 2nd time. I'd seen a rough cut of Once Were Warriors and even tho it didn't have the finished dialogue or music at that stage, I realized that it had the potential to go really big. I alerted the band and this time we got it right, the band were ready to tour and the film turned into a hit much of that was driven by the song. Audiences were coming out of the theatres singing it. Radio still didn't really play it except for the Maori stations but it locked in and went to number 3.

PAG 1119

Greg Johnson - C'mon / Those Aren't Real Tears (94)

From Vine Street. Should have been a hit. It was ignored

PAG 1121

The Nixons - Basement Static / Higher (94)

The band had all their gear stolen so they recorded an acoustic album. By this time Luke Casey was drumming and they were showing huge potential. They'd done one tour of America

Strawpeople

PACD 1122

Southside Of Bombay - Umbadada / Divide and Fool / Tauira (95)

PACD 1124

Greg Johnson Set - Don't Wait Another Day / You Wont Get Away With It / Frozen Water (95)

Once again no real support from radio and yet this song has gone on to become a perennial. We released Vine Street straight after this single and EMI went all out on it. To give them their due, once radio heard it they kind of recognised it for the body of work that it still is but it was a bit late…fuckers

PACD 1127

Kate and The Lemon Tree - Glide / Muffins / Guido / Flesh /Taunt (95)

Winners of the Smokefree Rock Quest

PACD 1128

Southside of Bombay - Kia Mau (95)

Still one of the singles I'm most proud of. This track featured Mina Ripia from Moana and the Moa Hunters.

Maaka McGregor (SOB drummer and producer) and Mina have gone on to form Wai 100%

PACD 1131

Eye TV – Immaculate / Venus / Turn Around / Basement Static (95)

(Tks 2,3 & 4 were recorded live at CBGB's, New York). The band changed their name because there was already an American band of the same name. Eye TV toured the States again to support the release of their album there.

PACD 1132

Greg Johnson - Softly On Me / Life in the Lurch / Hiding on the Train (96)

With Boh Runga added to the ranks … produced by Dave Dobbyn . Radio ignored it – fuckers

Darcy Clay

Around this time Nigel stone and I recorded Bic Runga in Wellington before she moved up to Auckland. We never released that recording and eventually sold it to Sony who released it as B sides to Drive. Quite a few Pagan players played on those initial Bic sessions.

PACD 1141

Sam Hunt - Your Body Has No Flaw (00)

I actually recorded hours of Sam but he let us give his rendition of his poem to producer Jon Cooper and muso Ted Brown who re-constructed it. Every library should have a copy. Paul Casserly, Straw Person, made Sam a great clip.
Antenna
I'd originally started the Antenna label to release electronic music. Mainly my own projects Cosa Nostra and Trip to The Moon. But then we decided to separate the labels. Move all the cutting edge stuff over to Antenna and leave all the roots orientated stuff (Warratahs, Barry Saunders, Paul Ubana Jones, Al Hunter) on Pagan.
ANT 004

Darcy Clay - Jesus I was Evil / What About It / Jolene / If All I Gotta do / And it Was Easy / I the Middle (96)

Darcy really was a gem. One of the greats but he never lived long. I remember when I first played it to EMI and they couldn't believe I was serious - it rocketed into number 5 first week

ANT 005

Eye TV - Snakes and Ladders / Fallen Angel / Call for Help (97)

Recorded with Chris Van de Geer. These songs showed up on their 3rd album Birdy O

ANT 006

Dancing Azians – Elevator / Mindtime / Smile / Suspicious (97)

They won the Rockfree Rock Quest with Elevator..a genuinely funny song

ANT 009

Eye TV - Wish It All Away / Call Me / Soul Sane Man / Slave to Love (97)

Finally Eye TV got close to the hit that took too long to come. Finally radio and Eye TV started to connect

ANT 010

Voom – Relax / Californi / Leper (98)

The genius of Buzz Moller…

ANT 011

Trip To The Moon feat Bobbylon -I Can Change / Mr L Fun Guy / Mauke (98)

Peter McLennan also from the Picassos made the video. You can see it here
Trip is myself and Tom Ludvigson from Bluespeak, a fantastic musician.

ANT 012

Darcy Clay - English Rose / All I Gotta Do / It Was Easy / Jolene / What about it / Jesus I Was Evil (98)

All recorded live at the Blur concert

ANT 013

Eye TV - Just The Way It Is / Whatever You Do (99)

First big chart single for Eye TV. Huge at radio.

ANT 015

Tadpole - For Me / Blind (99)

This band were a machine. They worked and just never stopped. EMI were behind it and the band drove it. From the album Buddhafinger which went on to deliver 7 singles. Too many in retrospect but hey, once you're on, you're on! Alright was the biggie. The album went triple platinum and to number 2.

ANT 020

Eye TV - One Day Ahead (00

)

Their 2nd top 20 single in a row. Eventually surfaced on the album The Fire Below. I saw them play this at Sweetwaters 99 and it soared. They never sounded better.

ANT 021

Pluto - Moscow Snow / Candy Arse / Hey Little / And I Love Her / Jelly Wax Heart (2000)

From Red Light Syndrome