Cause Celebre
You came down the stairs, went straight ahead into Box or took a hard left into the other side of the club, Cause Celebre.
The original Siren, Celebre was gutted in 1990 and redesigned by Ann Sampson, with help from painter Gavin Chilcott. Its pillars and walls were stripped of the original years of paint and the raw concrete treated. Chilcott art filled the room.
A new feature-bar was designed by Anne and built in pieces, assembled in the room after some issues getting it down the narrow stairs.
The logo was also Anne's, with a litte help from Peter Urlich.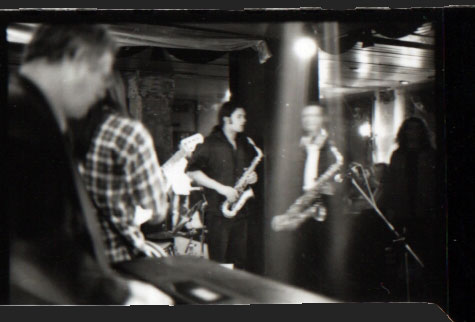 Cause Celebre, 1994
It was quite a different experience to Box but part of the same greater thing.
Does that make sense? Cause Celebre was the lounge, comfortable when quiet, buzzing when full, but a home awy from home for countless regulars and music buffs. At least half the conversations overheard as I walked through were about the music that made the place so important to so many people, be it someone talking about the band, or, more indirectly about a lost Miles Davis session or a Stevie Wonder set in Rome the year before.
That's what we wanted and that's, I'm always proud to reflect, what we got – with the cream of Auckland's live acts and DJs providing an incredible soundtrack.
Even when we hosted international DJs (and Box was the primaryAuckland location for these for years), Celebre was always open to the regulars on Fridays and Saturdays as that was crucial to the philosophy of the club.
The only exception to that was the night that U2 hired the room for a private party, even turning away the head of their New Zealand record label – but we put Paul Oakenfold in the Box for $5 to compensate.
Celebre was firstly and foremost about jazz, soul and funk – and it included one of the two or three best cocktail bars in town for years. The musical policy was solidly about the funkier and jazzier ends of the musical spectrum and once again, it was important to take a few risks with the music, thus we had bands that played freeform jazz from time to time, and the mighty Ben Harrop and Nathan Haines combos which for years defined the joint.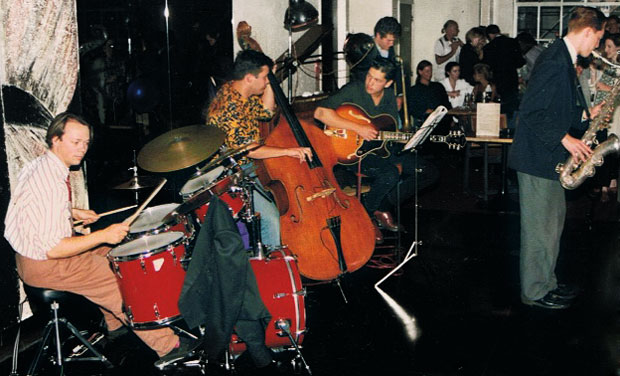 Freebass, early 1990s.
Photo: Simon Grigg
Celebre, not because we strived to be so, but because it simply happened, was also Auckland's de-facto VIP bar of choice throughout its existence - the place where all the touring acts came: where Tom Jones bought girls Moet, where Eric Clapton sneered at Jimmy Barnes, where Hall & Oates were barflys, where you could see David Soul at one end of the bar and John Hurt at the other, where Ice T lay on the floor, drunk as a skunk, singing My Funny Valentine, or where Mick Jagger tried to get in free and failed – Riseti answered the 'don't you know who this is?' question with 'Yes, Mick Jagger, and he can afford it' – he paid.
It was the venue for dozens of showcase events from Texas to Nigel Kennedy, who also dropped by on occasion to play with Nathan or Peter Urlich's band, and was known to hand his Stravarious to the barman to "hang on to" afterwards. "What's this thing under the bar?' I asked, once. 'It's Nigel's Strat' I was told, 'Oh..'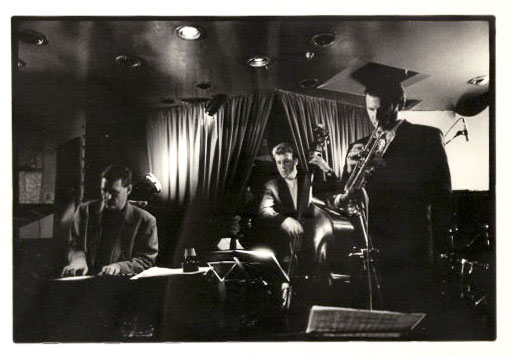 Bluespeak.
Photographer unknown.
The room was the place concert promoters held the private parties for their artists, where product launches were done, where the key fashion parades were to be found, where TV shows held their rap parties, where Harvey Keitel could be found for weeks on end whilst filming The Piano.
I walked into the kitchen and caught Neil Young chatting to Anne – I just smiled and carried on.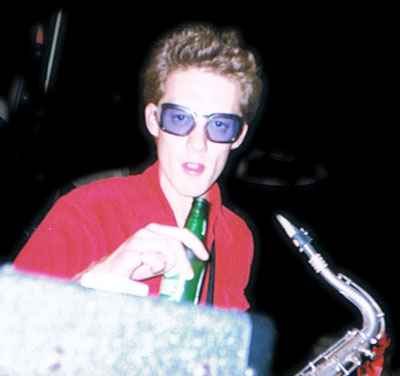 Nathan Haines, CC, 1995.
Photo: Simon Grigg
But mostly it was really about the bands and the DJs that played between them – and the swarms of people who queued nightly to see them: the regular Bluespeak Thursdays; Tommy Adderley and Frank Gibson doing jazz standards; Murray McNabb's outstanding free-jazz sets; Freebass (with the Haines and Harrop Bros); The Lawrence Quintet with Peter Urlich; Mark de Clive Lowe, who took over Nathan's band when Nat left for the UK; Supergroove's pre-hits Friday residence; Tony Hopkins' wonderful lineups of young players; or, importantly, Nathan Haines and the band DJ Gerhart Pierard christened The Enforcers, who played every Saturday and quite a few Fridays for four years to standing room only crowds who queued down High Street to get in.
It was the only place where you could catch a band that came on at 1.30 am and played till 5 or 6 in the morning with sweat– mixed with smoke in thos days, it was a jazz bar after all – running down the walls. Coupled with the DJs, Manuel Bundy, Gerhard and Bevan Keys, there was nothing quite like it in Auckland and hasn't been since.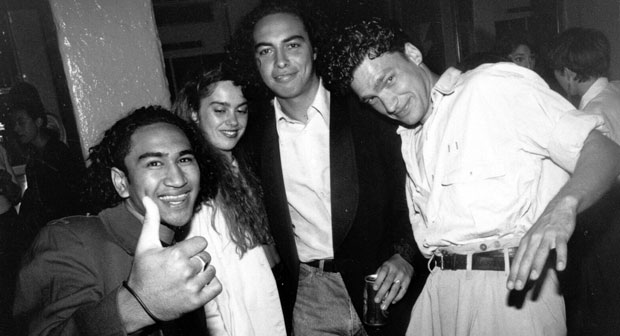 The Siren, 1989.
Photo: Brigid Grigg-Eyley
In 1996 we launched the Retro nights on Wednesdays – actually we stole them from Squid by offering the host, Wanda, more money. These, which we thought would last for six months, carried on for years, and after DJ Grant Marshall took over from Wanda, expanded into the Box too. In fact these got so successful, they essentially covered the club's weekly running costs and were taken by Grant to a succession of other venues after Celebre closed.
The six months turned evolved into ten years before Grant finally decided that he needed to move on, in 2006, by which time the night was still pulling crowds at Auckland's Casino.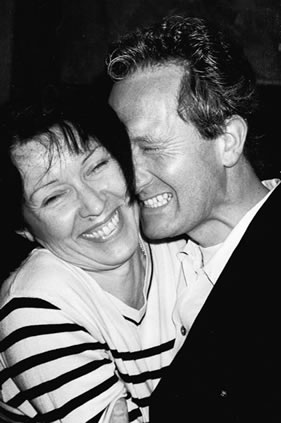 Anne Sampson and Gavin Chilcott
Photo: Simon Grigg
Our doormen were absolutely key to the way we ran and controlled the place. Tom essentially ran the door but we had a series of respected and trusted doormen. Apart from Riseti (Rose to everyone) who was both the head doorman and the standard bearer, there was Soane Filitonga and Tim Sulusi, both later DJs of some reputation, Leonard, Sam and George. Oh, and briefly – one night – Pauly Fuemana. Without these guys neither club would've worked.
In the first few years Sasi was the door girl, succeeded by a series, including Rob Salmon's girlfriend, Rachel, in what was one of the more stressful jobs in the place, extracting a few coins to cover the string of bands and DJs inside.
Downstairs, of course, were the barmen and barwomen. CC was dominated by the famous / infamous Kevin The Hat, who worked with a succession of assistants including Richard (who'd actually built the bar they worked on), and Gaelyn Churchill, although at times Tom and Anne and myself could be found on the bar. Indeed Tom worked the smaller bar as a barman for some time. Ian Marriott, Al Murray, Garrett Murnane & Bruce Alexander, who also ran a Friday evening Oyster Bar and others all worked on that bar.
We, naturally, sold the classic High Street drink, the 42, which was four shots of Stolly over ice in a tall glass, filled with lime juice. It was developed by De Brett's Phil Rikers - the name came from the till PLU (price) button number, but Celebre developed its own takes on that, most notably the Watermelon 42, which we sold thousands of every week, along with Strawberry 42s, Chocolate 42s, Passionfruit 42s and so on. And we served Jolt Cola (the heavy caffeine stuff) instead of Coke for ages.Our tap beer was supplied by craft boutique brewers, Newbegin Brewers of Onehunga. We didn't stock either Lion Red or Brown despite pressure from the brewery.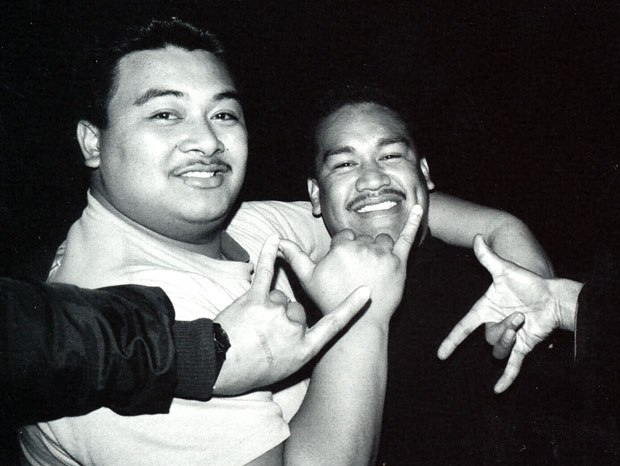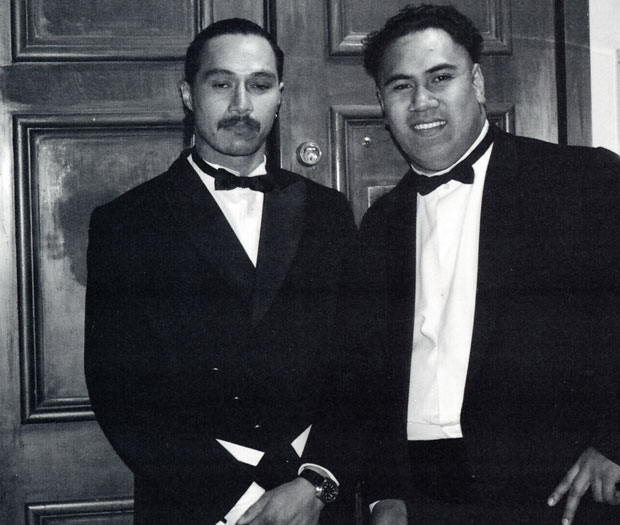 Cause Celebre / Box doormen, 1990.
Top: Soane Filitonga and Tim Sulusi. Bottom: Sam Masters and Risiti (Rose) Tanoi.
Photos: Brigid Grigg-Eyley
A favourite story was the one wherethe late Bruno Lawrence turned up at the door – on a quiet Wednesday – wearing paint covered rags. 'You can't come in here dressed like that', said Tom. He left. Five minutes later he returned stark naked.
The pool table, which we resisted, arrived with the U2 party after they insisted on it. It came and never left.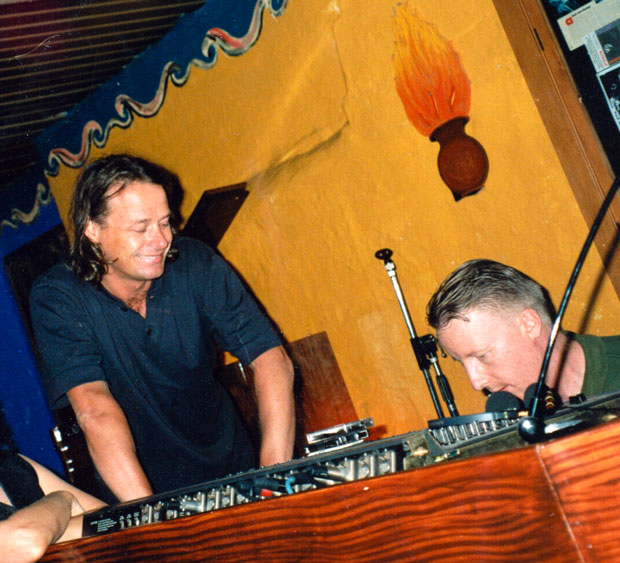 'Tom, can you sort the PA, please.'
Gerhard & Tom, Celebre DJ booth, 1995.
Photo: Simon Grigg
I sold the place on 9 December 1997, nine years to the day after Tom and I opened it, Tom having sold his shares to me in early 1996, and to me that was the end.
However, Greg Chuchill kept the spirit going for a while in Box, although the club after he left had little to do with the spirit or concept that it had started with.

The Resident Bands
The Lawrence Quintet featuring Peter Urlich
Nathan Haines and The Enforcers
Murray McNabb Band
Tony Hopkins' Band
Mark De Clive-Lowe and The Enforcers
Freebass
Supergroove
Bluespeak
Frank Gibson Band Featuring Tommy Adderley
Fuemana
James Gaelyn Band
John Key Band
and more...
What made the Box and Cause Celebre special for many of us was that it was almost a wide family; there was a sense of camaraderie, and kinship that revolved around the people who worked there and the music that was played and worked with.
This extended to many of the people who spent so many nights there. It crossed racial boundaries, and was important that way.
However, primarily all of this was about the music.
Nathan Haines and band
Photo: Karl Pierard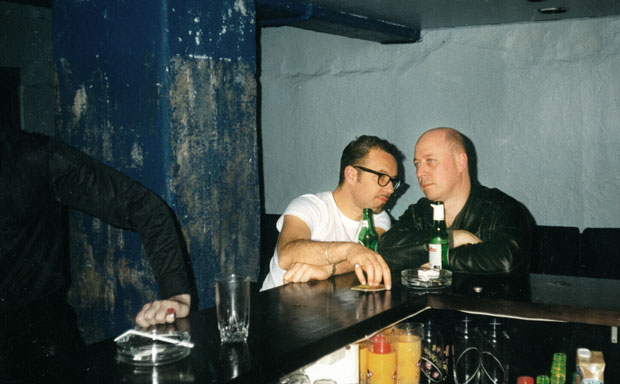 PU & SG - Celebre bar, 1997.
Photo: Kevin Hewson