Simon Grigg: an approximate CV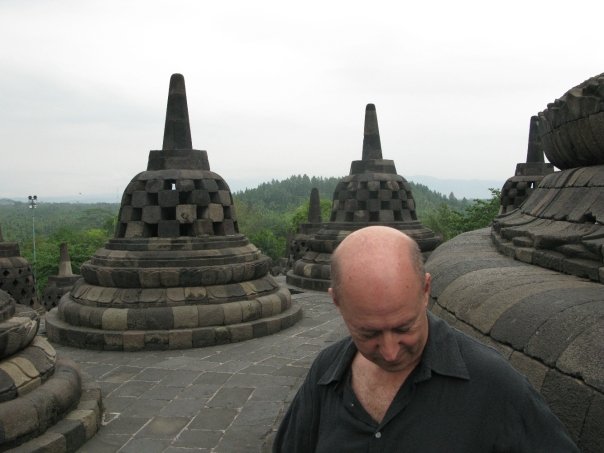 Borobudur, Jawa Tengah, 2006. Photo by Brigid Grigg-Eyley.
Born in Auckland, New Zealand, early one September Tuesday Morning. Educated Palmerston North Boys High, Auckland Grammar, Auckland University, Kings Cross, Parnell Road, High Street, Soho, Ponsonby & South East Asia
1975 My mother took me to meet the legendary Auckland entrepreneur, the late, great, Phil Warren who told me to pursue my musical ambitions and fortunately I listened, although I suspect my parents probably didn't see it that way for a while
1977-78 Formed and managed the Suburban Reptiles, one of New Zealand's first two punk bands (the other was The Scavengers). Their debut single was the first 12" single released in NZ by anyone.
1978-79 Managed Taste Records, Parnell branch, one of the daytime epicentres of the Auckland punk scene.
1979 Sydney - worked as DJ at Stranded - also at Palms in Oxford St. I learnt a large amount in a very short time.
1980 Manager Taste Records, Auckland Central.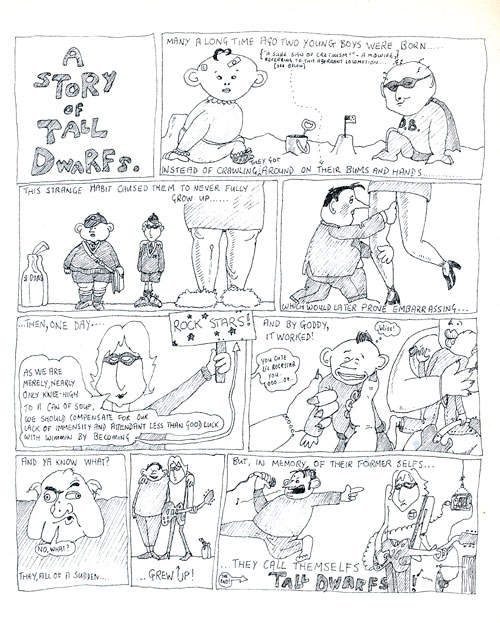 1980-83 Formed Propeller Records the first post-punk indie label (with Ripper) in NZ. We released lots of records and I think we made a difference. Propeller helped open the door to the post-punk indie scene in New Zealand and helped set the stage for the rise of New Zealand music in the 80s.
1981-83 Flatted with Rip It Up founder and editor, Murray Cammick, who battered me with early hip-hop, soul and Luther Vandross records until I succumbed, although I don't think I ever walked away from what I'd learnt in the punk era.
1981 In August Propeller had four singles in the Top 40, including number one. One more than RCA & Virgin at the time!
1981-83 Manager The Screaming Meemees a great little band that were, for a year or two, the biggest thing in the country. In August 1981, Propeller released their single 'See Me Go' which entered the charts at number one, the first NZ record to ever do so.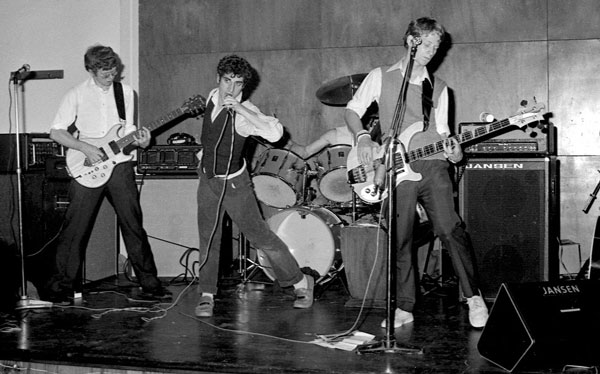 The Spelling Mistakes, venue unknown. Photo by Anthony Phelps.
1982 Awarded Record Industry Association of NZ Special Award for Outstanding Contribution to The Industry, the precursor to the Tui Special Awards still given out.
1983-85 London - managed The Gym, a UK DJ team (including Neil Barnes, later of Leftfield) who had a residency at the Wag Club in Soho. Also worked for Phonogram and Radio NZ on a freelance basis. I bought far too many records, so I arrived back in Auckland and...
1985-86 DJ @ The Six Month Club. I was told I had more club records than anyone else so I was hired. After the SMC I DJed at The Brat in Nelson Street, owned by Peter Urlich and Mark Phillips.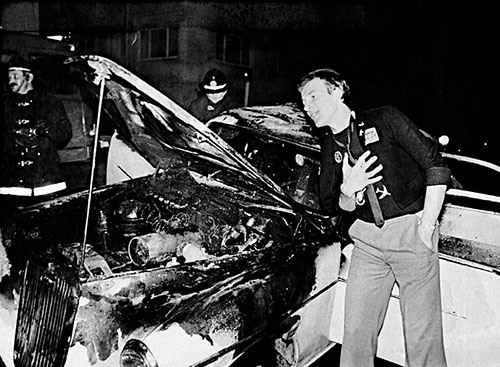 Mike Lesbian of The Scavengers arrives in Wellington in August, 1977 for theNZSAC Festival. The full
story of this trip and this image in the newspaper context can be found
here
.
1986-87 I co-owned and ran NZ's first urban-orientated label, Stimulant Records. We had 8 releases and 8 top 40 hits, putting a little bit of contemporay funk into Auckland. The hits included records by Princess and the '8 Arms To Hold You' compilation, NZ's first proper dance compilation and a platinum record.
1986-87 I set up, with Tom Sampson - and DJ-ed at - The Asylum, a large, semi regular club in Mt Eden, Auckland (in what is now The Powerstaion). The Asylum was the first club to play house music in Auckland, when Roger Perry and I started dropping singles we'd imported from the UK and US at the end of 1986. Argualbly the first warehouse club in the country and the first club in Australasia to play house music as a major part of the playlist.
1987-88 Our club moved to 51 Nelson St (the old Brat space) where we renamed it The Playground.
1987 Co-made and released a 12" called 'Jam This Record', the first house record made in NZ. It was also the first single on Propeller for 4 years. We sold some 500 as white labels in the UK, via the dance stores and it entered the lower regions of the UK club charts.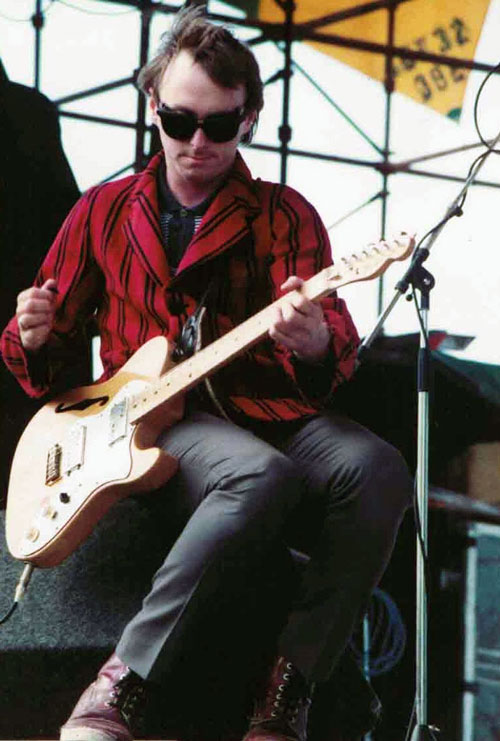 Rowan Shedden, The Dabs, Sweetwaters 1982. Photo by Grant Philpott
1986-89 Asylum FM and then Playground FM on 95bfm initially with Roger Perry. It later mutated into the Beats Per Minute show (see below)and was one of the first dance radio shows in NZ.
1987-93 An opinionated dance columnist for Rip It Up Magazine
1988 Hosted and played at NZ's first Techno night, Love, on Thursdays with Roger Perry at Berlin.
1988 Purchased and opened The Siren (with Tom Sampson again) in Auckland's High Street.
1988-90 Co-resident DJ at The Siren with Roger Perry and Jon Davis.
1989-91 Tom & I ran Disco Mix Club NZ and organised the first three NZ DJ Championships, which two trips to the World DMC championships in London with the NZ winners, Rhys B and Ian Semanu a.k.a. Raw.
1990-97 We renamed The Siren as Box & Cause Celebre, expanding into a new room next door. It remained Auckland's premier dance and jazz club throughout the period and defined the Auckland club scene. Amongst the artists & DJs who were linked to the place were Rob Salmon, Greg Churchill, Manual Bundy, Fuemana, Dei Hamo, Soane, Sam Hill, Nathan Haines & Che Fu. We also hosted the first Drum 'n' Bass nights in NZ. I'm rather proud of the club's now legendary status.
1989-2002 Beats Per Minute on 95bFM. For years the only dance radio in Auckland. First by myself, then with Rob Salmon, and finally with Greg Churchill. The show mutated out of the earlier Asylum FM show, and ran in total for 17 years on bFM.
1991 I managed These Wilding Ways, who had two top 40 singles.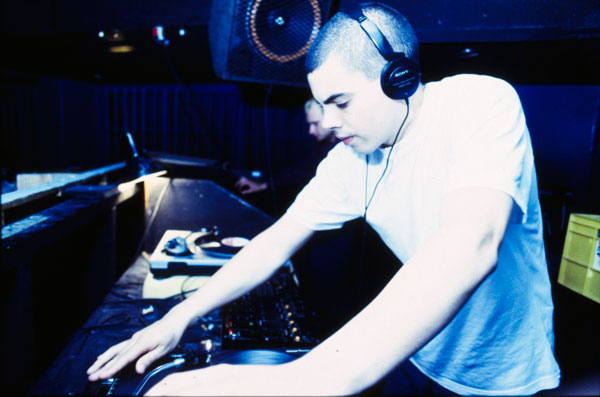 Rob Salmon at Box, circa 1994. Photo by Karl Pierard.
1994-04 I owned and ran huh! Records. Our releases included OMC, Nathan Haines, Lava Lava, Sina, OMC were number one in over a dozen countries including the USA with 'How Bizarre' and it remains NZ's most successful indie ever. 'How Bizarre' is still the most successful record ever released by a New Zealand owned label.
1994 My daughter, Isabella, was born.
1995-98 Compilation freelancer for PolyGram. I was responsible for compiling and packaging various comps including The New Groove, Roots, 100% Pure, Young At Heart and many more, mostly uncredited.
1995-02 I owned BPM Records, Auckland's specialist dance record importers and retailers, and a focal point for the now thriving dance scene.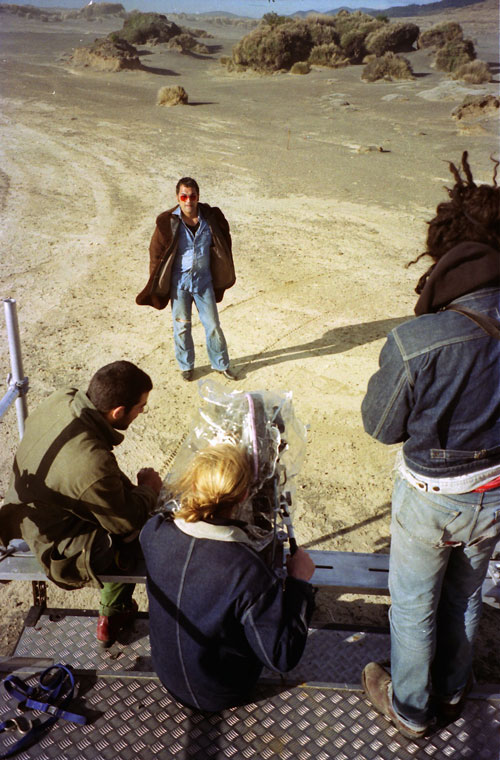 Pauly Fuemana, Kerry Brown and Greg Semu @ the Land of Plenty video shoot.
The concept, realised brilliantly by Kerry, was mine. Photo: Simon Grigg.
1999-2001 Manager, Anthony Ioasa, the writer & producer of TrueBliss, a NZ double platinum act, and the act that started the whole global Popstars and Idol phenomena - my god what did we do?
2000- Co-Owner Joy Records with Alan Jansson, signed via SonyBMG. A number one single with 3 The Hard Way
2000-04 Formed a partnership with my good friend Peter Urlich (44 years so we must have something in common) to put out records together including the BPM series, Nice 'n' Urlich, Room Service on my huh! label. Six platinum albums including one in Australia.
2001 Compiled Th'Dudes collection Where Are The Boys.
2001 Welcome to, New Zealand's first House music collection, goes gold
2002-03 Hosted the Monday Night Cooking Class on George FM.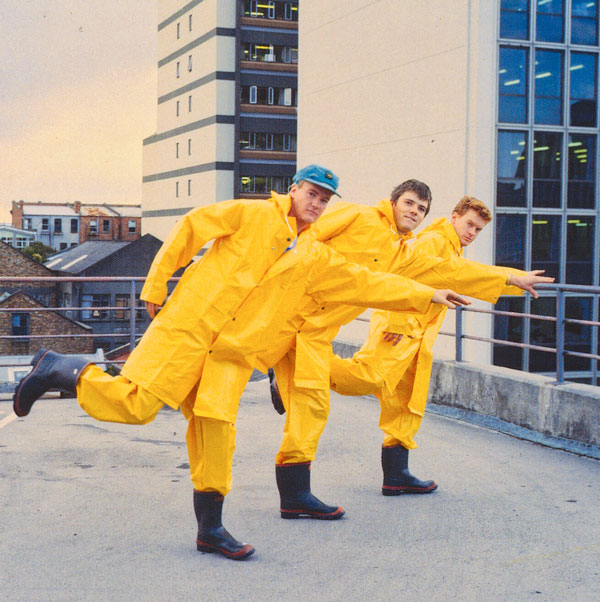 Blam Blam Blam filming the first video for 'There Is No Depression in New Zealand' on the roof of the TVNZ building in Shortland Street, Auckland, mid-1981. Photo credit is unknown but likely Jenny Pullar.
2002Our Room Service compilation reaches number one in the Australia compilation charts and goes platinum there.
2002 Room Service 2 also goes to number one on the Australian compilation charts.
2003 ALSI Music Publishing formed as a joint venture with Universal Music Australia.
2003-05 My Radio show moved from Monday nights to Wednesday morning, 10am-1pm, as Extended Play, on George FM.
2003 I compiled, wrote the sleeve notes, and released the soundtrack album to the TV One Series 'Give it a Whirl', the history of popular music in NZ. Of the six episodes of the TV series I was featured in five. Perhaps I talk too much.
2003-04 Manager, 3 The Hard Way. NZ Number one single with 'Its On'.
2004 The Soul Food compilation, compliled with Peter Urlich, goes gold.
2004 Complied the NZ Fashion Week CD Off The Cuff.
2005 After 19 years continuously doing dancefloor radio in New Zealand I gave it away when I moved overseas.
2005 Relocated to Bali to clear my mind.
2007 Released The Others Requiem, a wonderful double album of alt Hip-Hop, on Joy.
2012 I founded and was appointed the Creative Director of AudioCulture, the NZ On Air funded online narrative of the people and cultures of New Zealand Music.
2013 AudioCulture is launched.
2015 My book How Bizarre is published by AWA Press
2017I resigned as the Creative Director of AudioCulture, handing it to my friend, the historian and writer Chris Bourke. I was given the title of Founding Editor.
2017 I purchased the archives of New Zealand's premier rock and roll magazine, Rip It Up. In 2018, I purchased the name too. The first eight years were put online as printed originally by the Alexander Turnbull Library in May 2019.
2020During the COVID lockdown I created the Facebook page, The Lost Nightlife Of Inner-city Auckland. 20,000 people joined it within six weeks.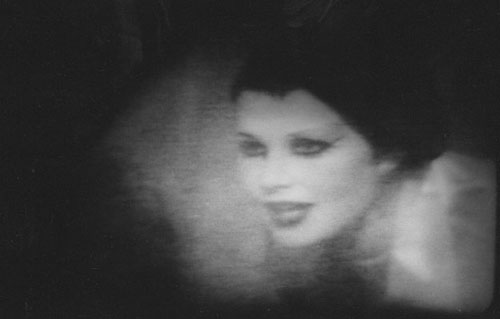 A still of Zero from The Suburban Reptiles taken from the Gray Nichols video of the 1977 Elam Ball
Between 1977 and 2007 I released, or was behind, some 151 records in New Zealand. Of those about three quarters entered the NZ charts - album, single or compilation. There were quite a few gold and platinum records in that list and several multi-platinum. I've had gold and platinum discs in some 34 countries to the best of my knowledge (thanks mostly to Pauly) including, with OMC, a US platinum album, and a double platinum single Australian single. The first Room Service album also went platinum in Australia, and the second one gold.
I released, via my labels, a number one single in NZ in each of the eighties, nineties and 2000s. I'm quite proud of that.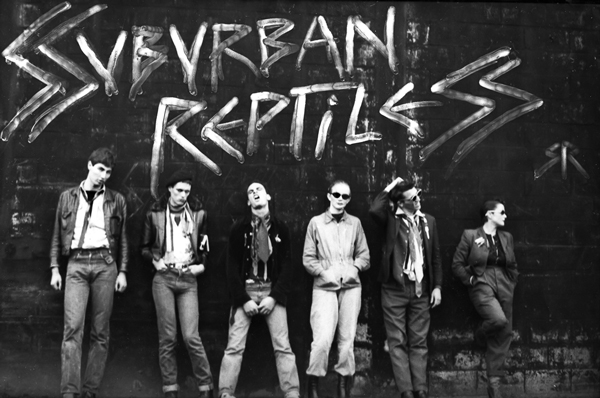 The Suburban Reptiles, Onehunga, May 1977.
Photo: Simon Grigg