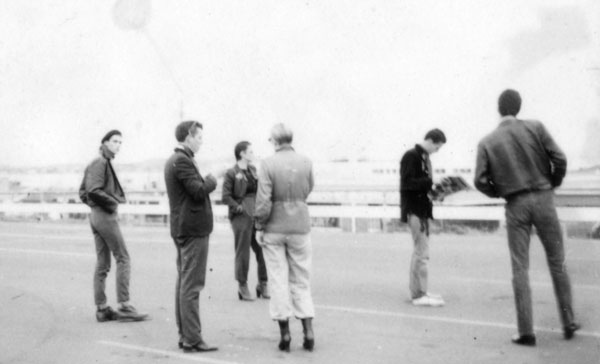 Photo by Simon Grigg.
The Suburban Reptiles First Live Performance - almost
We sat in the back of the old 19th Century Wharf Police station in Quay Street on downtown Auckland's grey waterfront. It was on an early Autumn Saturday night in 1977, about, I think, 1am.
The station itself was in a dank 19th Century building in the decidedly seedy area behind the now – thankfully – demolished Britomart car park. The building is still there, refurbished as something but no longer a police station.
At that time of the night, in the mid to late seventies, it had already become quite dangerous around the seedy central bus terminal under the car park. The zone was largely populated by aspiring young gang wannabes who had missed the last bus and were waiting for the first, with nothing but time and glue to entertain them.
Dressed in a sligghtly watered down (for the cops we had de-punked a little) attempt at full punk regalia, in an era when Split Enz were summarily dismissed on a TV talent show for the way they looked, we had just wandered through the centre of it without any conscious warning bells going off. Looking back, the only conclusion I can come to is that we were rendered oblivious to the real danger by naivete or adrenalin.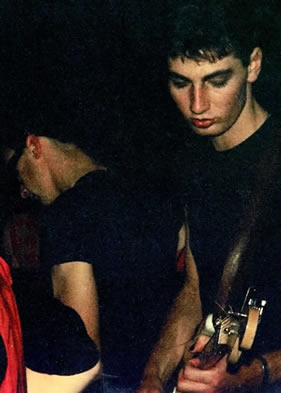 Billy and Brian, Massey, June 5 1977. Photo by Simon Grigg.
Our small party arriving at the Wharf Police Station included Will Pendergrast, recently renamed Billy Planet, and bassist; his then girlfriend, Trish Johnson, and myself; plus, a member of something called The New Zealand Anarchist Society. That title was an unintentional contradiction of course, but it was an era of contradictions and half-baked misstatements.
I'm not completely sure how we found them, the anarchists that is – this far out my best guess is it that was Billy's idea. I think he knew them through University. These situations could often and did draw a line back to William. Billy often saw things somewhat differently to us - what he regarded as impeccable logic was often a mental maze to the rest of us and it was generally foolish not to just flow with it.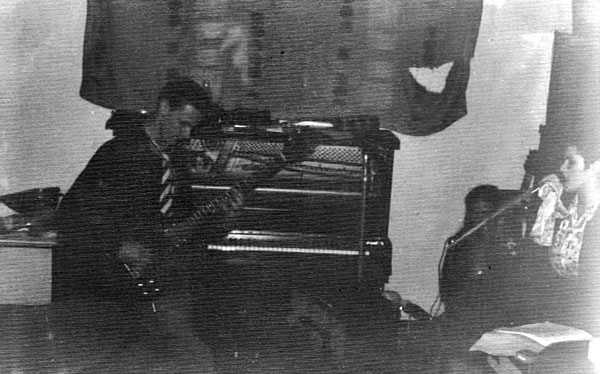 An early Reps practice. Photo by Simon Grigg.
In his usual extraordinarily precise way, he was now trying to convince the Duty Sergeant that it was in everyone's best interest that we be returned the engine-rotor from the Commer Commercial parked some 500 metres away.
A diligent young constable had removed the crucial part from our van laden with band gear, borrowed as most of it was, like the van and its driver. We really weren't making a lot of headway and it was getting a bit heated.
As Billy argued slowly and increasingly convincingly, several of us, a couple of cops included, tried to smooth the situation. Then the anarchist, leaning on the front desk, mumbled rather loudly:
'Tomorrow, when I get my van back I'm gonna drop some acid, and drive down to Wellington to pick up some pot'.
This statement silenced the room – and at the same time moved the goalposts substantially.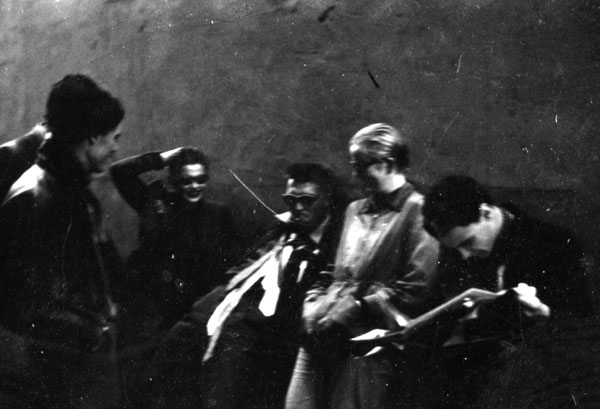 Onehunga, Auckland, June 1977. Photo by Simon Grigg.
'Who owns the bloody van?' asked the very frustrated, and now increasingly grumpy Police Sergeant.
'Uh, he does' we responded as a chorus, and pointed to the aspiringly LSD infused, grinning anarchist, who seemed happily oblivious of the increasing fracas and his sinking part therein. Upon reflection we realised he may already have sampled his desired driving vitamins.
It quickly became obvious that the situation was probably irresolvable in the short term.
The cop might have – it's a very slim might – given us that little black item needed to re-enable the van parked in Fort Street, unlocked, with all the gear. However, there was no way in hell that he was going to give it back to the silly hippy babbling about ingesting very illegal drugs and then, under their spell, driving the length of the North Island to pick up more illegal drugs.
This was a given.
Twelve hours earlier when we'd set all this in motion, this clearly was not an envisioned outcome.
I'd heard a rumour – there was a party at the little house attached to the Architecture School at Auckland University. We had decided that this would be the debut performance of The Suburban Reptiles, the gig that Auckland didn't know it was waiting for.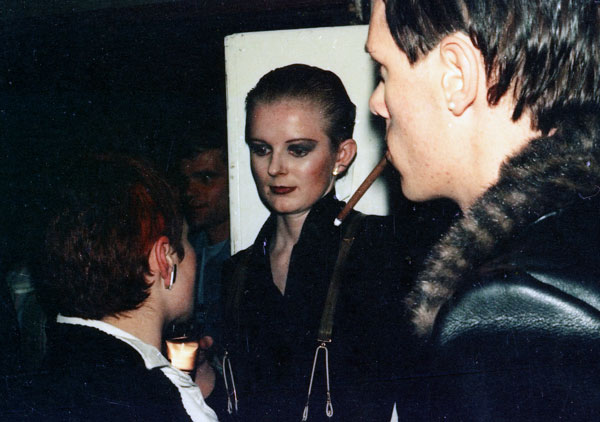 Zero, Trish and Jimmy, Massey, June 5, 1977. Photo by Simon Grigg.
I'd come up with the concept of this band late in 1976, in concert with my best friend, the aspiring film director, David Blyth, who was later to make some of the decade's most interesting left of centre NZ cinema.
I'd been talking on and off with another friend, Brett Salter, about forming a band. It was all very loose. I could play nothing (although I planned to learn guitar) and Brett had a passing acquaintance with the saxophone.
We talked jazz, but with our given musical expertise were clearly looking at reinventing the freeform idiom. We had a name – Froggy Morton – to which Brett had added "and The Reptiles", but the talk had gone on for many months, over coffee and cigarettes and little had come of it.
It was a concept and the concept was more important than the reality. This transferred well to the Suburban Reptiles who were always more a concept than a band in the traditional sense.
In my flat in Herne Bay one afternoon, David had pointed out a tiny review of a live gig in the NME I'd bought that day. What made the review stand out was that it was obvious that here was something tailored perfectly to our abilities and ambitions – a new genre was emerging and our lack of musical prowess was perhaps a potential plus rather than the liability it would obviously be if the concept was put against real 'musos'.
With a psychological push from David I drove around to 10 Ponsonby Terrace – to Brett's student flat – where I put the proposal to him. Newspaper in hand I explained the concept as I understood it from the few brief words in the NME. The early beginnings of UK punk had yet to reach the tabloids in Britain and thus it would be many months before they would be picked up up by antipodean media.
It seemed that here was a genre where the concept was paramount; where musical style was more important than musical substance, and thus the jump for us from jazz to punk was an easy one. Punk was the perfect fit for our conversations and mental noodling of the past year or so.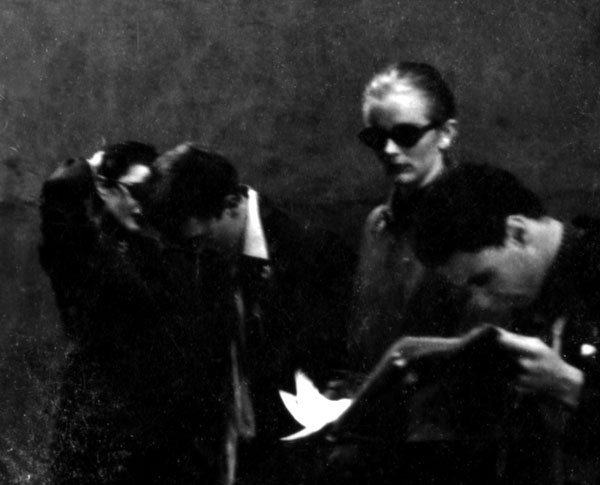 Photo by Simon Grigg.
That said, It hadn't come completely from left field – I had been intrigued a year or so earlier by a double page spread in Melody Maker enthusiastically documenting a raft of new bands in New York City, and the heavily stylised scene they'd grown out of, although at this time the I'd not quite made the link.
Brett was enthusiastic but argued we should keep the Reptiles name. I agreed, and somebody, I'm not sure who, suggested we should add the word Suburban to the front.
From there it was easy.
Brett's flatmate Will yelled across from the sofa that he was going to play bass. His other flatmate, Trish Scott wanted to play guitar and Brett's girlfriend, Clare, who I'd been clsoe friends with for years, was the obvious vocalist – she looked the part, with her bright red razor-ed hair, and was instantly keen. Clare was soon retagged Sally Slag, but quickly became Zero.
Two others joined within a week or so – my new flatmate Kim Smith, and Will's girlfriend, Trish Johnson, both on backing vocals - The Suburbettes.
It was suggested we ask a first-year student who could actually play, and looked like a pop star, Brian Nichols, to join on guitar. He agreed and was swiftly renamed Shaun Anfrayd.
We had no drummer.
On the first few practices I tried on the kit that was sitting in the basement of the flat in Ponsonby Terrace, to no avail – even by the standards of the day, a drummer who could keep time was important.
I couldn't.
My role was clearly to remain more managerial.
I decided to approach a young guy I knew who had played a bit. Unlike the rest of us, Des Edwards was not from a university background – in fact he was an apprentice butcher in St Heliers – and I'm really not sure how I knew him. Perhaps from a party or two.
However, he was a drummer, with a proper kit, and so I approached him to join. He said yes.
He was a drummer, but from the early practices it was very clear he wasn't actually a very good one - but no matter, he was substantially better than me.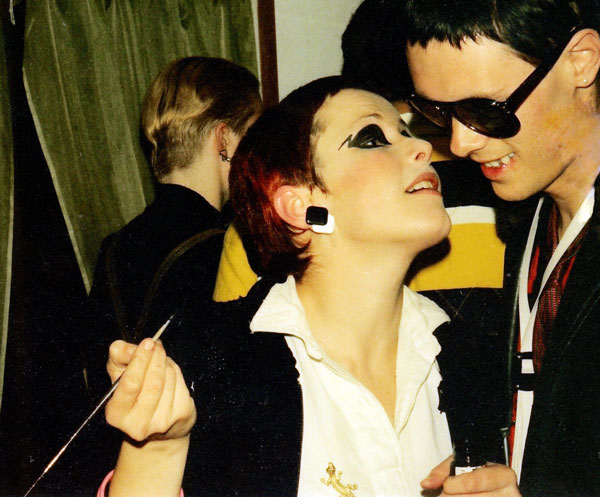 Photo by Simon Grigg.
Practices were interrupted by various university breaks and work. I'd been forced into a job at the Labour Department having been placed there by the dole people. I was in charge of carpentry and hairdressing apprentices. It had several advantages. Firstly it was paid; secondly it was what was then called glide time which meant one could arrive before morning tea and leave after afternoon tea, as no-one actually cared; thirdly it provided a lot of time to be out of the office in the DOL's car, as often as not scouring the record shops; and, finally, it gave me access to as much photocopying time and paper as I wanted.
It was a dream job as long as work didn't impede.
I began a government funded guerrilla campaign for the Suburban Reptiles, photocopying countless flyers with little more than the name and some smart sloganing thought up in the practice rooms.
The combination of a DOL supplied car and a photocopier meant that these flyers were distributed far and wide across Auckland city for many weeks.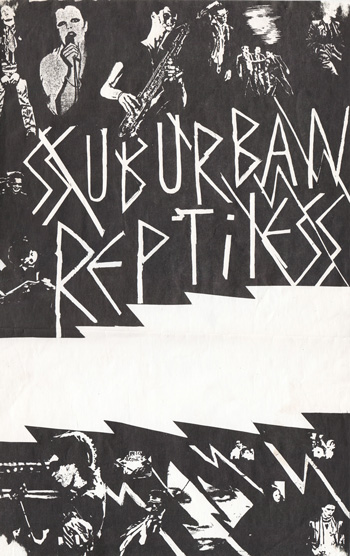 the 2nd generic poster, from about Sept 1977,
designed once again by Buster Stiggs.
By the second month of 1977 we were ready for some gigs but finding such was not easy.
I rang a couple of booking agents to no avail.
We decided that, like our flyers, guerrilla action would be our best option in a town that seemed to have no interest in The Suburban Reptiles.
We would simply turn up and play at places uninvited.
The band had a repertoire of some ten songs, including Roxy Music's Editions of You, Sympathy for The Devil, and a Stooges song.
Our exposure to the modern world was still limited. This was Muldoon's New Zealand where the sea-mail NMEs arrived 3 months after UK release, and the stores needed almost impossible to get import licensing to import records; it was almost all applied to jazz and classical records.
Our only exposure to foreign punk in early 1977 came from the Ramones album I'd bought from Taste Records, one of only two they imported, and a listen to a few records bought to NZ by Tim Blanks, the Kiwi PA to Bryan Ferry (and now a Style.Com fashion guru), and twenty seconds of Anarchy in the UK caught from TV news.
The last was mutated into one of what was a brace of original songs, by repeating the phrase 'Anarchy In NZ / you need to have your head read' over a wall of noise for two or so minutes. The other originals were little better, especially considering Des' inability to hold a steady beat, and the almost total inability of anyone in the band – Shaun aside – to play an instrument or hear what was going on through the noise when it was being played...
It was Cacophony in NZ and I loved it.
So uninvited to the University we would go – somehow.
That somehow turned out to be the van belonging to the New Zealand Anarchist Society.
Thus gear, borrowed also, we headed down to the Symonds Street area in the late afternoon to reconnoitre, only to find out that the party we had planned to crash had been cancelled. What a spanner, so rather disillusioned we went across to the Students' Union Quadrangle next to the café to regroup.
Peter Urlich was there. He was a mate of mine and he was also the lead singer in Th'Dudes, then the clearly up and coming trad teen rock'n'roll band around town and booked to play in the café that night.
It was pure providence, and between us we concocted a scheme whereby The Suburban Reptiles would play their debut in the Quadrangle using the power and the crowd from Th'Dudes, coming on immediately as they finished their encore inside.
And so it would be. With that settled, most of the band departed to the now demolished Globe Hotel in Wakefield Street for some courage, leaving myself and Kim to guard the gear and the van.
I no idea where the anarchist driver had gone – perhaps, given his state a few hours later, for a lentil and acid burger.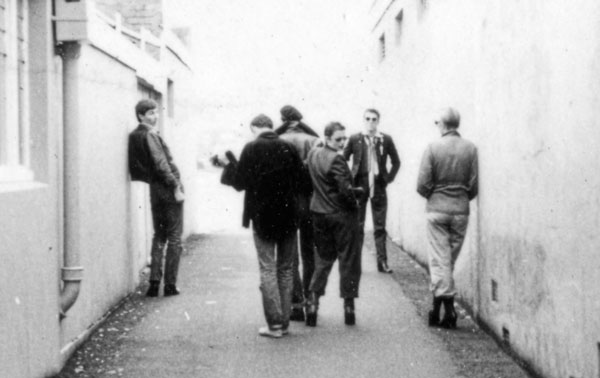 Onehunga, June 1977. Photo by Simon Grigg.
Flip ahead a couple of hours and the rest returned from the pub yelling 'There are more of us!'
Until that day we had thought that we were it – the only 'punks' in Auckland. We now knew that no longer to be true. The band had, in the upstairs bar, literally bumped into four guys who had recently transformed themselves from the more traditional 1B Darlings, to the decidedly more punk The Scavengers.
The Auckland Punk Diaspora Spreads
Like minded souls: it came as quite a revelation.
And – more – we were invited to come later to their practice rooms – yes, they had a proper practice room – in Commerce Street. Ironically these guys had formed their band less than 200 metres from our base at Auckland University – across Wellesley Street – in the Graphic Design Department of Auckland Technical Institute.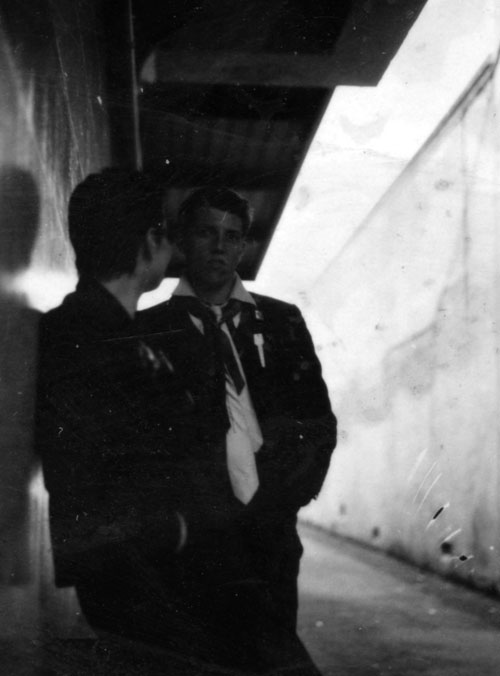 Photo by Simon Grigg.
As the night progressed quite a crowd turned up for the popular Th'Dudes. They looked a little puzzled by the over made-up oddities milling around the door.
We set our gear, rudimentary as it was (the vocals were going thru some amp guitar or bass amp as I recall) in the quad, beside the wall and the sliding door through which Peter would pass a power lead as they finished, which he did.
I plugged the lead into the over-patched multi box and, as the crowd milled out of the café, 'One, two, three, four' was followed by three songs in five minutes of completely formless audio disarray, with five musicians playing five different things simultaneously, and three vocalists wailing over the top.
It was fantastic – until it stopped dead.
And dead it was, no power, no lights, no nothing at all. I assumed a blown fuse or the like but was soon put right by the Students Association's caretaker screaming blue murder whilst holding the other end of the pulled plug.
And that was it, that was the first punk almost-gig in New Zealand, over.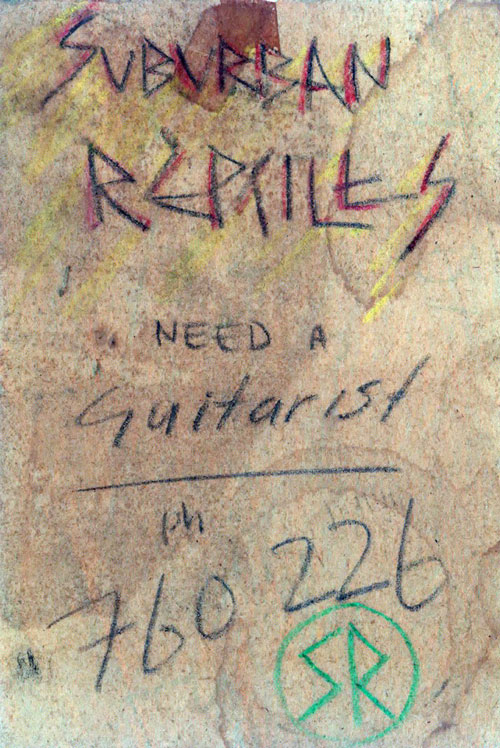 Advertising for a guitarist, mid-1977. Kenneth Cooke collection.
With some disappointment, and more than a little resignation, we packed down the gear into the Commer, with the help of our returned roadie / anarchist, and a couple of new-found fans, and decided to take The Scavengers up on their offer. Thus, we found ourselves heading downtown, with Billy driving my red Austin Mini 850 and our anarchist driving the van, until we reached Jean Batten Place, the short lane between Shortland and Fort Streets.
Due to the vagaries of various council planners across the years, this has at times been two ways and one way in both directions. In early 1977 in was one way heading south, and we entered heading north, with our resident anarchist saying he did not recognise the authority of fascist street signs.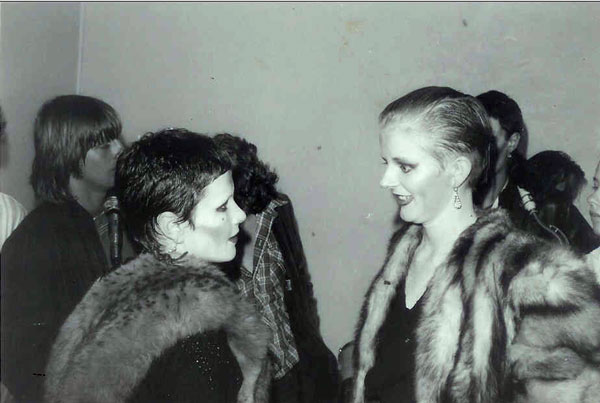 Zero and Trish, mid-1977, perhaps at the Elam Ball. Photographer unknown.
It was therefore little surprise to anyone that the next thing we saw was a very young police constable waving us to the side of the road outside a strip club.
Initially our anarchist kept going, in the belief I guess that the cop, like the sign, had no authority – but our rising voices prevailed, and he stopped in Fort Street about ten metres from the famous White Lady fast-food wagon where pockets of fairly drunk punters hovered, consuming greasy burgers and toasted cheese sandwiches.
A brief conversation with the constable ended with the policeman noting that not only had we driven the wrong way in a one-way lane, but we had none of those Babylonian accessories – like Vehicle Registration or a Warrant of Fitness. He said he was disabling the van, and took the small black rotor from the motor, indicating it would be returned once proof of registration was provided.
Hence, we found ourselves in the Wharf Police Station pleading.
We'd left Des in the van, since his drum kit was clearly the most valuable item, as a guard.
That brings us back to the beginning of this page.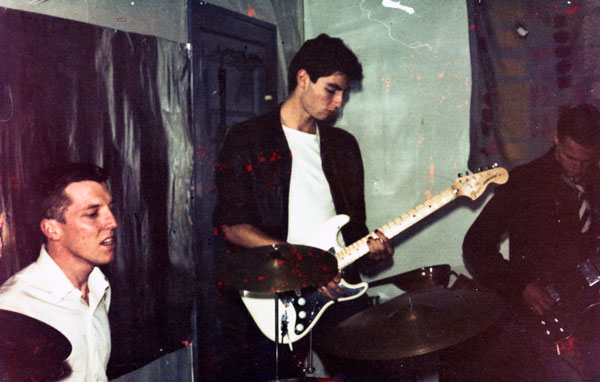 Photo by Simon Grigg.
We had got absolutely nowhere and were unlikely to get the rotor back any time soon so made the more practical decision to visit the nearby Scavengers. We found their practice rooms on the corner of Customs and Commerce Streets in an old building, up three flights of stairs.
When we arrived the rest of our party was already there.
We were blown away. Not only did they have lots of quite expensive gear, they also had reel to reel tapes of much of the UK punk and punk-ish material we'd not yet heard.
More, Mike Lesbian, their singer, could perform the, as yet unheard in full by us, Anarchy In The UK note, look and stance perfect.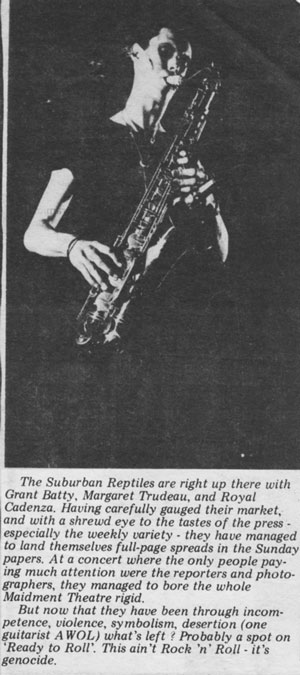 As we drank warm beer and listened, we leaned out the window, over the footpath some three floors down. Below us stood, looking around for the source of the music, the same young constable that had removed our rotor.
Our anarchist, spying the agent of oppression, tossed an almost empty beer can at him. It glanced off his helmet and he looked up at us. He went across to the door and demanded to be let in. It seemed the smart thing was to oblige, and I went down.
I didn't know that, shortly after I went down, our anarchist tried for another beer hit, but this time missed.
I opened the door to a very angry policeman demanding to know who threw the can. I nervously pointed to the stairs.
He ran up a couple of floors and we followed, coming across our anarchist. 'Which Way?' the cop asked. Our anarchist pointed to a door – the cop ran in and the anarchist quickly locked the broom closet door.
Working out that it was time to leave, we gathered all Suburban Reptiles and ran, down past the hammering constable, and out, to the nearby van and Des, who had been waiting now for the best part of two hours.
Hailing what taxis, we could, and utilising my parked red mini – you can get a kick drum in the back seat if you try – stuffed in the gear and were gone.
We didn't see the anarchist or the policeman again, but I suspect they found each other.
Photographs: ©Jonathan Tidball, Paul Hartigan & Simon Grigg, plus several uncredited, which I would be happy to credit if you wish to contact me.