PART 3 - Cause Celebre and Box
(Those grotty old doors @ 35 High Street were once the best club address in Auckland) (demolished 2013) (1990-97 and then a bit)
In the nine month gap between The Playground and The Siren in 1989, Tom and myself had both been to London and New York, which was one of the reasons we'd run down the cash we'd had after The Playground and The Asylum.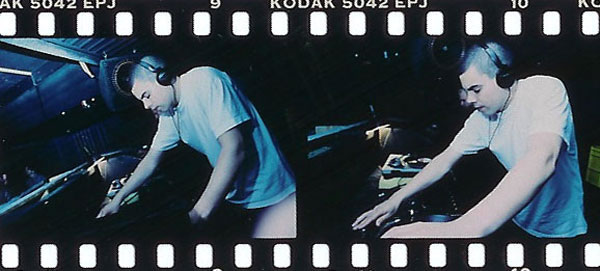 I'd gone over to London with Rhys B for the '89 DMC Championships, and changed my ticket early (as London, after the champs had finished, had started to bore me silly as it often does) to go across to see my buddy Harry (The Bastard) Russell who was working for Rough Trade Records in the Big Apple.
On my second night (the first was a haze of frozen mojitos) Harry took me to a club in Manhattan called Nell's and we stayed till dawn (and had to walk back to Brooklyn because we had no money left but that's another crazy story) dancing to a wonderful nu-funk band playing original and quite cutting edge music on one side of the club, and NYC house legend Pal Joey spinning discs rather uncompromisingly on the other.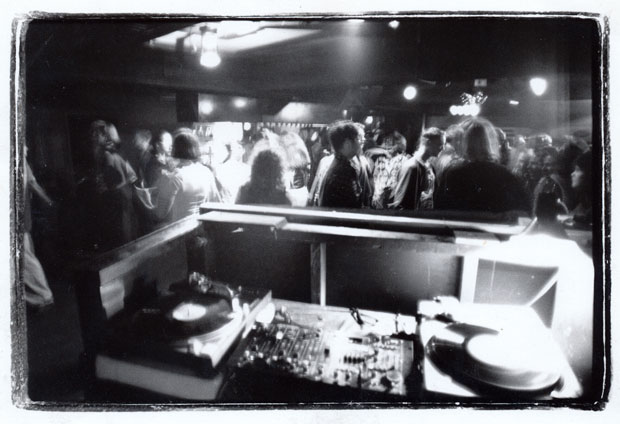 The Box dancefloor, 1994.
Photo: Karl Pierard
I went back twice in the next week or so. It was such an obvious formula but it worked and relied on being completely uncompromising with the two styles featured in each part of the club.
I came back to NZ and discovered that Tom had been (we'd both been overseas at the same time but missed each other in NYC) to the same place and it seemed we had a concept going for the new Siren, which we had always planned to renovate from the day we opened.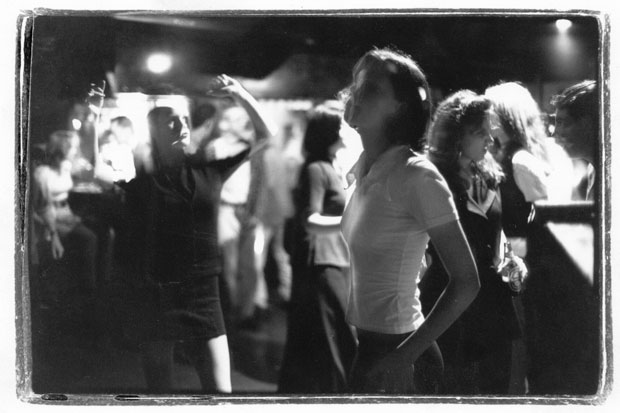 We closed for a week (true - the whole place was done, both sides, painted, rebuilt and upholstered, including a large new bar, and a couple of new DJ booths, in 7 days and nights) and bought in a junior partner, Kevin "The Hat" Hewson, probably the best cocktail barman in Auckland and late of the infamous Le Bom Dean Martini Club...

Like Nell's, the concept was for a semi-sophisticated members club playing jazz on one side (Cause Celebre), quite elitist, with a no-holds barred, raw, underground dance club (Box) on the other.
And that's what we set out to achieve.
The musical policy was, from the outset, firmly formed in my mind. It was no compromise and it had to push the musical boundaries continually or the club would be like every other dump in town.
Box was to have a small cover charge and Celebre was, by invitation or to members (who only had a card by invitation) free. That, of course, was tosh, and like Peter and Mark's plans for a dance club playing jazz at The Six Month Club, lasted about two weeks before we turned the lights down in Celebre, and made it one cover for both (initially just $2, then later $5 for the best, and most innovative musicians in NZ and DJ elite of the country) with VIP members getting free entry to the whole joint.
We opened on Easter Friday, 1990.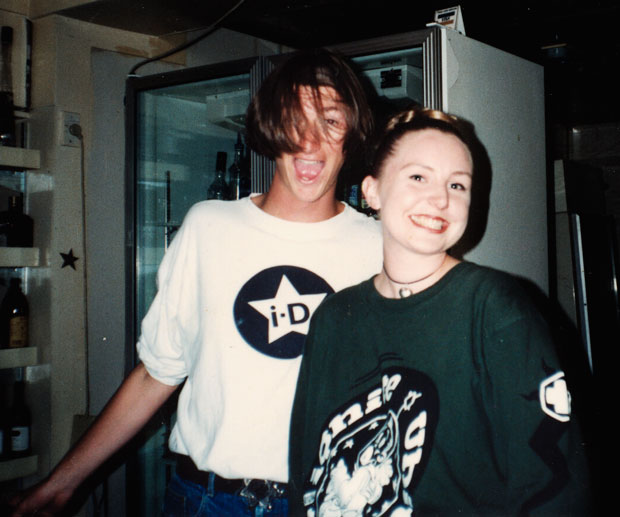 Esther & Scott - Box mid 1990s
Box
I always wanted resident DJs to build a club following and build the DJs themselves. The DJs were the drawcards and ideally they would play extended sets every weekend night – residencies which would build followings and create our own club playlist. It was an extension of Roger and myself at Brat (which was just me), Asylum and Playground.
Our first line-up was Jon Davis and Roger Perry. Sam Hil, who was part of the last Siren lineup after we had taken over the RSA was fired for playing records by Biz Markie and pop-hoppers Snap. I was serious at the time, but we're still friends. However, Roger decided to go to London; he was never that happy with playing just house as he was a hip hop and funk boy at heart, although he remains NZ's first house DJ, and was later hugely influential with his work at Calibre and as a producer and DJ.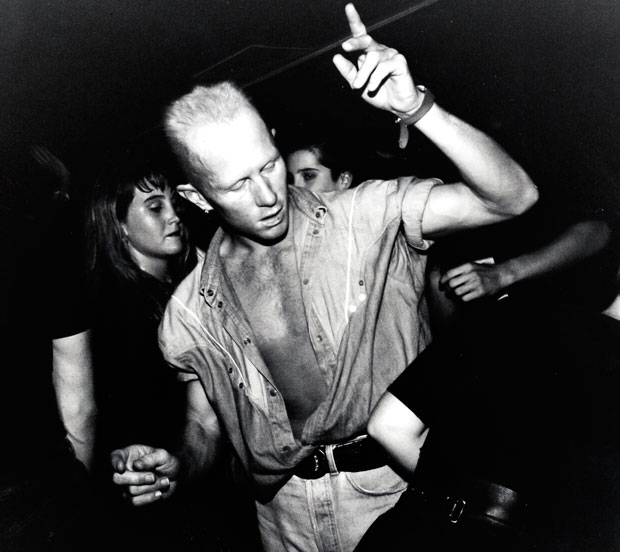 Photo: Brigid Grigg-Eyley
I was at at a loss. I needed to find a replacement for Rog and it was a big ask.
Then – from nowhere – a 16 year old kid came down with his buddy, Charles Black, to hire the club for an underage party. The two were a couple of Auckland Grammar 6th Formers with a passion for house music. They wanted to raise money for decks and thus we hired the place to them in mid 1990 on a Sunday evening.
Tom & I were astounded at the number of kids that streamed through the doors and, more importantly, at the young guy's djing skills. I offered him – his name was Rob Salmon – a job as trainee resident and he started, balancing school with club life. Indeed he often arrived in his school uniform to rehearse in the afternoons.
Rob was a natural, the most intuitive DJ I'd ever encountered.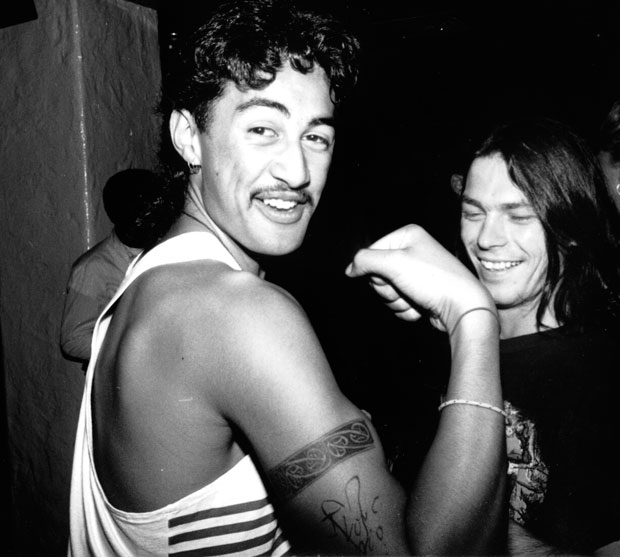 Geoff Wright and Karlos (with a K), 1990.
Photo: Brigid Grigg-Eyley
I sat in the booth with Rob for most of the next couple of years, initially fairly ruthlessly guiding him. I was buying most of the records and I would strip out the hits from what he had to play some nights, forcing him to fill a floor with new records.
Rob not only did this with ease, but quickly outgrew any guidance. He quickly made the club his own, and Jon soon left to wander off and do his other things, including bringing a few of the big international mainstream dance parties to NZ later in the decade. The Box was now Rob Salmon's.
When you coupled Rob's instincts with the best soundsystem in NZ (a Cerwin Vega system tuned nightly by Tom, the best sound engineer in the country, daily) he was unstoppable.
His arrival coincided with the rise of Progressive House and the Wild Pitch sound - both styles, along with dark dubby tracky house became Rob's trademark, as he pushed the bass bins to the limit – one of our ads in 1991 had Saddam Hussein pleading for the Box sound system as a WMD.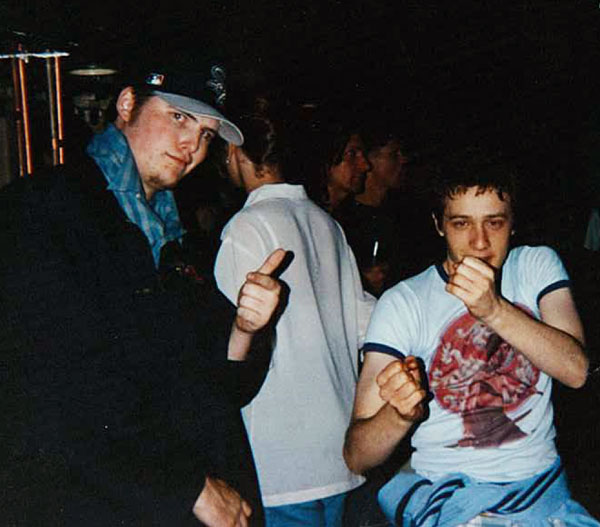 Photo: Sam Walker
Noise control – complaints about the bass from the other side of Queen Street – was always an issue.
We hired another young DJ to do the 2-3am slot late in 1990 and for the next two years the Box was Rob from 10-2, then that young DJ, Manuel Bundy, who had been hanging around our clubs for years, to do the last part. Rob played the housier end of the spectrum, and Manuel played contemporary hip-hop and funk.
From 1am, when De Bretts' bars closed, you really had trouble moving in the Box.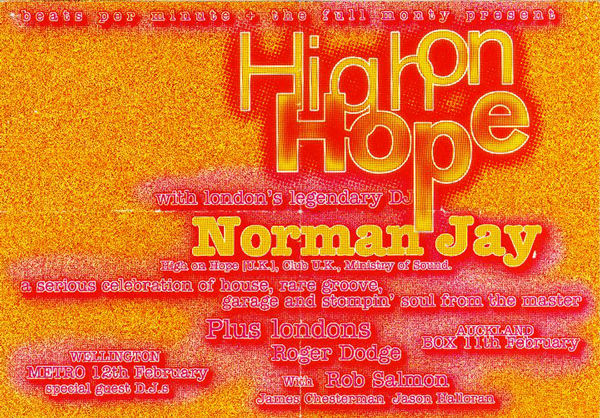 Norman's first trip to NZ, 1994. A gig, in 2011, he said was one of the best he's ever played, anywhere - ever.
Flyer design: Myk Reilly
From 1990 to 1997 we rarely had less than 1000 customers through every Friday night, with about 800 on a Saturday.
Manuel left in 92 (although he featured in Celebre when we put DJs in there from 95) and Rob moved to the late slot. This 3am closing extended to 6am when the late license came in at the end of 1993.
There were a variety of pretty fine support DJs, but Box from 92 to 95 was always about Rob Salmon. He developed a very devoted following and it's fair to say that just about every major house record that broke in Auckland from 1990 to 1995 was broken by Rob Salmon at Box.
Box 90-95 Killers:
LFO - LFO
Rhythmatic - Take Me Back
Roach Mote l- Wild Luv
Danny Tenaglia - Bottom Heavy
t99 - Anastasia
Junior Vasquez - Get Your Hands Off My Man
Lion Rock - Lion Rock
Hedboys - Boys and Girls
Shay Jones - Are You Gonna Be There
Disco Evangelists - De Niro
Xpress 2 - London Express
Hardfloor - Acperience
Public Enemy - Shut 'em Down (US 33 1/3 12" played at 45)
The Dream Team - Love is What We Need ...and dozens more
Rob wandered off to NY, where he needed to go and where he would make quite a name for himself, in late 95 and we needed a replacement. There was a clamour to replace him but I really didn't want any of the local DJs. I was after a guy I'd spent many evenings on the door when he was in Auckland buying tunes, discussing dance trivia.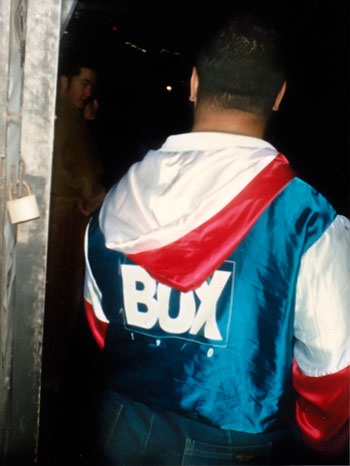 Rose in Karen Walker staff jacket. All one off designs.
Photo: Simon Grigg
I'd seen Greg Churchill play at Noah's in Christchurch whilst on tour down there a few times and was always blown away.
Really there was no-one else, so I approached him. Greg said he couldn't – he had a day job too and didn't want leave it to more north – but offered his girlfriend Sue who was keen to move to Auckland. I reluctantly agreed but Sue wasn't what we wanted and, as much as we liked her, it was a bit of a mismatch. Initially, we paired Sue with Dean Webb who'd been supporting Rob for quite a while. Dean was very much 'of the Box' and understood what we were about. He'd been a big part of the sound we had evolved to. Sue played first, then Dean.

However, a few weeks later Greg rang and said he was coming up and now wanted the job.
Sue, at the same time announced she was heading overseas so the timing was perfect, and the reign of Greg Churchill, the second key DJ to make Box his home, began.
Greg's style was a step in another direction from Rob's – it was tougher, far more techy and his sets took the club on quite a journey from beginning to end.
Rob's roots were in hip-hop and funk, whereas Greg's were post-punk, hip-hop and early house and techno. It made for differing approaches.
Greg's arrival gave Box a timely and refreshing boost and he developed a following every bit as loyal as Rob. He was, and remains, an extraordinary DJ.
To fill other nights, there were a series of very cool techno nights on a Thursday called Straylight and a couple of other names, with a loyal following, and regular one off Retro or Madchester (or whatever theme promoters Grant Kearney & Sam Hill or Nick D'Angelo - or Scotty or Greg Stoffells - could come up with) nights that were part of the club theme. These one off theme nights were hugely popular.
Auckland's first regular Drum'n'Bass night was in Box, hosted by DJ Stephen Green, and we (in 1995) opened up a much smaller room just off the main room, which we named The IceBox, and featured a more tech-house style in there.
Mr Stoffells and his business partner Patrick made a small fortune selling sausages outside the door – sometimes $500 on a night, plus gratis ones for Box and Celebre staff of course.
In 1996 we released the first NZ DJ mix album, called simply Box (mixed by Greg and Dean Webb), in a metal tin. It was limited to 1500 copies and is very collectible these days, aided by the fact that tins used to split the disc so few lasted.
In the years before that Rob mixed a series of cassettes called Box Mix 1, Box Mix 2 etc, which we sold over the bar. These too, are now ridiculously rare now and have found their way online in recent years.
With Rob and then Greg I hosted Beats Per Minute on 95Bfm, every Thursday, essentially taking Box onto the airwaves and allowing us to expose the swag of new vinyl that we imported at some cost from the UK and the US.
From 1995 until he left, Greg absolutely dominated the Box and Auckland dancefloors. His regular eight hour sets are the stuff of legend. He was supported firstly byDean Webb, then Rob Warner, and, like Rob before him, they took you on an often epic journey.
Many arrived at door opening time and stayed on the floor until 6am.
Al Murray - barman supreme.
Photo: Brigid Grigg-Eyley
Once Greg left the club, in real terms that was the end of Box. There was a club with the name in the space but it really had nothing to do with the club that Greg, Rob, Manuel, Dean Webb, Chelsea, Stephen Green, Miro, Jason Holloran, Rob Warner, Per, James Chesterman, Richard Farmer, Sam Hill, Grant Kearney, Simon Flower, Skylock, Mechanism and the others had established and defined, and that Tom & I had nurtured and directed.
After 1998 the scene moved up to Calibre in K Rd where, ironically, Roger Perry and our former doorman, Soane Filitonga, took up the baton and moved forward to be Box's natural successor as the Auckland club of record.
Over the eight years up till then, Box was the epicentre of the Auckland dance club scene and its legend has grown, (with two Facebook groups!) The number of folks who claimed to have been there regularly all those years back has grown year by year.
This page is for Al, Esther, Carly, Scotty & Gaelyn - and all the others who battled through the wall of sound to run the best club bar ever in Auckland. On ya...
Churchill's Box:
Thomas Bangalter - Trax On The Rocks
Peace Division - Phaze K
Green Velvet - Answering Machine
Basement Jaxx - Fly Life
Cevin Fisher - The Freaks Come Out
Danny Tenaglia - Elements
Chez Damier - Close (Derrick Carter Mix)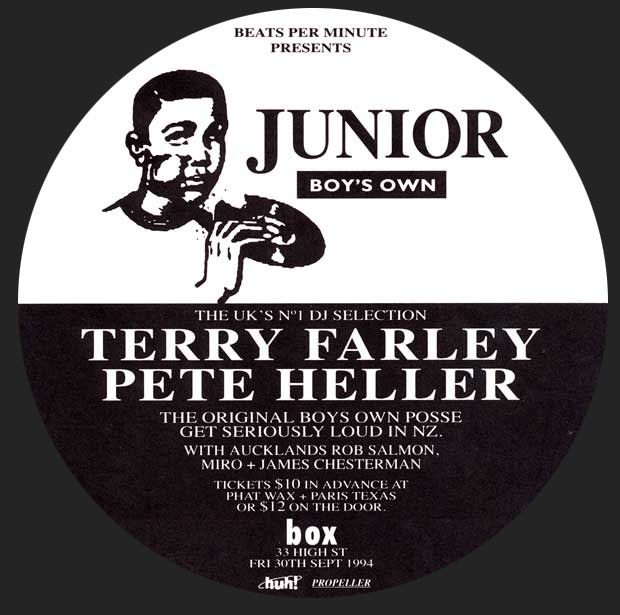 Design: Simon Grigg / Myk Reilly
Internationals
Box was the first club in NZ to regularly host international DJs.
The first was actually in the waning days of The Siren and was a rapper with DJs.
Ice T came to NZ to promote his second album, Power, and played three nights in the new extended Siren. All sold out and were, as we were still trying to repair the RSA air conditioning, unbearably hot & sweaty. He asked for Champagne and we gave him Moet on the first night. After he used it to spray the crowd, he got got Chardon thereafter.


Ice T in the Box with The Flowmasters
Photo: Stuart Page
The next was Norman Cook, with the Beats International crew in mid 1989. It was huge, with live vocals from Lindy Layton.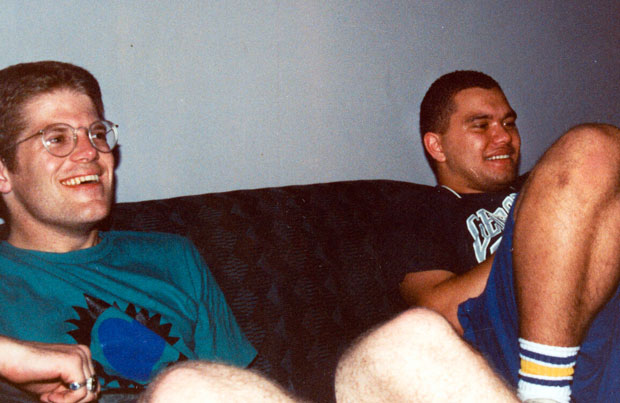 Kirk Gee and Phil Bell. Box, 1990.
Photo: Simon Grigg
Andy Weatherall was next. Auckland had seen nothing like him. His technique, style and approach inspired a whole generation of DJs.
Gilles Peterson came a bit later and confused much of the large crowd by stopping records to explain what they were. Two weeks later Norman Jay (MBE in case you missed it) not only filled the club and played legendary BPM shows on 95bFM but became a huge fan of Auckland and a close friend (to this day.. chur Norman, I told you Manuel was the biz, huh?).
The string of Subtronix (Geoff Wright and Dave Roper) promoted Drum and Bass gigs also transformed the city's nights. Intense, brave and groudbreakingly massive. Tom and I used to comment (with a smile) that their audience was reliably loyal: year in, year out, they'd get almost exactly the same number of punters - 438.
Kemestry & Storm.....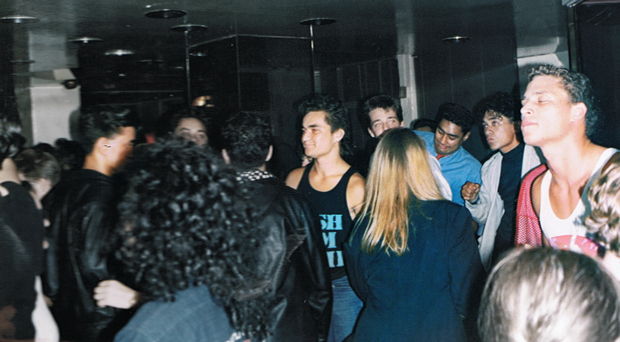 Photo: Simon Grigg
To the best of mine and a few others' memories, this list covers the DJs who played Box:
Andy Weatherall / Jon da Silva / Hutchinson Brothers / Justin Robertson / Lenny Dee / M-People / Judge Jules (several times) / Roy the Roach (several times) / The Grid (several times) / Norman Cook / Jeff Mills / Ashley Beadle / Gilles Peterson (several times) / Paul Oakenfold / DJ Sneak / Stacey Pullen / Derrick Carter / Dave Angel / Eric Rug / Alex Patterson / Ben Davis / Pete Heller and Terry Farley / Derrick May / Norman Jay / Joe 90 / Roge The Dodge / Mick Hucknall / Plastikman / Richie Hawtin Doc Scott / Kemestry & Storm / A Sides / DJ Trace / Nico & Fierce / Grooverider / Ed Rush / PFM / DJ SS & Mc Warren G / Bryan G & Moose / Dom & Roland / Andy C & MC GQ / Marcus Intalex & DJ Lee / Decoder & Jay from ATM Mag / Fierce / Herbert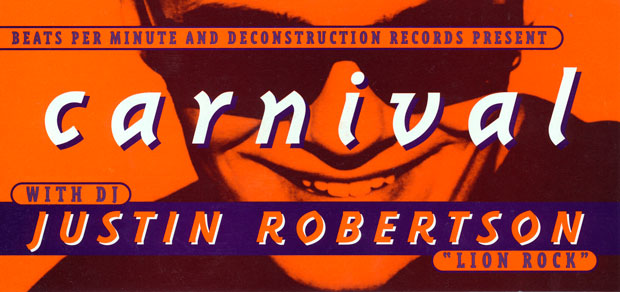 Design: Myk Riley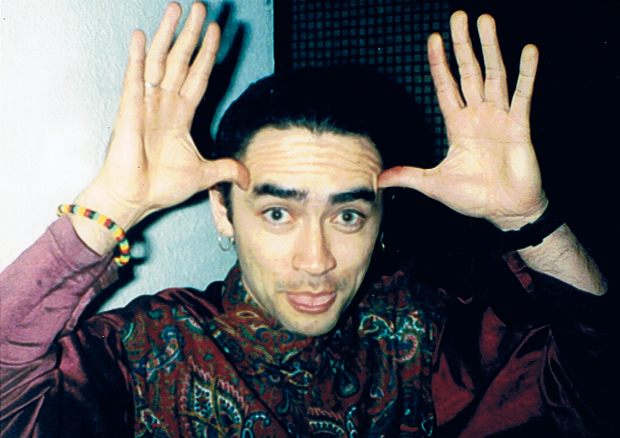 Grant Fell, 1992.
Photo: Simon Grigg
and next door, past the coatcheck we go to Celebre...